Not all rules are meant to be broken, like ones that are actually laws. But sometimes, certain rules simply don't make sense. To every rule, there is a loophole, it just takes a bit of creativity and innovative thinking to find it. Check out the following people who saw a rule that didn't make sense, and knew that they were going to break it. We have to give them props for how ingeniously they did it—we would have never had the courage!
Dogs Must Be In Carriers
In New York City, the Transit Authority decided to enact a rule where dogs could no longer be allowed to simply be leashed on the subway. That meant owners could only bring their dogs if they were in a carrier of some kind.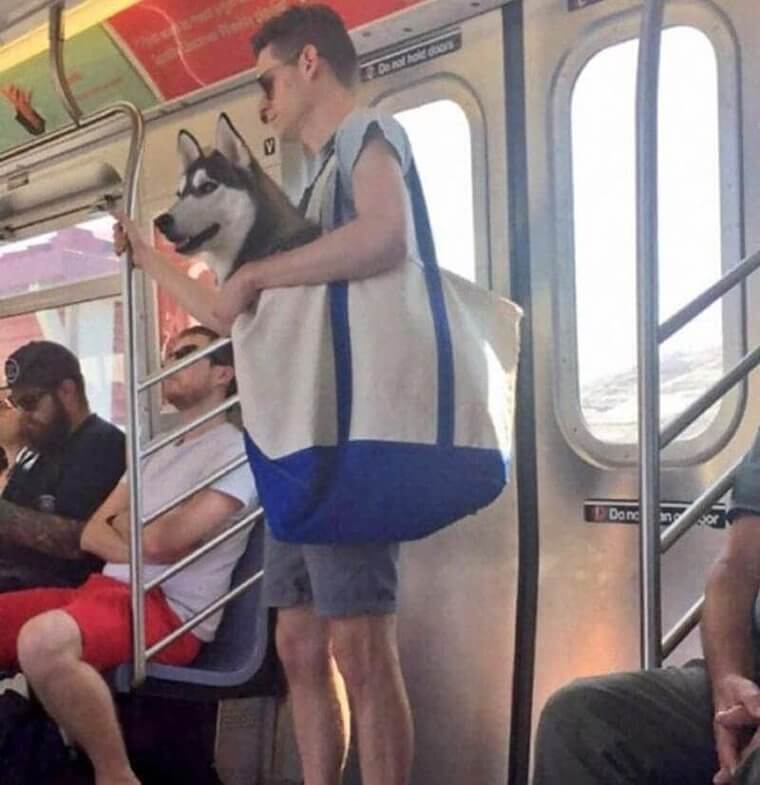 This really limited the size of the dog that could be brought on the subway, as breeds like Great Danes and Huskies simply don't fit in a smaller carrier. This man decided he wouldn't let that rule hold him back and just placed his Husky in an oversized tote bag.
Just Add Skirts
Many private schools have very specific dress codes. In the winter, boys must wear slacks and at this school, that means the summer as well. The boys at this middle school felt it was unfair that the girls got to wear skirts, which allowed them to beat the summer heat.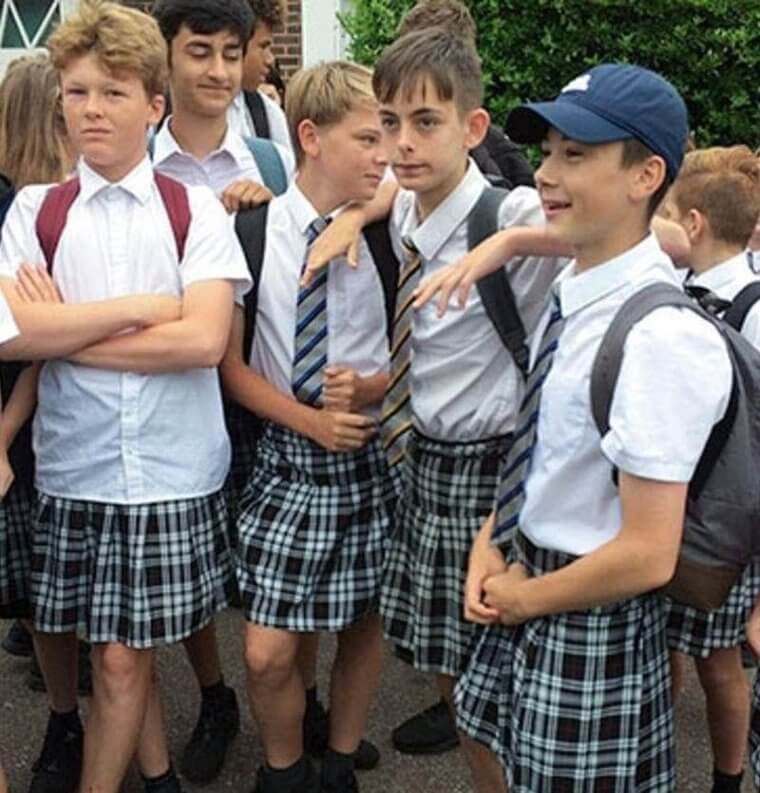 The problem was solved when one smart middle schooler realized there was no rule against boys wearing traditional Scottish kilts. That's one way to break the rules and show off some heritage.
Virtual Attendance
Parties have looked pretty different over the last year and a half, but that hasn't stopped people from figuring out different ways to socialize. And just because you can't physically be at a party due to social distancing rules, it doesn't mean you can't have a virtual one.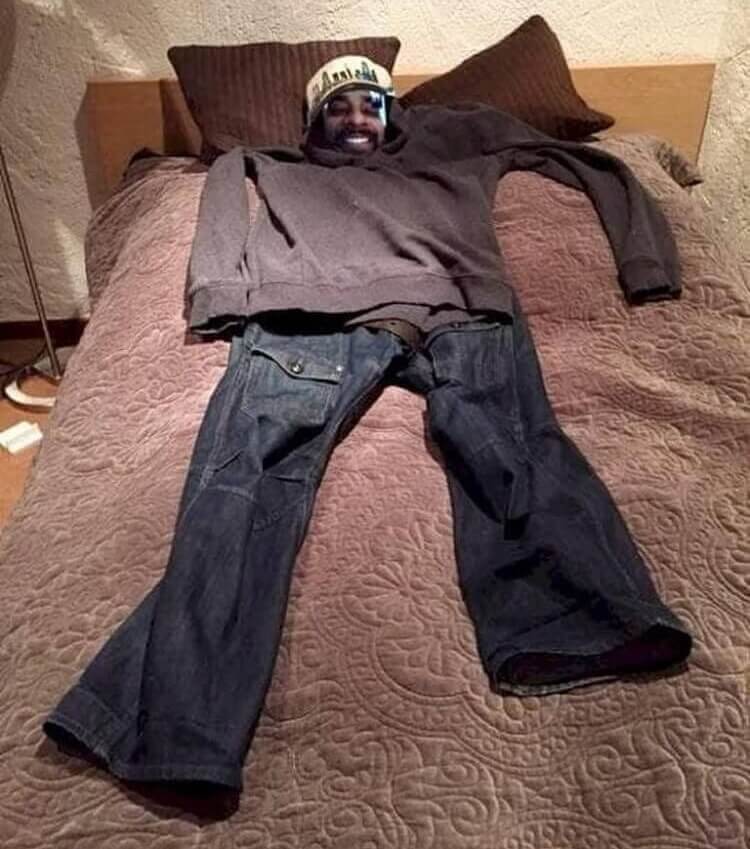 This friend simply joined the party virtually with his face on a tablet screen, and his friends even dressed him for the occasion, baseball hat and all.
Only Free Water
Music festivals can have some pretty strange rules, and for this one, the rule was that small businesses could not sell bottles of water at the event. First of all, this just seems dangerous, as festival-goers need to stay hydrated.
To deal with the no-water rule, this business simply sold peanuts with a side of free water. The festival committee would not have been able to get mad at them for this, after all, they were just giving water away.
A Different Kind Of Sharing
For some couples, they don't feel the need to share everything, and for others, they share everything, including toothbrushes. There were only a handful of grapes left, that one of these partners had been saving.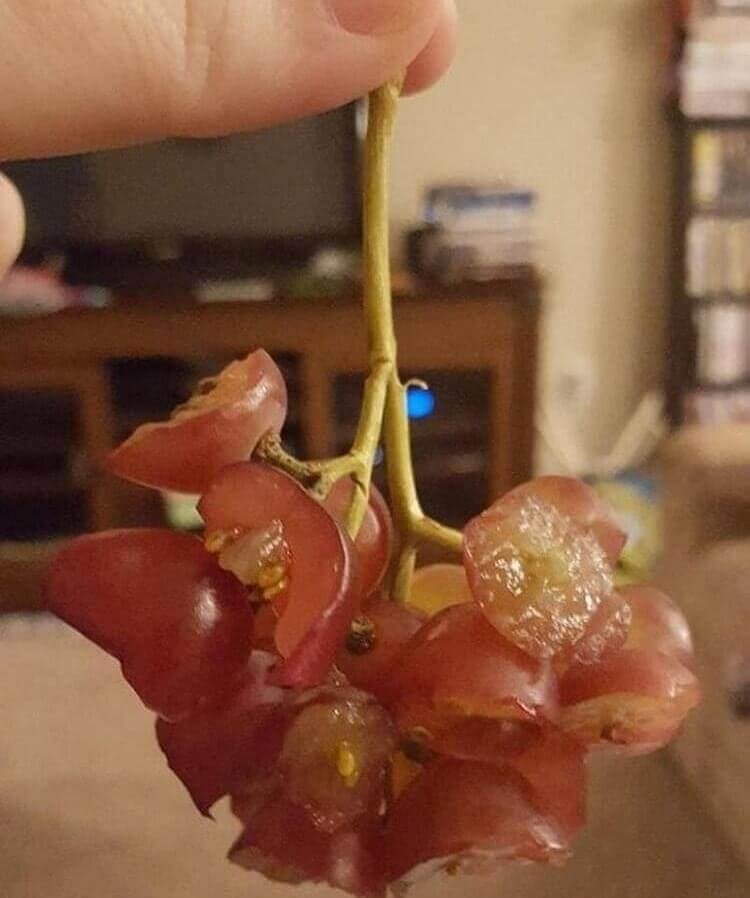 Since sharing is caring, they offered half to their significant other, who decided to eat half of each grape. Technically, that is half of the grapes but not a half anyone would want to eat later.
Stuck In The Middle
Many parents like to teach their kids that kitchens are for eating, and the living room is for technology like the television. That is the rule this clever little boy was expected to live by.
What his parents didn't bank on, was that he would simply eat in the kitchen, and keep his tablet on the border between the living room and the kitchen. Now, he can eat to his heart's content, and watch his favorite show.
Never Miss A Match
Every country has its own set of rules, and in some gender equality is not as equal as it is in other places. These Iranian women knew they could not miss their favorite soccer team's match in the stadium, but there is a rule in place that "protects women against a masculine atmosphere."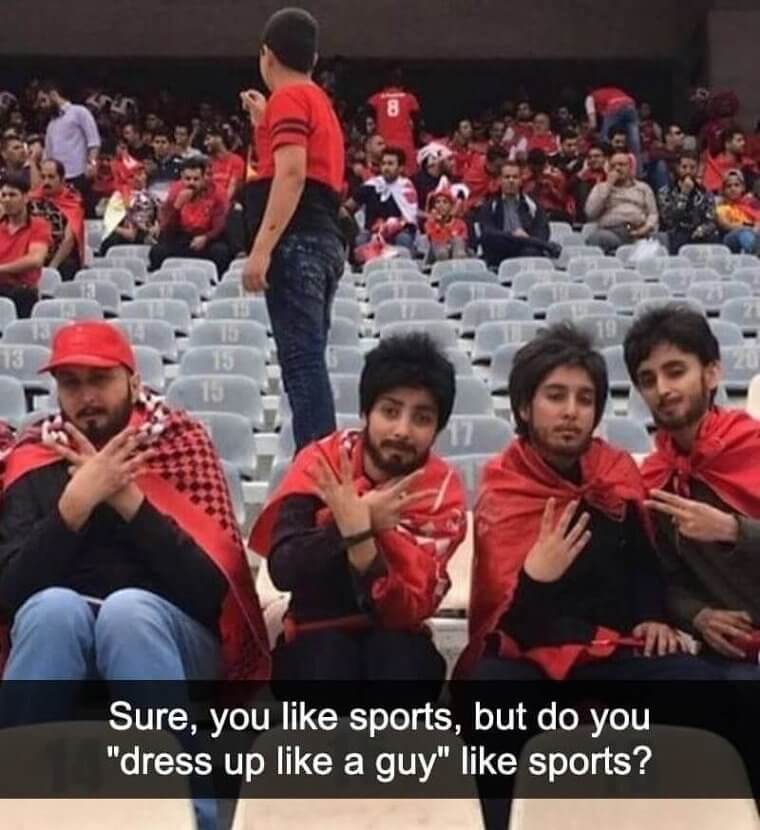 They decided to embrace the masculine theme, and just attend the match dressed as men, wigs, beards, jerseys, and all. Now, that is dedication to the sport!
Just Another VIP
It can be hard to see all of the star-studded events on television, and be unable to attend them because you aren't famous or rich enough. This guy wasn't about to let that hold him back from crashing this VIP event though.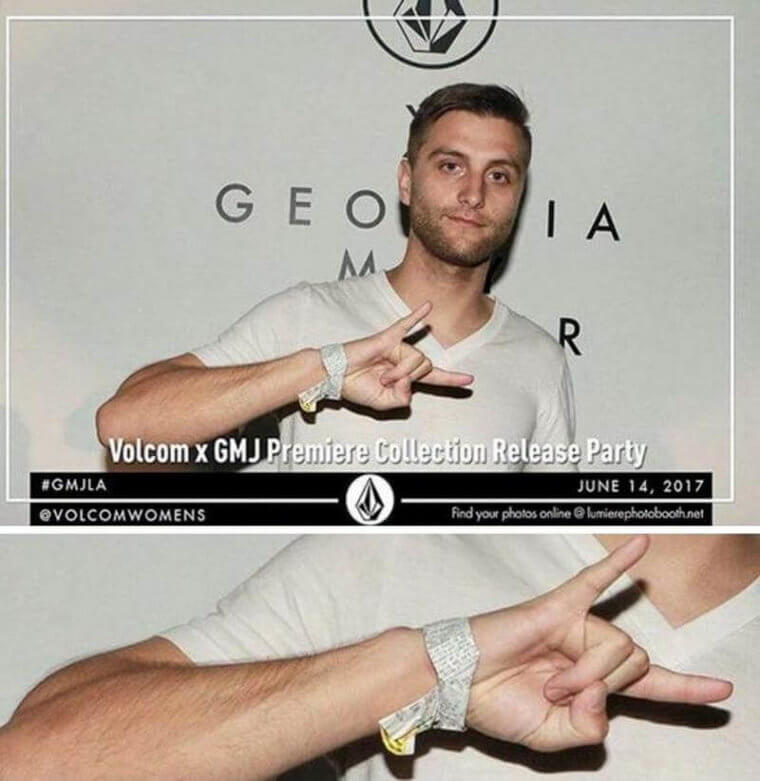 After looking at the guests on the red carpet, it became obvious that all that was needed was a wristband. He created his own and entered the party with ease.
Gender Segregated Dorms
Private universities are able to create all sorts of rules that may or may not make sense. At this college, one of the rules was that girls dorms are not allowed to have boys in them, and vice versa.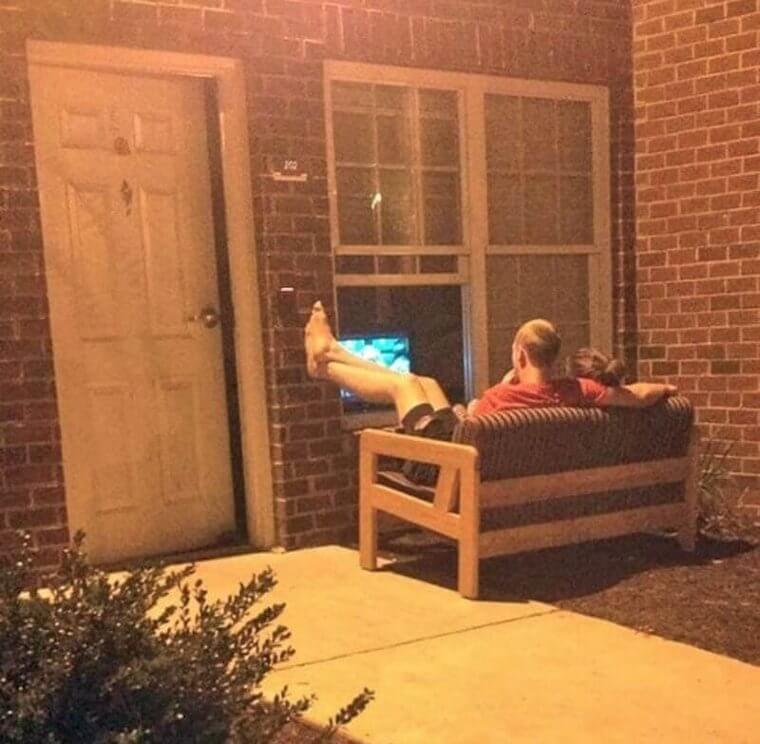 This couple wasn't about to let that rule stop them from enjoying a movie night though. All they needed to do was set up an outdoor living room, and they were good to go for the evening.
Pre-Ticketing
There's nothing worse than heading back to your vehicle after a nice meal or shopping spree, only to see the tell-tale sign of a ticket stuck underneath your windshield. Sometimes there will have been a five-minute period where your time has run out on the meter, and that is when the parking police decide to strike.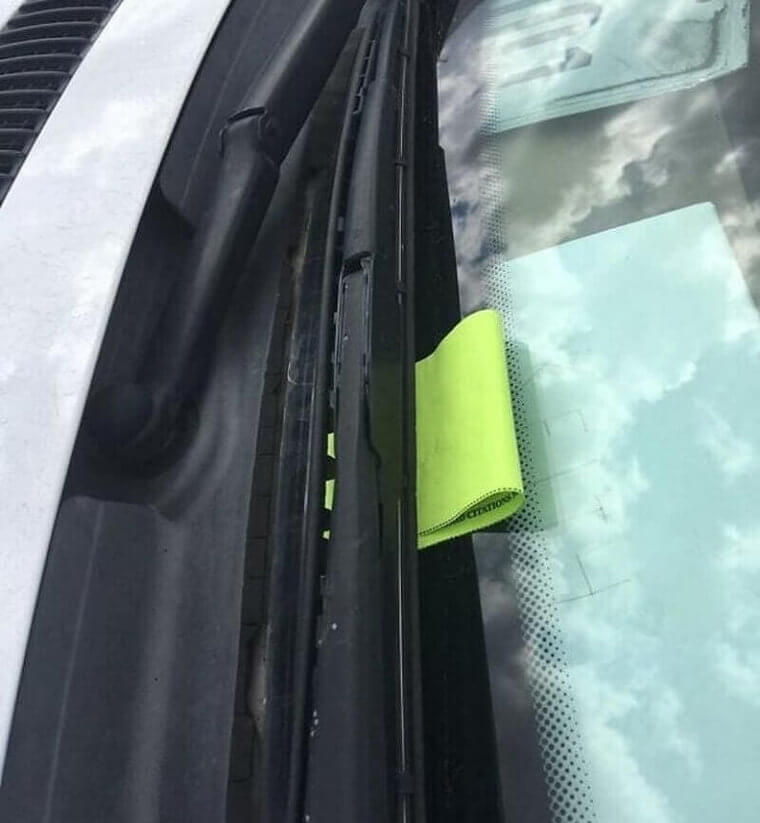 To avoid getting a ticket, simply make it look like you already have one, by placing a fake one on your windshield. Simple but effective!
All About The Lighting
This guy seems to be pretty confused about how photo booths work. First, you insert some cash, then, you wait for your photo to be taken. However, upon closer inspection, this guy might just be a genius.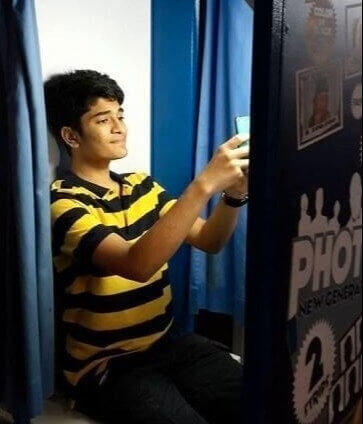 Photobooths have great lighting, as they are designed to take passport photo quality pictures quickly. This guy is simply using the lighting to get his own well-lit selfies.
Welcome To The Flatbed Bar
Many cities have legislation in place that doesn't allow bars to have outdoor seating spaces. Patrons are expected to hang out inside of the bar if they want to drink. This bar decided that its patrons needed a space outside where they could get loud, and it would give them some extra seating.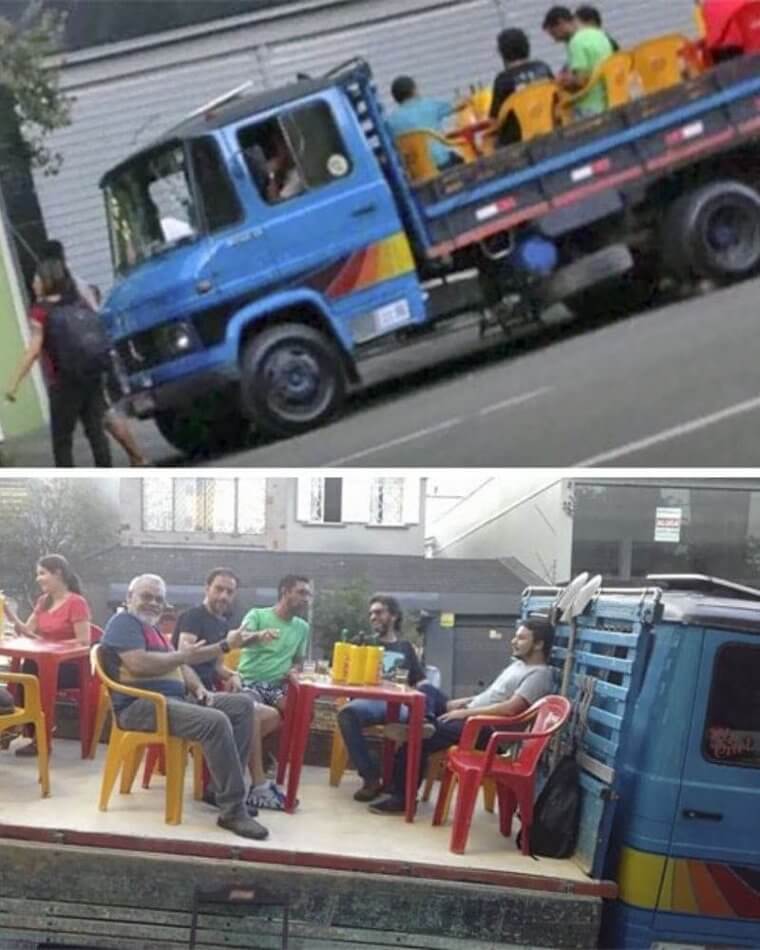 The answer was obvious, a flatbed truck parked outside broke no rules, and the flatbed was big enough that it could hold a few tables and chairs.
Looking To Buy An Airport?
Some people are natural con artists and Emmanuel Nwude was one of the best we have ever seen. One of his biggest cons involved the selling of a non-existent airport to a huge financial institution.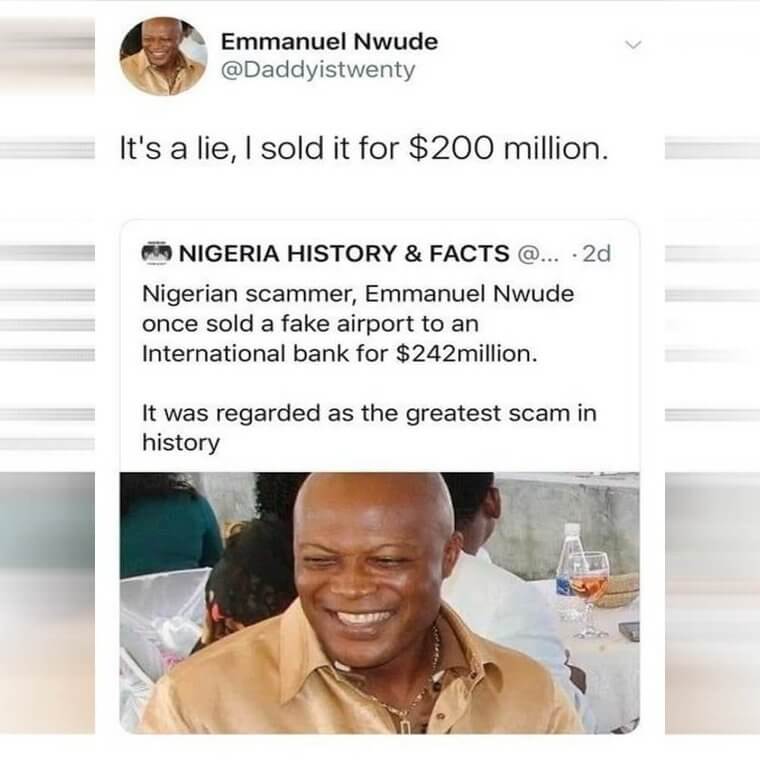 In fact, he was so convincing, he managed to sell the airport for a whopping $200 million, which he was more than happy to admit via Twitter.
Forced Affection
For parents, sending kids off to summer camp means that they will get to enjoy some kid-free time and simply relax. For the kids, summer camp is supposed to be a blast, but maybe not for Josh.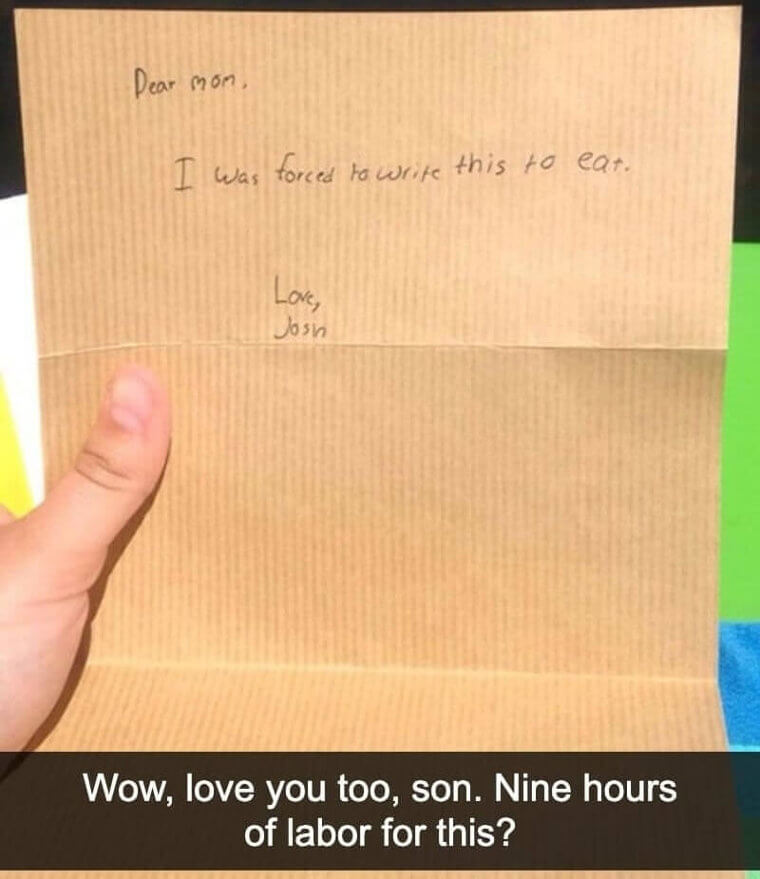 It seems like Josh's camp has some interesting rules, like having to write letters to parents in order to eat. At least Josh is honest about why he is writing the letter, even if he doesn't want to. We all need to eat!
A Sneaky Promo
Not everyone is great at doing math on the go, especially when they are in the grocery store getting ready to buy some drinks. The math on this sign seems particularly suspect once you start doing it.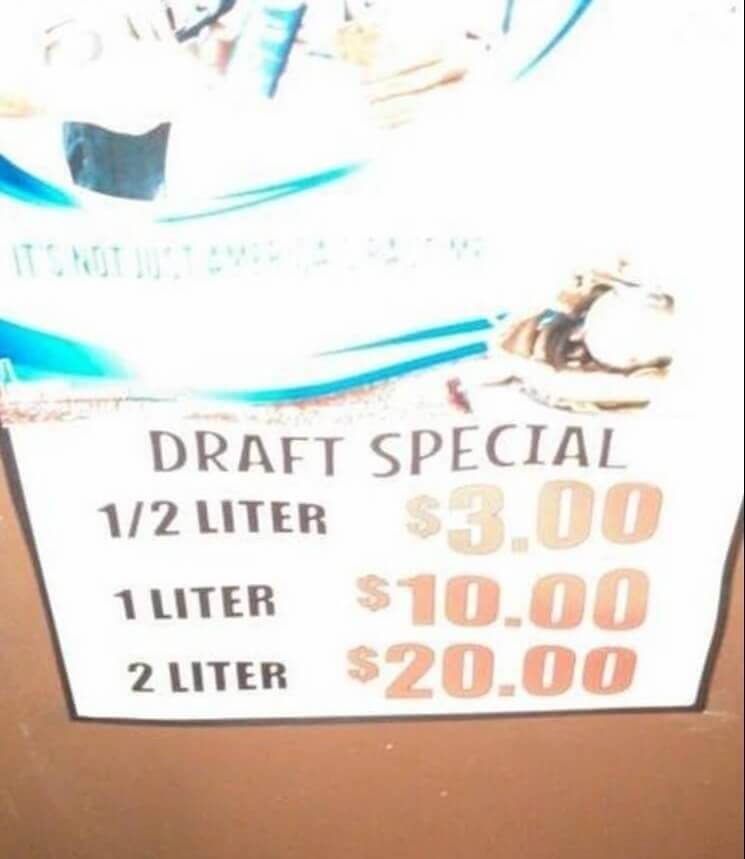 According to this sign, it is much more economical to purchase more half-liters, than 1 liter or 2 liter bottles. Hopefully, whoever shopped here figured that out.
The Jack-O-Pineapple
As we have seen, dorms can have all sorts of special rules but this one does actually make sense. Jack-O-Lanterns were deemed fire hazards by the faculty, but that wasn't about to stop this student from their Halloween traditions.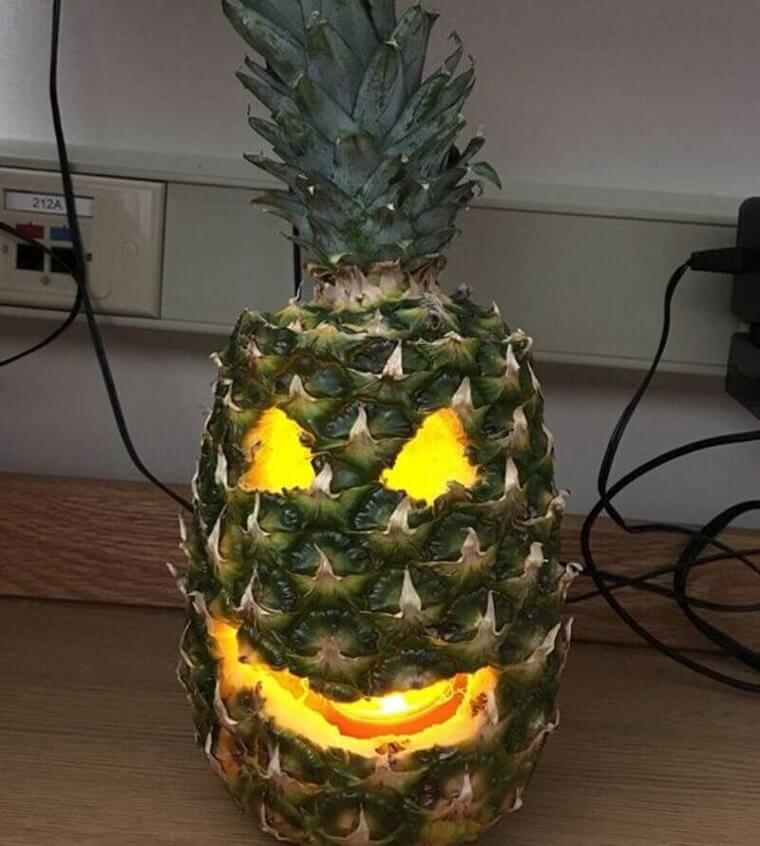 Pineapples can be hollowed out just like pumpkins, and while this may not be as scary as a real Jack-O-Lantern, it definitely embraces the spirit of Halloween.
Puppy Patrol
Whenever a family decides to get a pet, all parents know that they will end up looking after it. This little boy told his parents not to worry and created a very special puppy training program.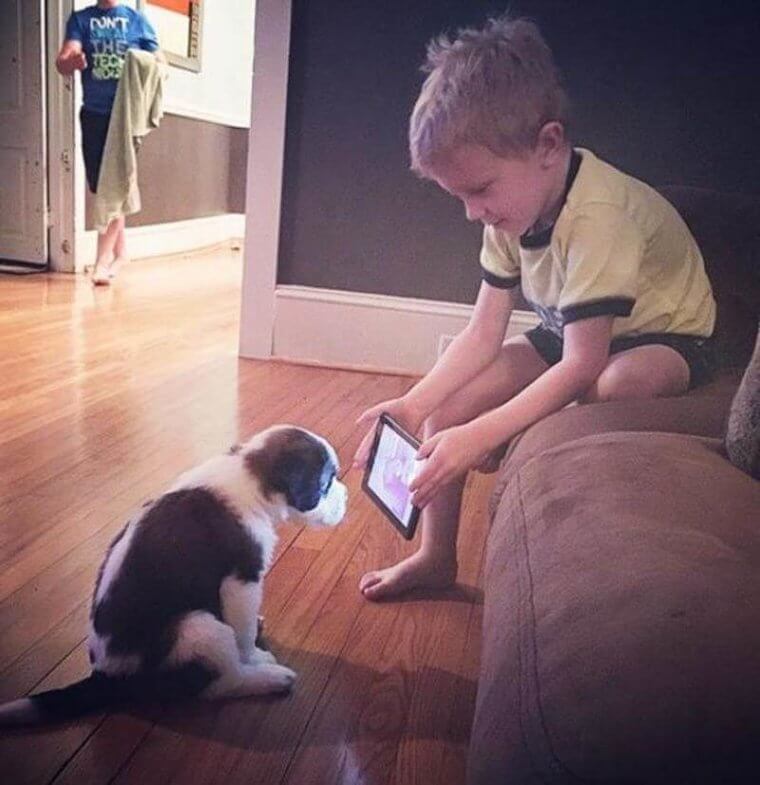 After watching some YouTube tutorials on how to be a good puppy, this boy decided that his puppy was trained. We hope it worked!
Any Coat Goes
We have seen the no shorts rule but now it is time for the blazer-only rule. The winter months tend to be cold, and only being able to wear a blazer around campus isn't ideal.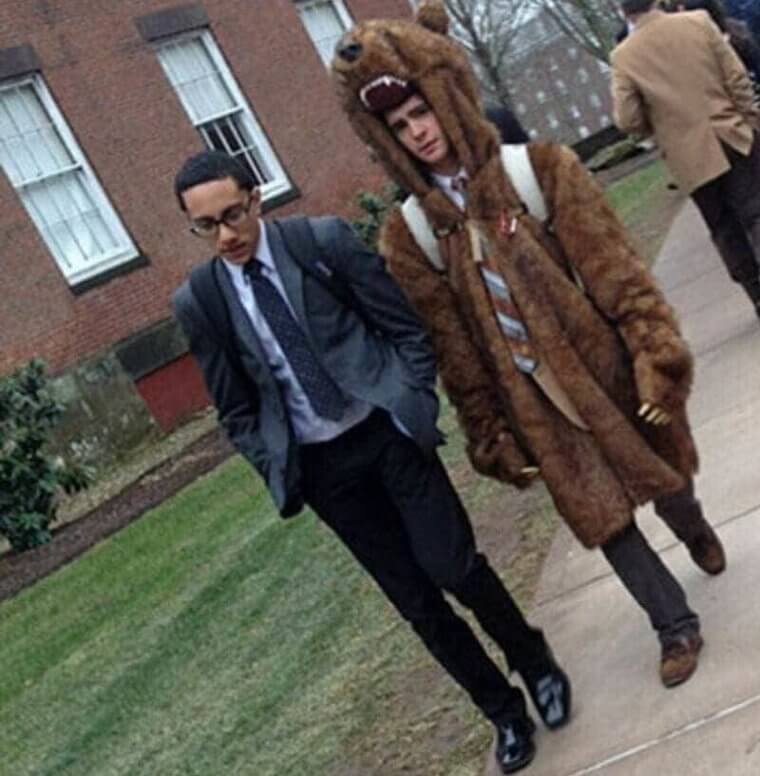 This student read the dress code very carefully and noticed that there were no rules around what coats could be worn. Hence, he found a bear coat which definitely caught the attention of the administration. 
Measuring Productivity
When employees work from home, there is a belief that they might not be as productive as they are when in the office. For this person, that is definitely true.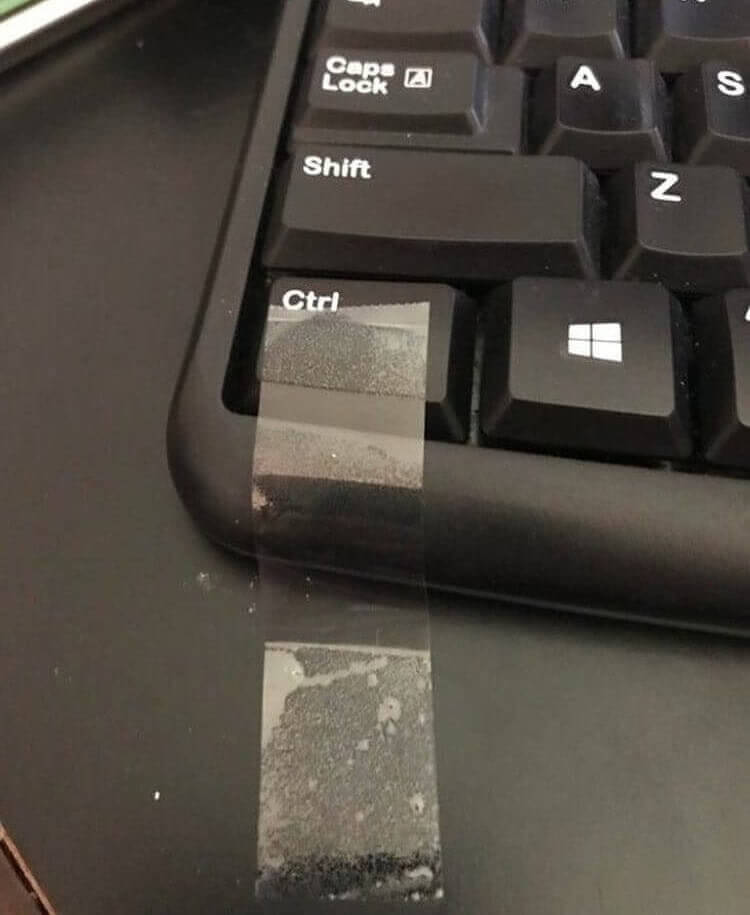 To show that they were 'productive' they simply taped down a key on their keyboard so that the employee tracking software was constantly active.
In the Dog House
Dogs are a person's best friend, and when someone doesn't love dogs as much as the other person in a relationship that can be tough, and lead to some special situations, to say the least.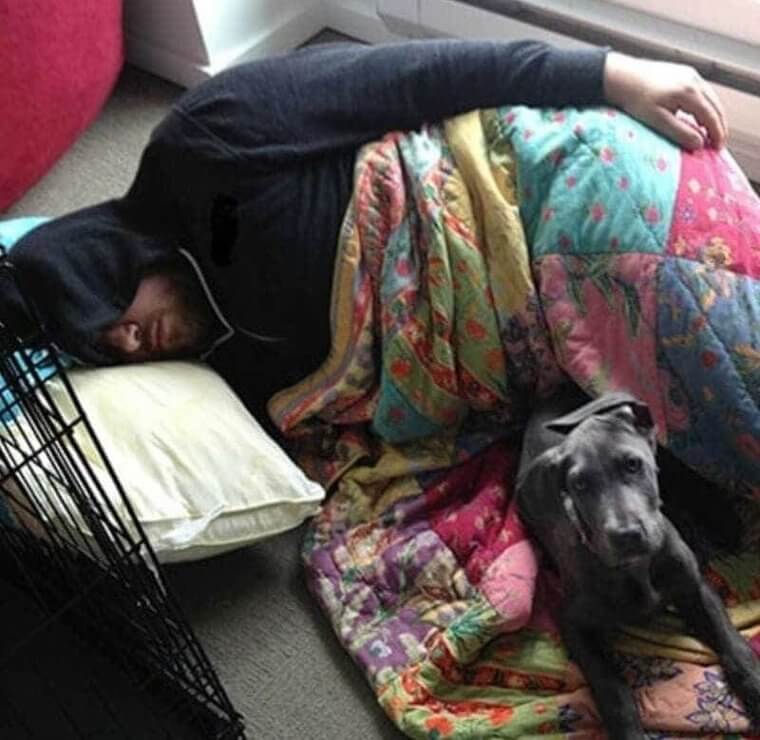 This husband decided to show how he felt about the 'No dogs on bed' rule by choosing to sleep on the floor with his canine companion. We bet his wife changed that rule after seeing this.
A Bad Boy
Ladies love bad boys right? This guy decided to show off just how much of a bad boy he is by doing something so rebellious, any woman would be mesmerized. He wore his socks on the wrong feet to show just how unruly his inner self it.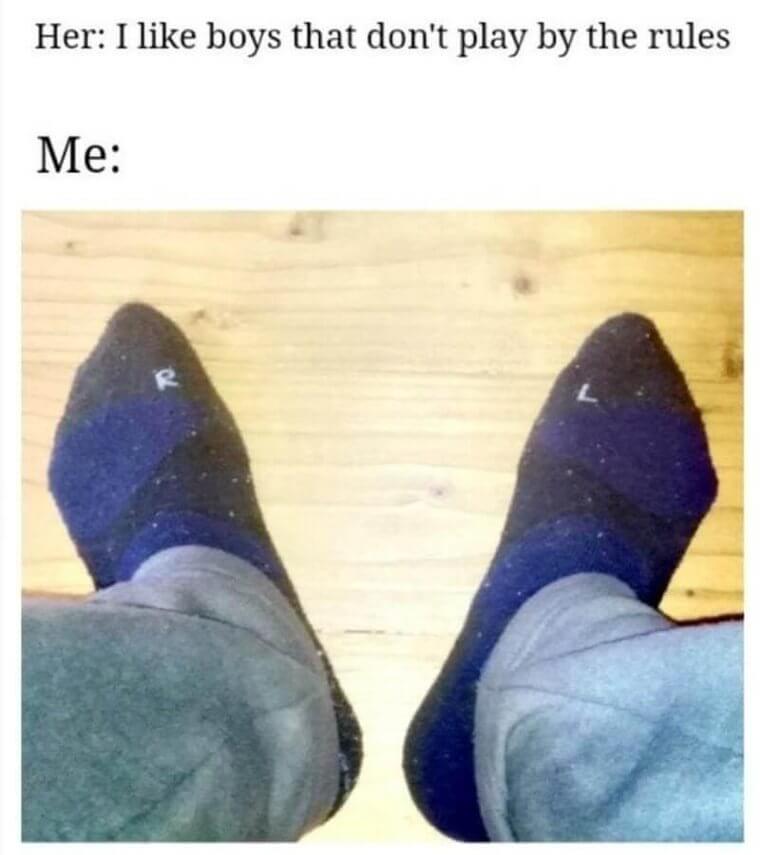 The lucky lady who saw this must have been swept off of her feet by how 'bad' this guy is. As far as being bad goes, this has to be one of the most wholesome ways of showing it.
The Ultimate Soccer Fan
It's not exactly easy to get banned from a stadium for life, but this Turkish man somehow managed to do it. He wasn't about to let that keep him from attending his beloved team's soccer matches though.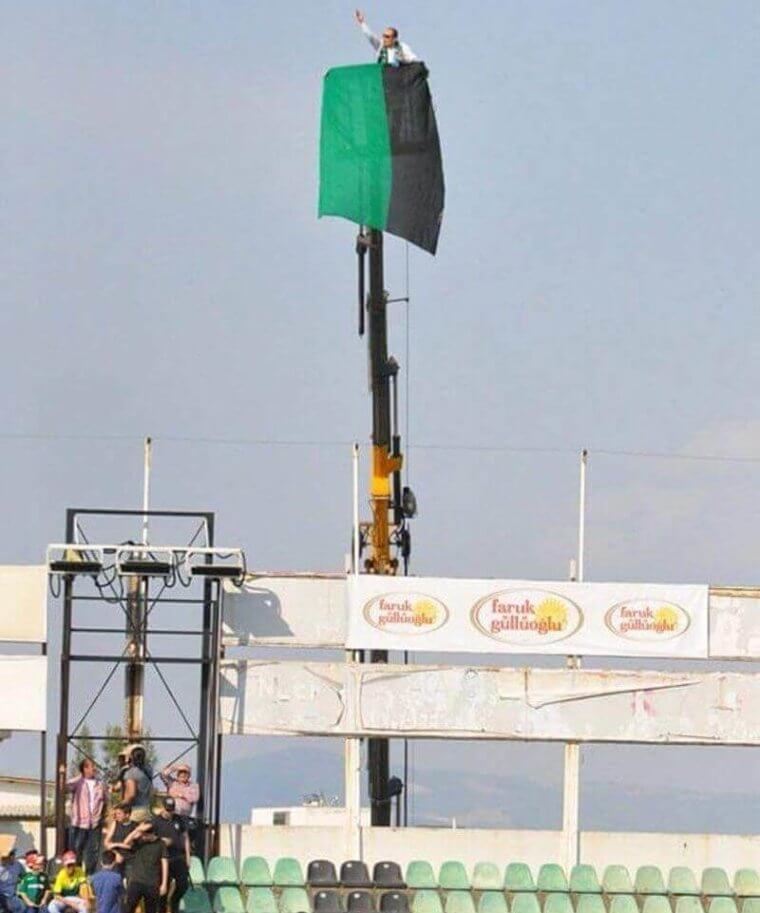 With a bunch of money, he was able to rent a crane, hang his team's flag and enjoy the game from the sky. This man is the epitome of a soccer hooligan, and we have to say we're impressed.
No Eating Allowed In Building
Some rules make zero sense, like this one where you can buy food in the mall but you are not allowed to eat it in the building. Why sell food if you have to go outside to eat it? It's literally a rule begging to be broken, and this guy was going to break it.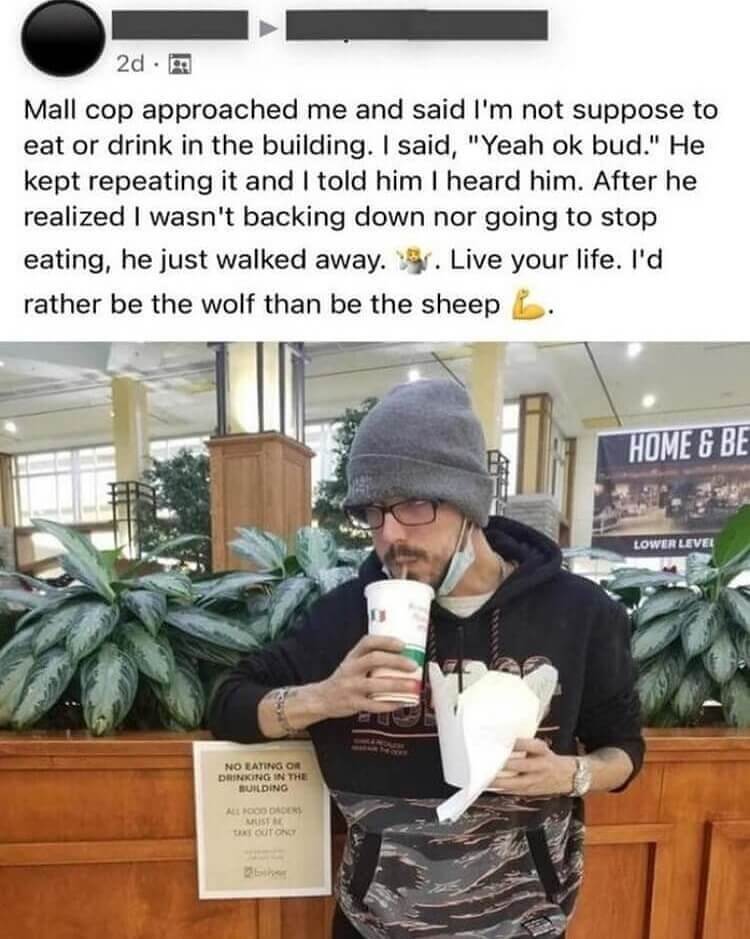 He decided to disregard the rule and eat his food inside the building. We can't say we blame him for sticking it to the man here.
The Ultimate Cheat Sheet
Many teachers have realized that allowing their students to create a cheat sheet actually improves their grades when taking tests. They study as they compose the cheat sheet, and as they write down various factoids, they retain that knowledge as they go.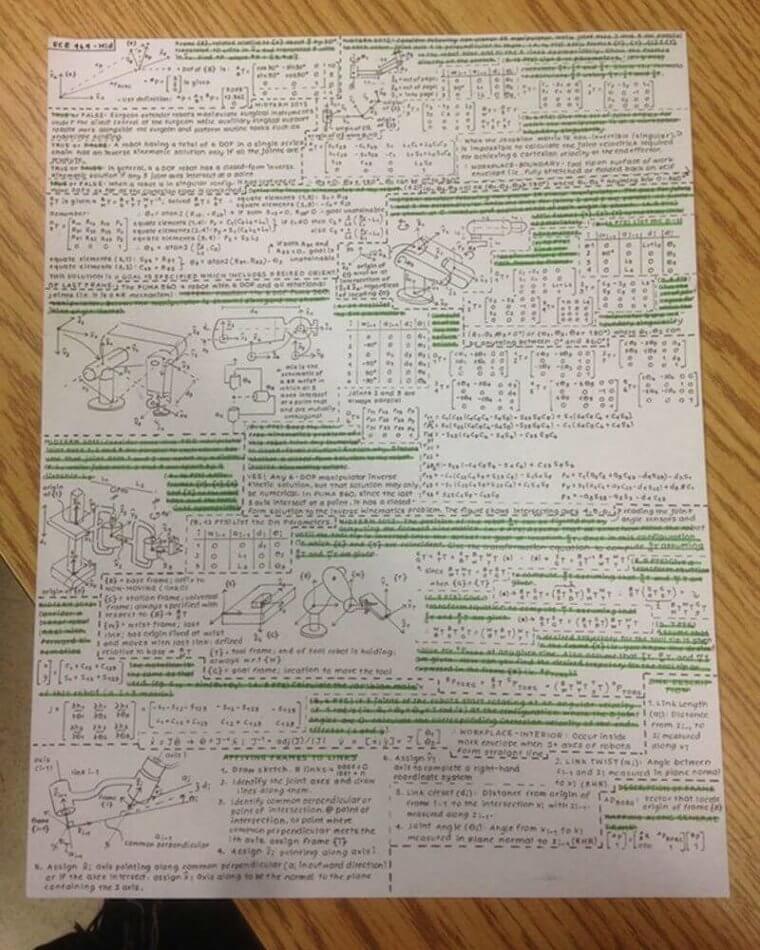 This student treated their cheatsheet as if it was a masterpiece, and it should probably be framed post-exam.
Eating Healthily
Many people don't think about just how important language is. The English language in particular has a ton of adjectives that all describe the same thing, and this person took advantage of that.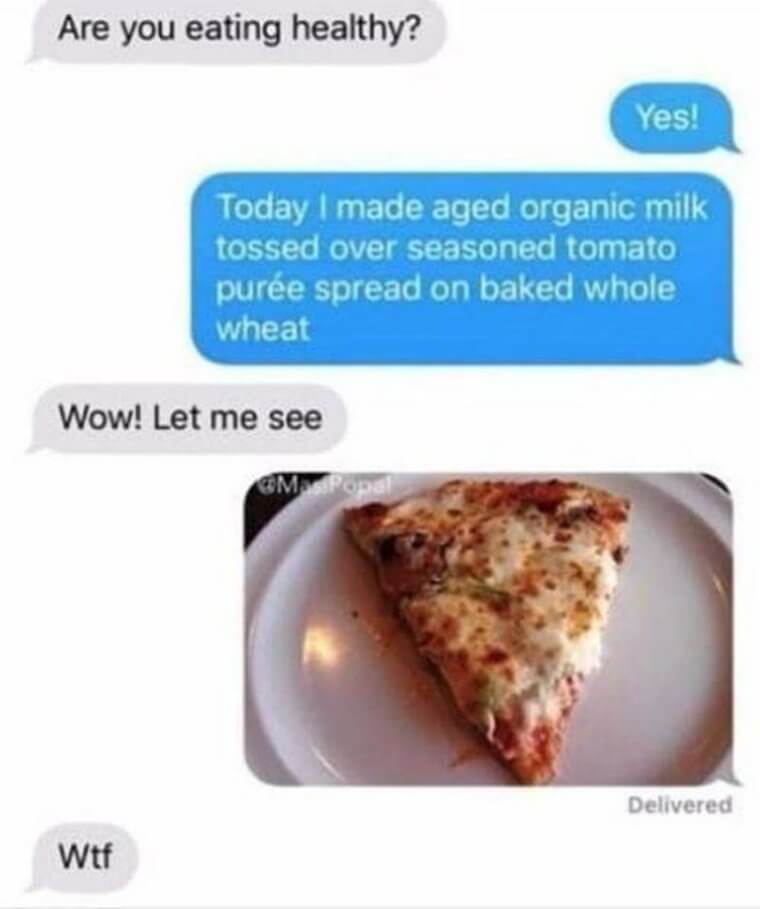 When asked if they were eating healthily, they describe a culinary masterpiece that they had just made. If you read the words closely though, you will realize it is just a high-level way of describing pizza.
Resume Writing Class
Teachers are always looking for creative ways to spice up their classes, and this teacher had the bright idea to teach resume writing with a flair.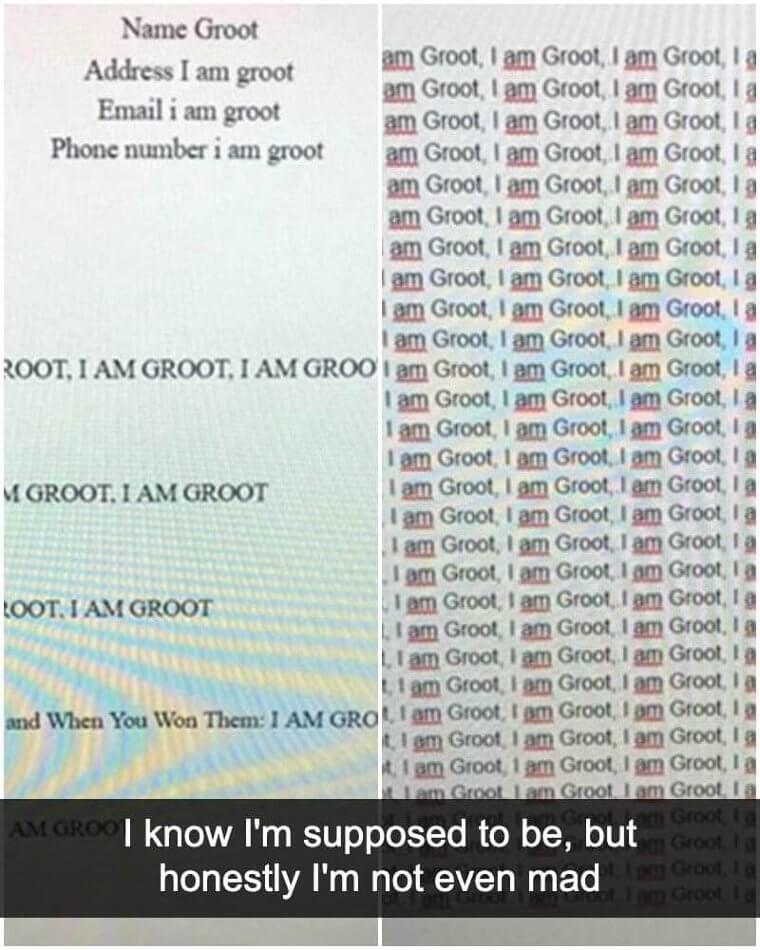 Each student had to select a Marvel character and compose a resume for them. One student knew just who to choose to get out of actually writing an entire one though. Groot is a tree of few words.
A Hybrid Prius
We know, a hybrid Prius is just a regular Prius, right? For this one, a man owned two Prius; but he managed to crash both of them, which wasn't very lucky on his part.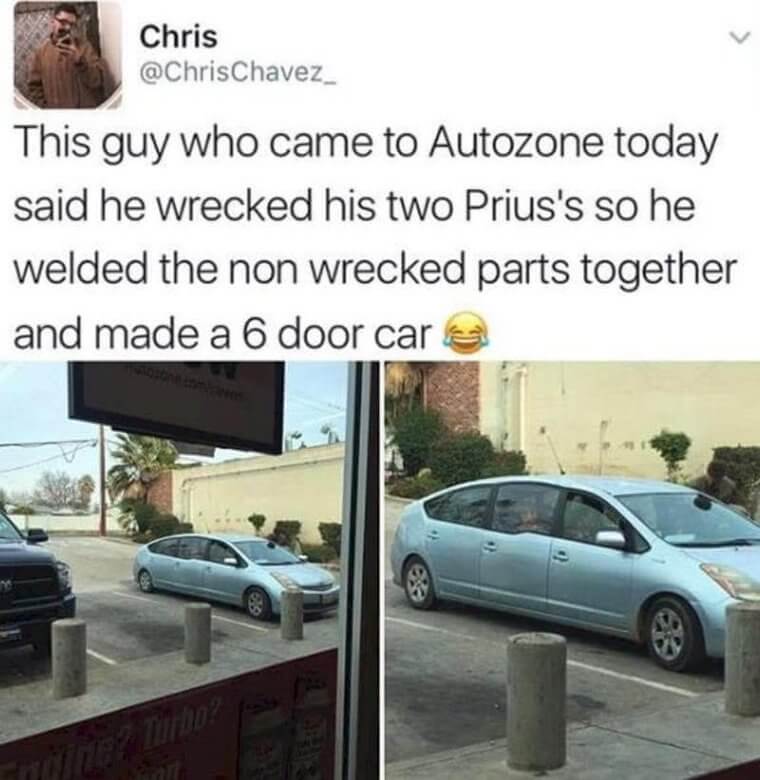 In a stroke of genius, the man realized he could combine the two mangled cars to create a whole one. The result is this six-door hybrid Prius, and honestly, this might be something Toyota should think about making.
All The Rolls
Some people require very specific instructions when it comes to going shopping. For example, this person was asked to pick up some 'rolls.'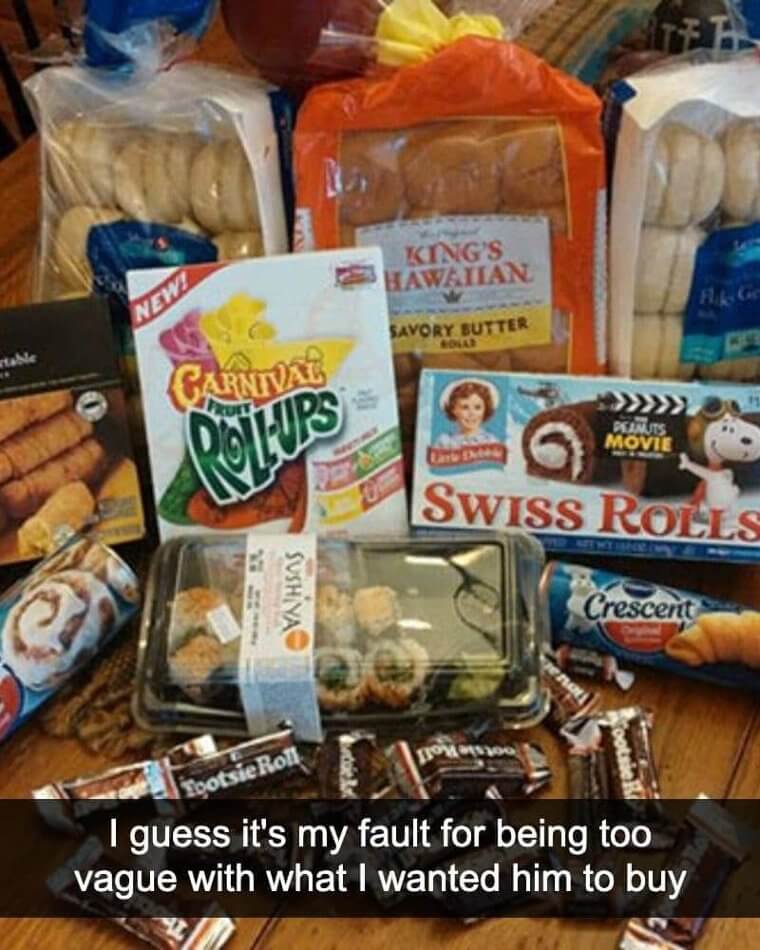 There are a lot of different roles that this could be referring to, and this person did not want to disappoint whoever asked by buying the wrong rolls. They will very likely be eating rolls for the foreseeable future.
Cooking Woes
Not everyone is a master chef and that is okay. However, it doesn't take a genius to know that the 120 degrees listed in a cookbook mean temperature and not angle.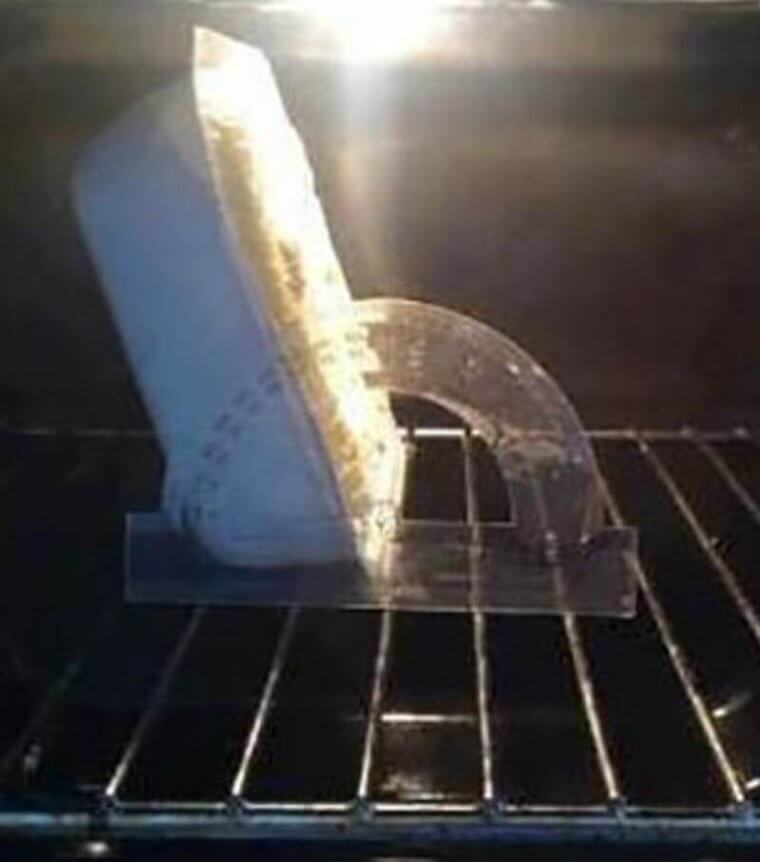 Whoever thought that placing a dish in an oven at 120 degrees must have never cooked before. That is the only possible reason for their decision to think this is how you bake a casserole.
Add A Bit Of Color
The relationship between a landlord and a tenant can be tricky. Landlords want their apartments kept in pristine condition, and tenants want the freedom to decorate however they want.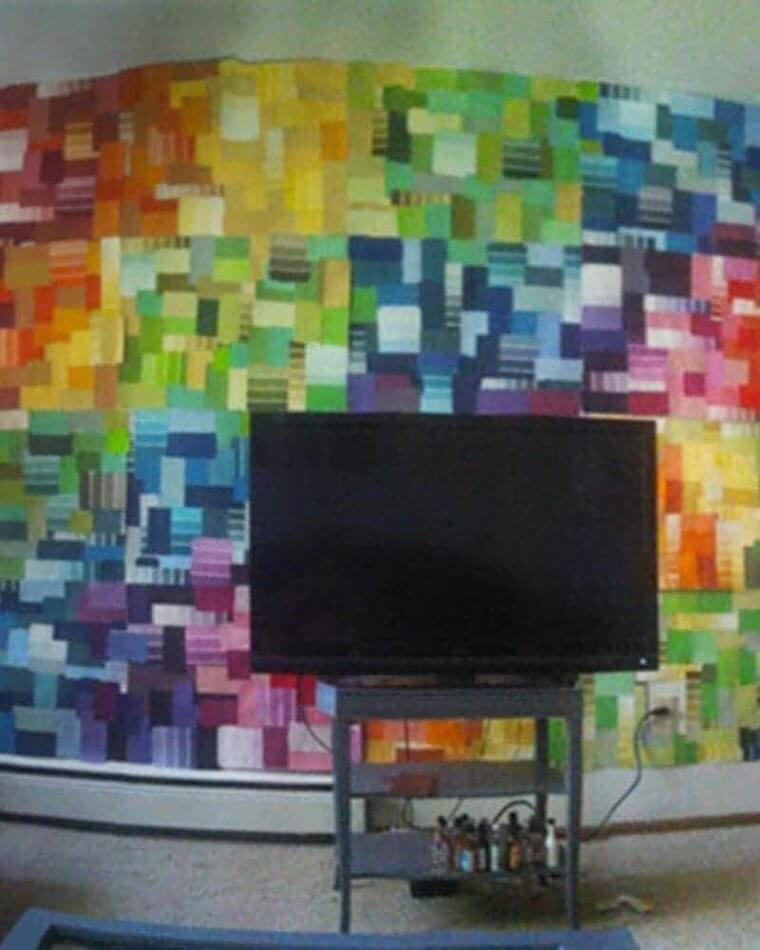 The one rule this landlord had, was don't paint the walls and the tenant listened. That beautiful mural is actually hundreds of paint swatches glued together. Now that's clever!
Plane Versus Plain
Language is important as we know, and it is especially important to understand the words that are being used when meeting a significant other's parents.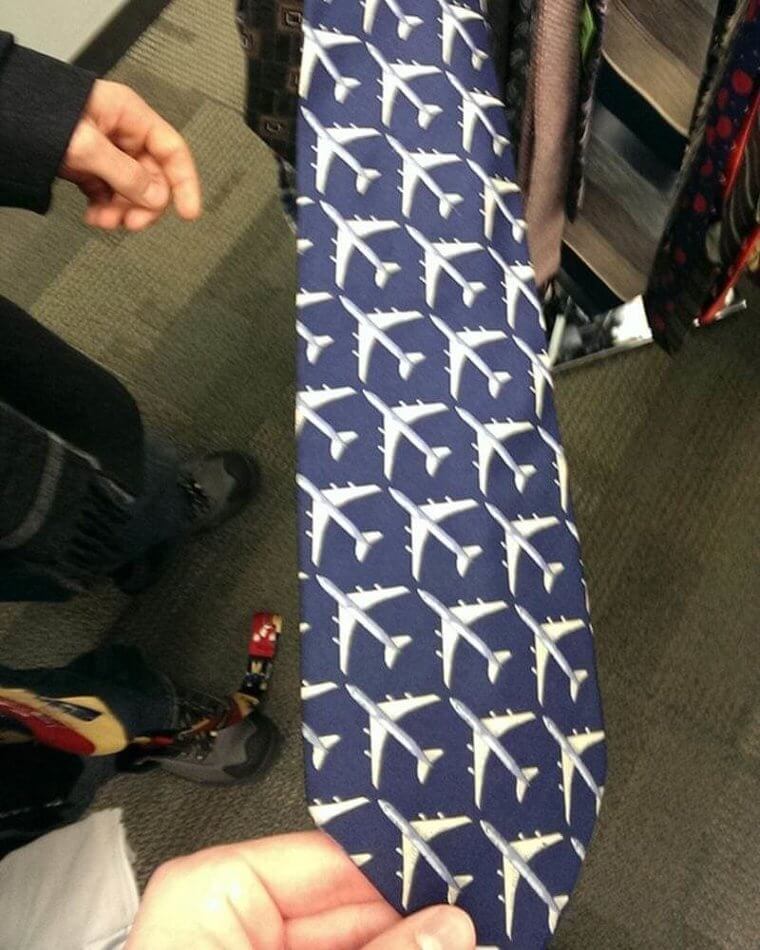 This girlfriend wanted her boyfriend to wear a plain tie to dinner, but he took it as meaning a tie covered in planes. We appreciate that he let his personality shine through in his tie choice.
No Pressure
Surgery calls for some careful aftercare, and for this guy, that meant not having anything on his nose. That was a hard rule to follow since he wears glasses.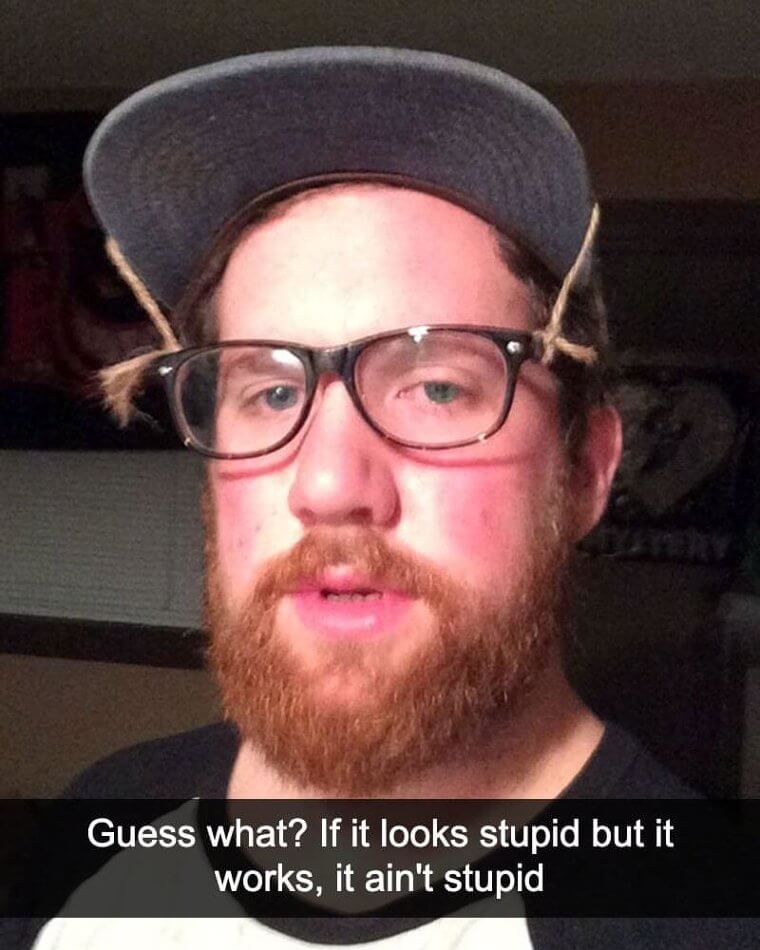 After some careful engineering, he developed a system to wear his glasses and have them not touch his nose. Now, this is innovative, and something other people may want to try.
Question Everything
Graffiti was once considered to be something illegal and lacking in artistic skill, but that idea has definitely changed over the decades. Now, graffiti is considered to be an art form when done by artists like Banksy.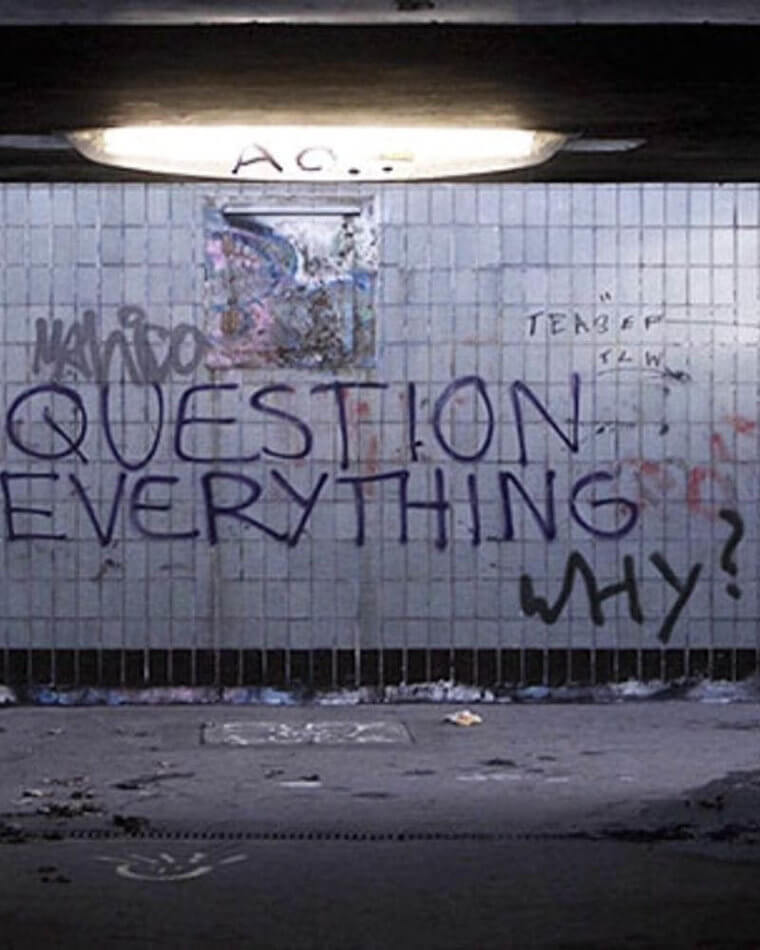 This is not a Banksy though, but it does provide some food for thought. The person who responded thought so as well, "Why?" should we "Question Everything"?
Ready To Party
Business clothing isn't exactly known for being fun. Suits and ties can be pretty constraining, which is why this guy decided to break out of the business mold.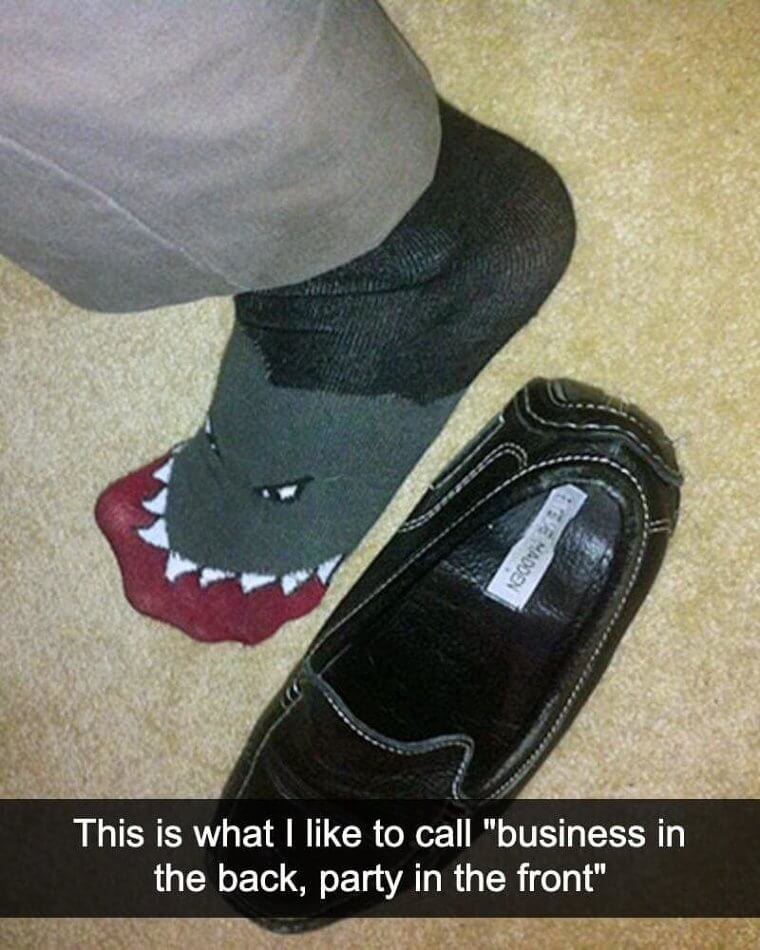 Instead of wearing boring navy blue socks every day, he wears a pair of festive socks that only he knows about. This guy is the secret life of the office party.
Hi Carc
Ordering a coffee at a new coffee shop is always a bit of a trial. You have to decide what you want, order, and then share your name with the barista to write on your cup.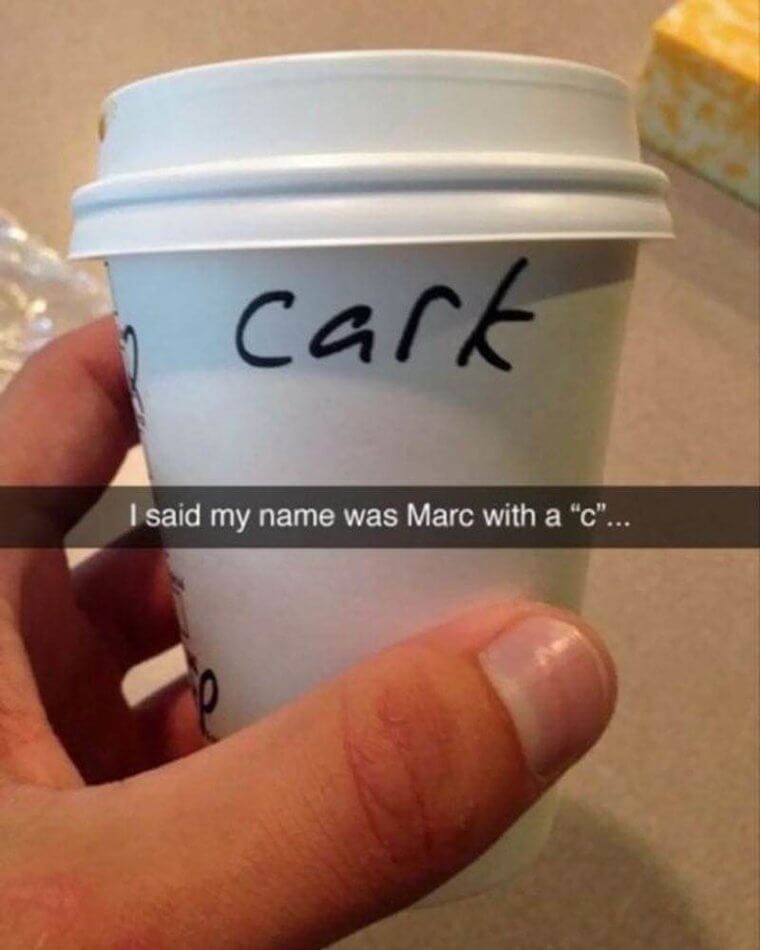 Nine times out of ten, the name is spelled wrong. Marc shared his name and even added how to spell it. Unfortunately, something was lost in translation and now he is Cark.
The Photoshop Suit
Most companies, expect their employees to dress professionally. This is also true for the company website where each employee has a headshot and a biography.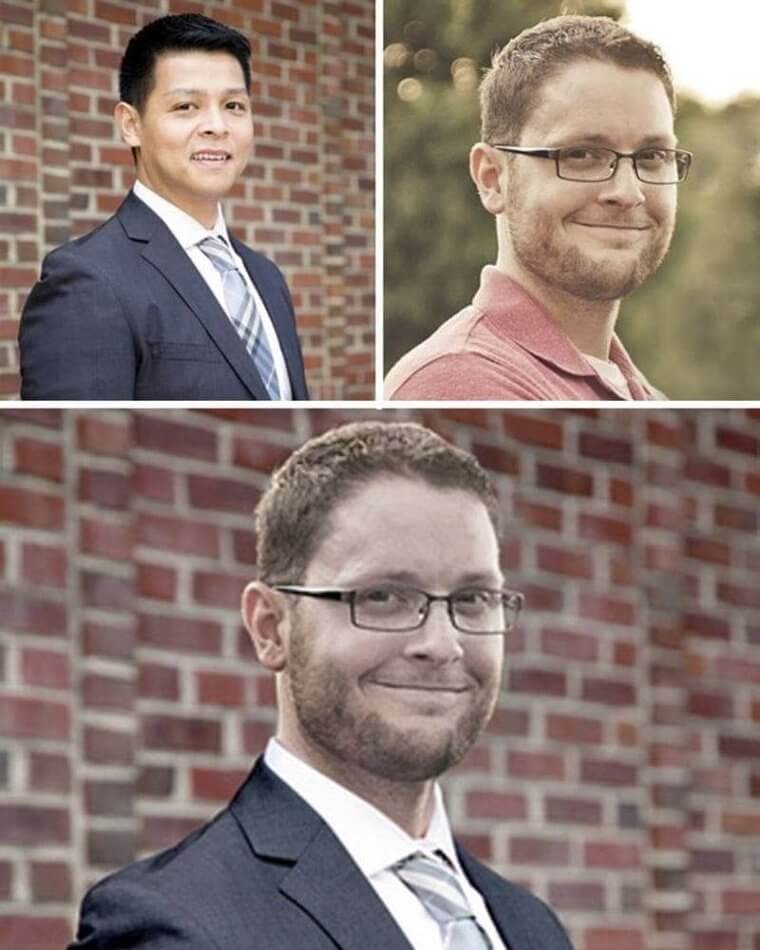 This employee had decided enough was enough, and when he was told he needed a headshot with business attire he turned to the internet. A little bit of Photoshop later, and his headshot was perfect. No need to buy a suit.
All Aboard The Mystery Machine
Every year it seems like schools become more and more non-denominational, which isn't a bad thing. However, holidays like Halloween are usually pretty harmless. These parents found out that costumes were banned at their kids' school, and decided to take matters into their own hands.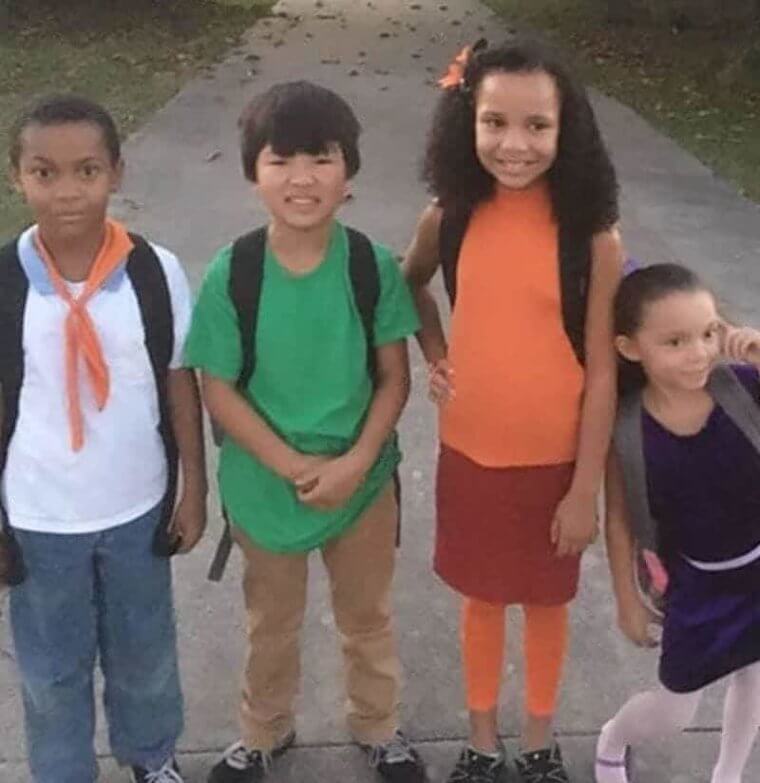 After a bit of sleuthing, they found the perfect group costume that also looked like regular clothing - the Scooby-Doo Gang. We wonder where Scooby is, though.
Changing Tires
In some countries, parking police will place a boot on the front wheel of a car that isn't adhering to parking laws. These boots are very pricey to remove.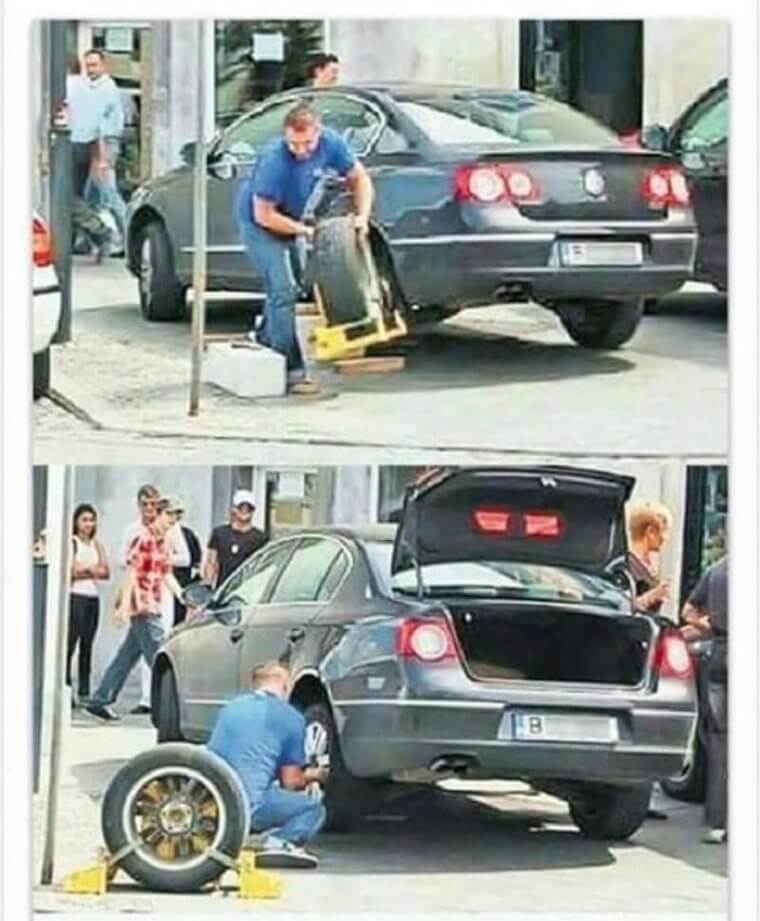 This man decided there was no way he was paying a parking fine, and simply grabbed his spare tire and swapped out the one with the boot. Sometimes complex problems call for simple solutions.
Yes To Unicycling
Strip malls always have smooth walkways in front of the stores which makes for some perfect skateboarding or cycling territory.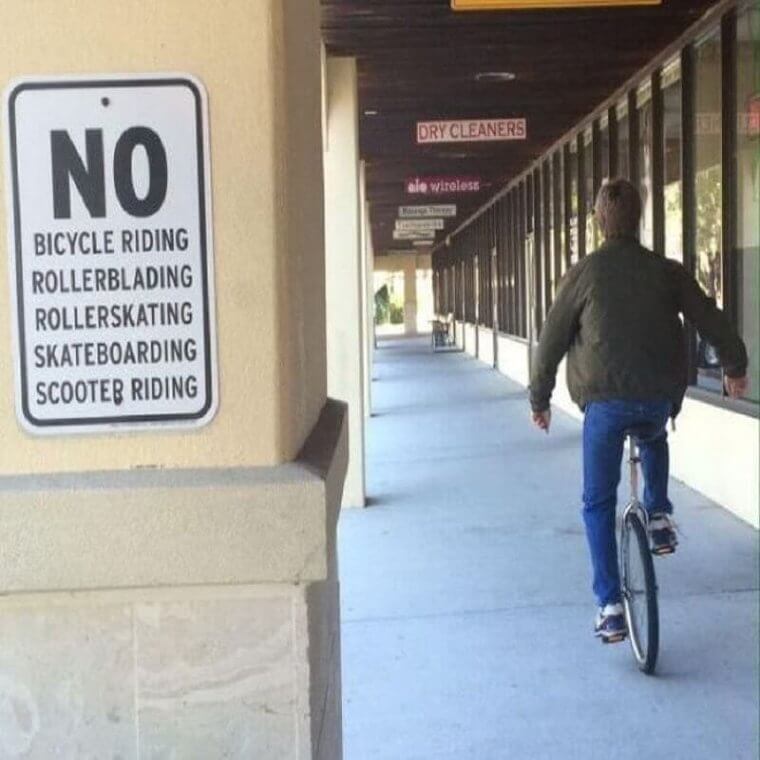 Mall security was tired of always having to chase after people on various wheeled devices, but they forgot one important one - unicycles. Now, this man can unicycle all over the complex.
Getting Into Character
Teachers love a creative student, but sometimes the instructions they provide are a bit too specific. For this assignment, students were expected to draft a letter from the perspective of a Chinese immigrant in the West.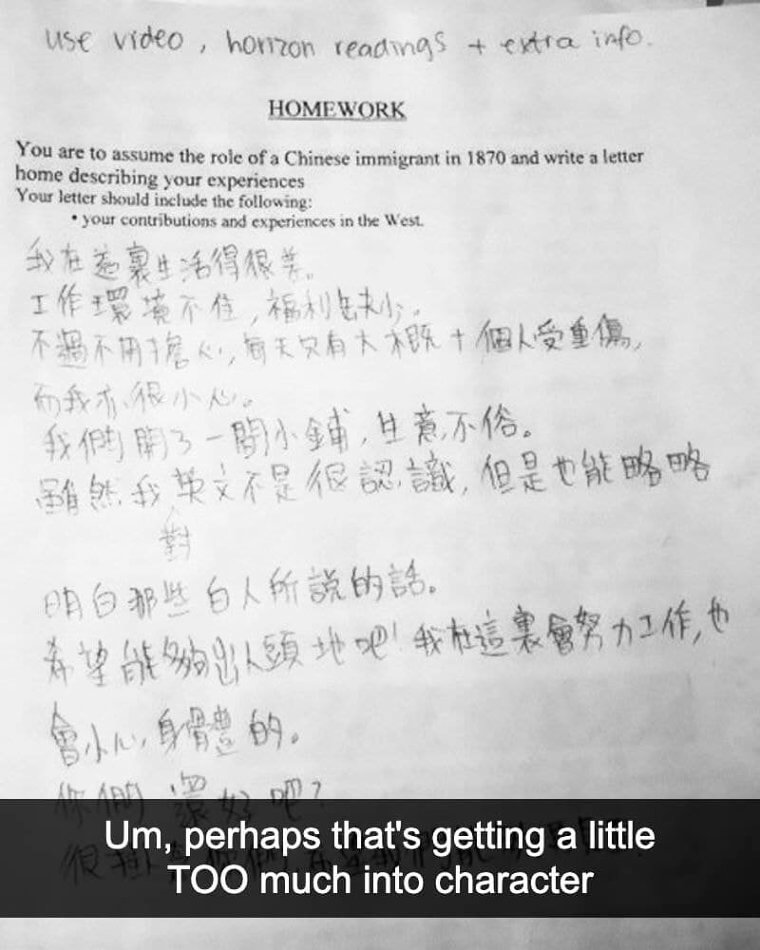 What the teacher didn't bank on was that this student was fluent, and could actually write a letter in Chinese. This should be an A.
Let's Get Literal
Nowadays, guys love to ask for scandalous pictures of the object of their affection. For Marcus, he really wanted a photo of Denise in her bra.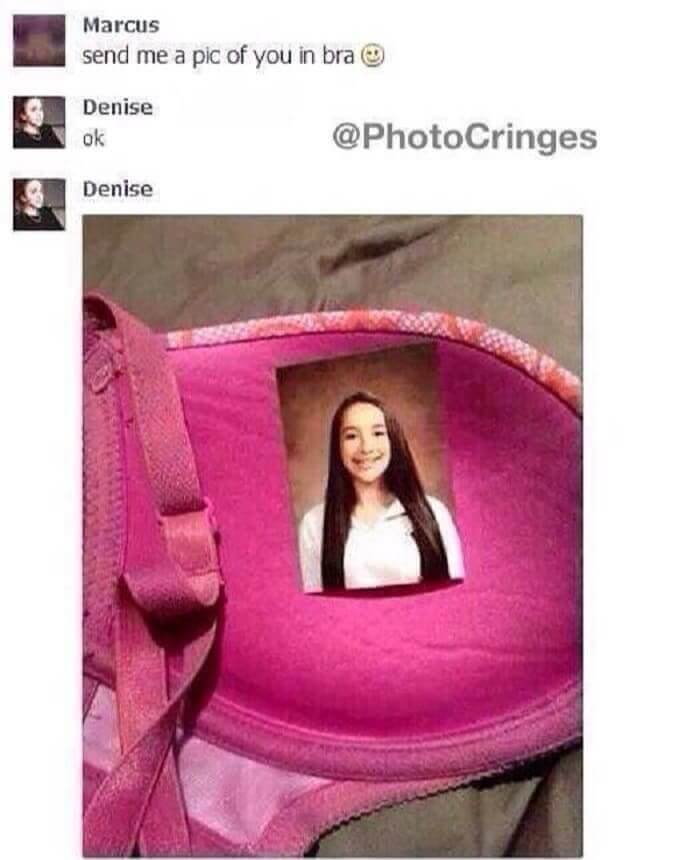 What he didn't anticipate is that Denise would literally send him just that - a school photo of her placed inside of her physical bra. That was well played, Denise.
No Outlet Until Now
One of the first things new drivers learn is what all of the road signs mean. This can take some time, as there are quite a few.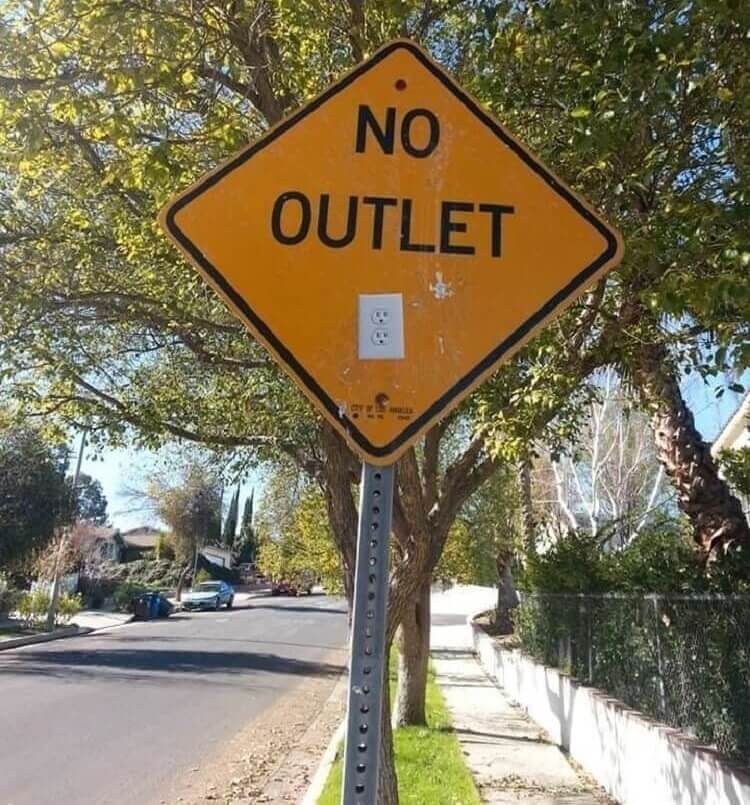 When a driver sees a 'No Outlet' sign it means that the road is a dead end. One savvy driver decided to change things up and add an outlet to the sign. Now there is an outlet, just not the road kind.
Between Two Signs
Anyone who lives in a big city knows just how hard it can be to find a good parking spot. If there are no garages, then you have to find a spot wherever you possibly can.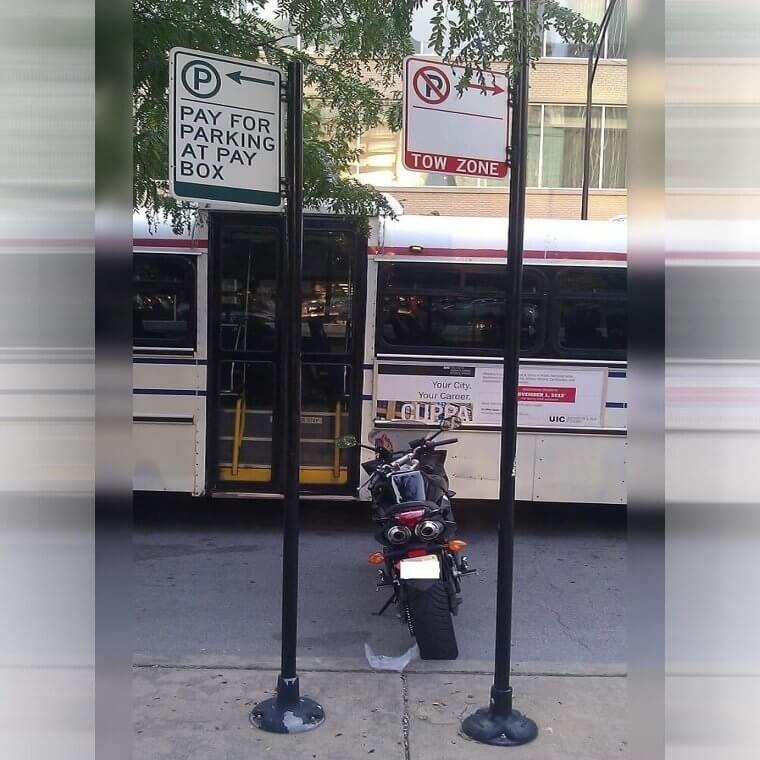 This motorcyclist read the signs, and then looked at the gap between them. Neither sign regulated the middle, which was the perfect spot for their bike.
Just Say No To Food
Many countries do not allow bars to only serve alcohol. They must have a food menu of some kind even if it is only basic snacks
This bar did not want to serve food at all, but because the law demanded it they offered just one item. For a whopping $200, patrons could purchase a platter of chips and salsa.
It's All In A Name
In elementary school, students learn a lot of useful information like how to count and the names of different shapes. When looking at this test, you would think it would be obvious that the name means 'square' or 'oval.'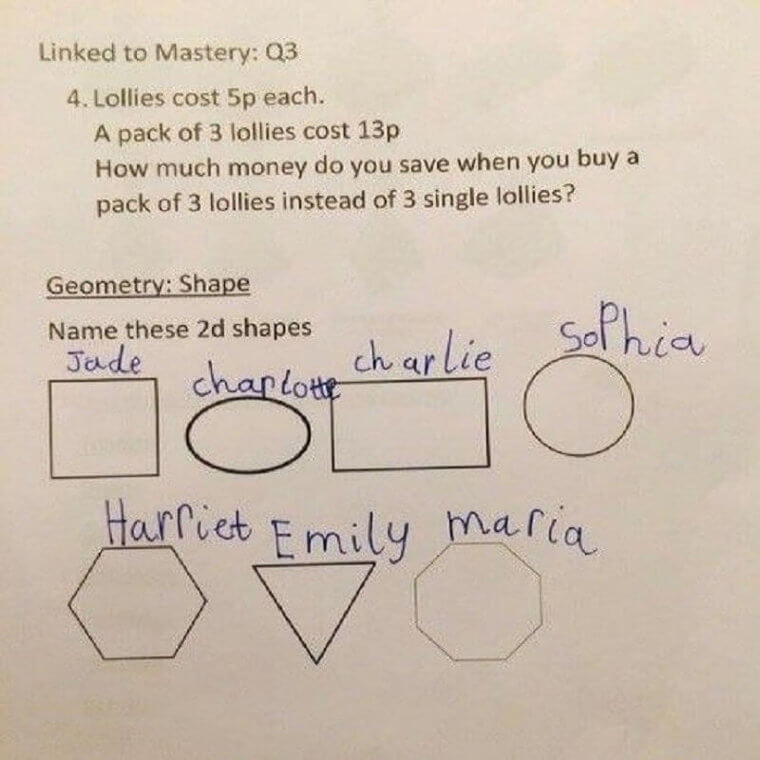 This young student decided to get slightly more creative, and give all of the shapes feminine names rather than actually what the shape is. They should get bonus marks for creativity.
Flush First, Check Second
Nobody likes entering a toilet stall only to realize that someone has forgotten to flush. After a few too many unflushed toilets, management decided to address the problem.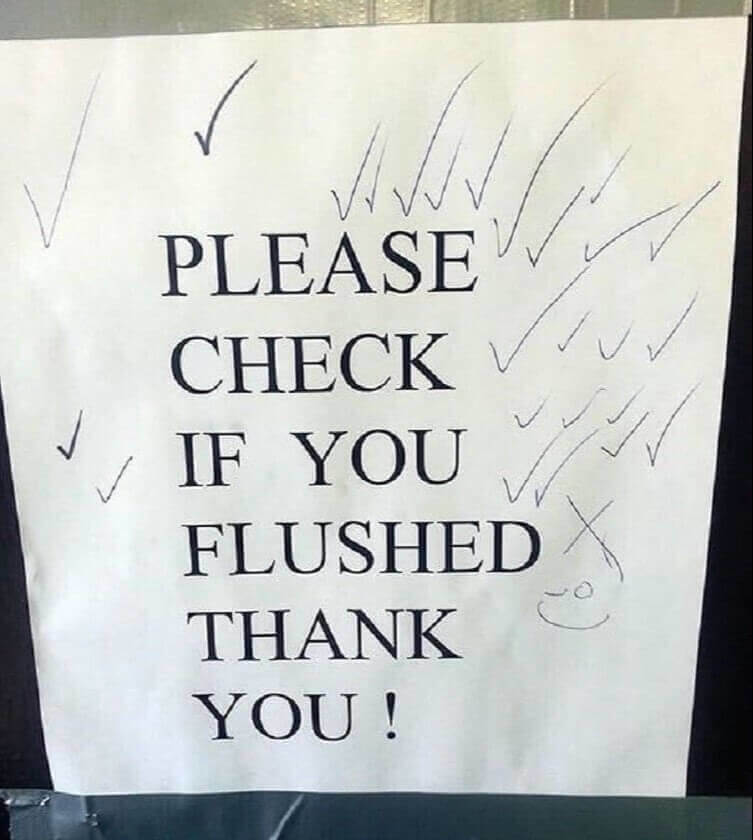 Unfortunately, the sign was not received the way that management had intended. However, there are a lot of checkmarks now, so at least some people are flushing which is better than none.
Reverse Psychology
Grades are funny things. Some students routinely score high, while others score low, and sometimes they score right in the middle.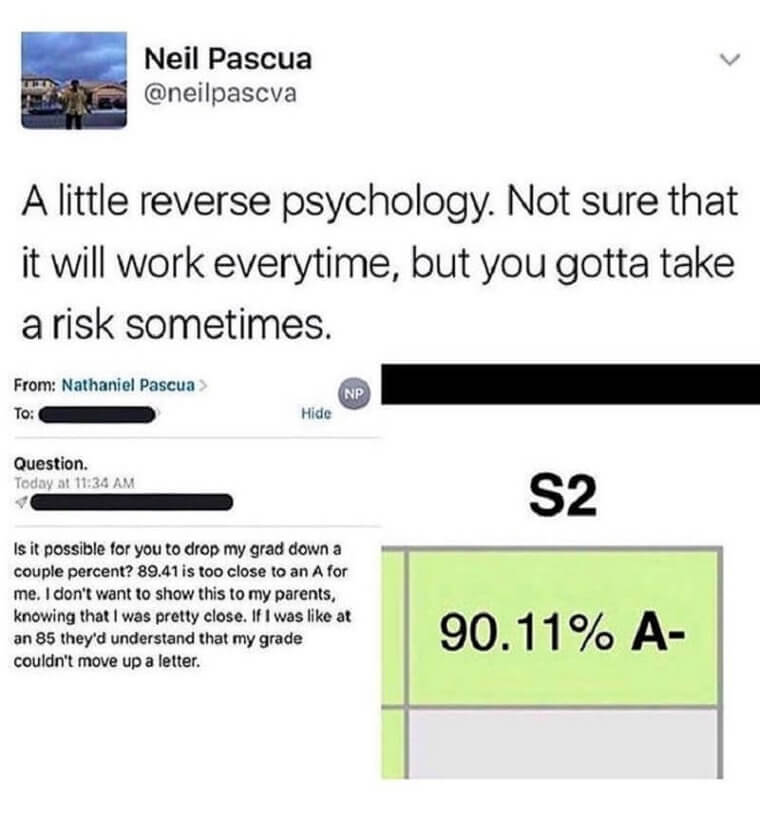 This student really wanted an A-, but they didn't want to ask directly for their grade to be bumped up. One crafty email later, and the professor gave them the grade that wanted.
A Little Too Honest
Some sitcoms have real staying power, like Friends and The Office. They are totally relatable, which is why Amber decided to use a very specific quote for her graduation.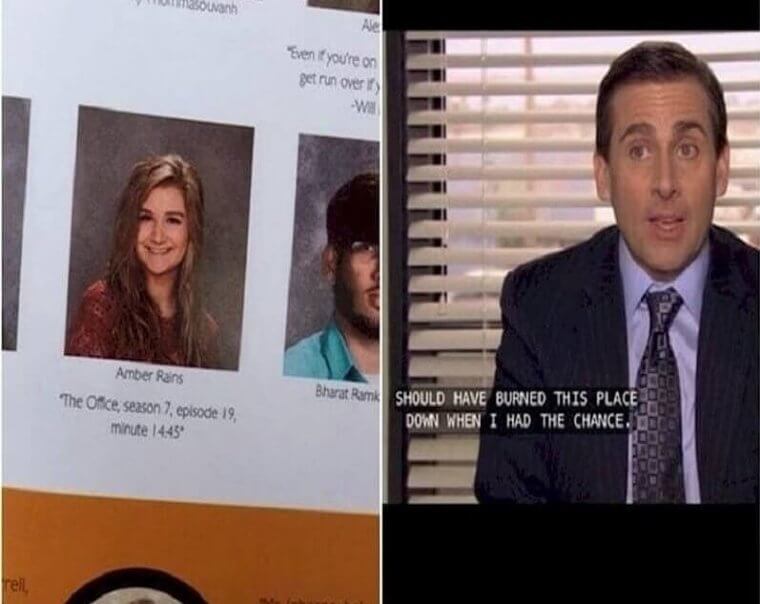 If you go to the episode of The Office; that she mentions, you will see how she really felt about high school. We hope you're feeling better, Amber.
All Jumbled Up
Most people are taught how to do laundry by their parents. First, you separate all of the colors, and sometimes even different fabrics.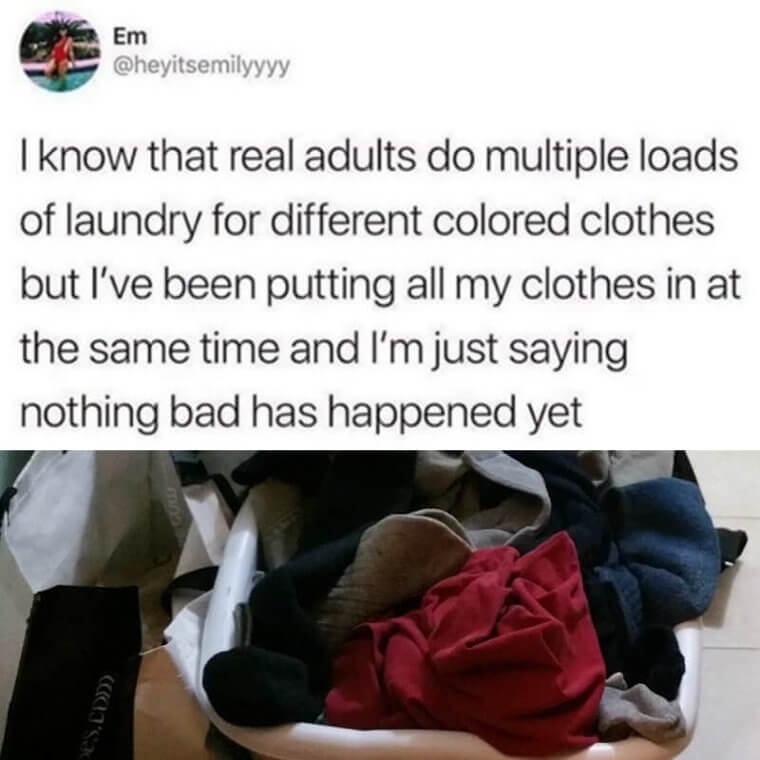 Then you wash them in cold, warm, or hot water. This person likes to live on the edge, and simply throw everything in the washing machine at the same time. Chaos works for some people.
Always Use A Cup
Offices have all sorts of special rules that make them unique places to work. Instead of allowing employees to drink out of whatever container they want, they have to drink out of styrofoam cups. 
Not only is this not very eco-friendly, but it makes zero sense to pour a canned drink into a cup. We like how this person rebelled by just sticking a can in a cup.