Everyone can relate to that strange moment when, for some bizarre reason, you completely forget the one thing you were supposed to remember. Whether it's walking into a room to specifically get something and it completely escaping your mind or having a complete mind blank when trying to remember the name of somebody you used to know, that forgetful feeling can be one of the most frustrating emotions we deal with. It's not all bad, though, as it can sometimes lead to seriously hilarious moments, just like these!
When The Face Says It All
This is the facial expression of someone who has just realized their big mistake! Even though this is a pretty funny scenario, it's hard to not feel sorry for the little guy. Clearly, nobody warned him that his meal wasn't safe for the microwave! Or maybe it's that he forgot to remove the lid? Or to add sufficient water? It's not easy to tell, but what we do know is that noodles won't be on the menu tonight.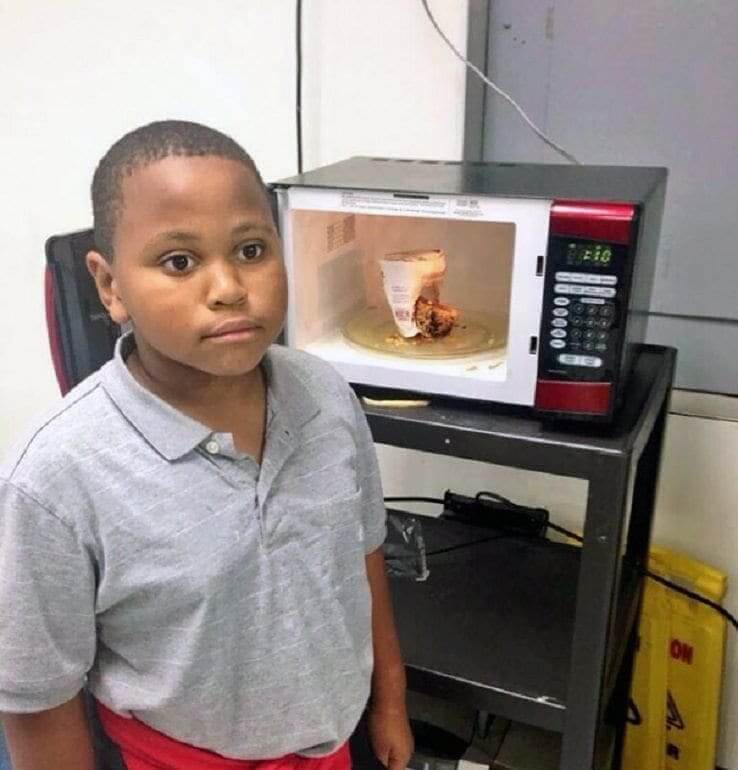 On the flip side, at least this is a lesson the kid is learning early — he's very unlikely to make the same mistake again!. We're sure plenty of his future college buddies won't be so fortunate.
She Had To Shoulder The Disappointment
Well, they say that carnival has a reputation for wild behavior, but this is something else! If you're wondering what the hell is happening here, you're currently looking at a guy making out with a stranger while completely oblivious to the fact that his girlfriend is sitting on his shoulders, watching the whole thing play out. How can someone be so stupid you might ask? Stupid, yes. Very drunk and stupid, definitely yes.
This is one of those photos where you'd love to know what happened immediately after it was taken. Did the guy's girlfriend pour her drink over his head? At least, we'd imagine.
Take The Next Turn For Ocean Drive
This is quite an incredible photo, to be honest. It's unclear what has actually happened, but it appears that somebody has taken very much the wrong turn and driven into the sea. We presume it wasn't their desired destination, anyway! Perhaps the car belongs to the young man posing in front of it? One last snap with his beloved truck before bidding it farewell? We wonder what the fish will make of it.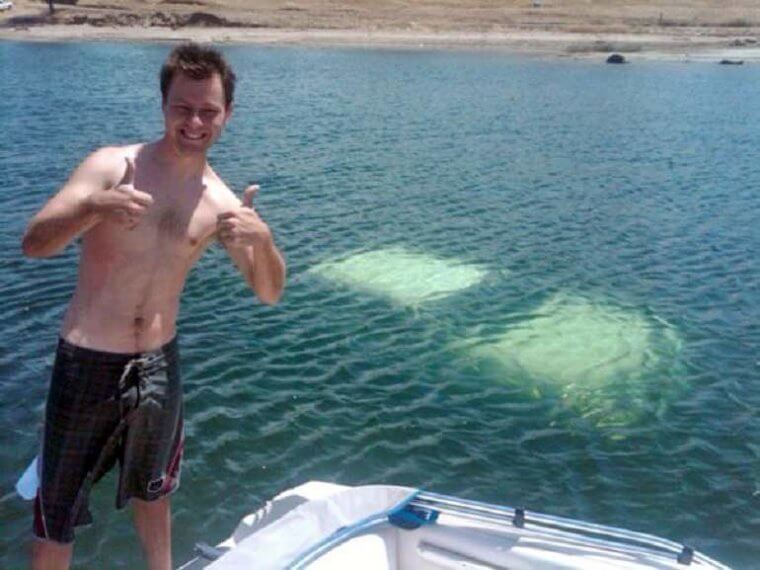 This isn't what you'd typically expect to see swimming in the ocean whilst out on a boat trip, but hey, if there are no dolphins then maybe this is the next best thing?
What Kind Of Time Do You Call This?
Anyone with kids will understand how mortifying it is to pick them up late from kindergarten or a party. The look of abandonment can almost be too much to bear! Well, it appears that the same applies to dogs, too. This furry friend was clearly unimpressed when their owner forgot to collect them from doggy daycare — in fact, the manager of the daycare took this photo to send to the owner as a guilt-tripping reminder!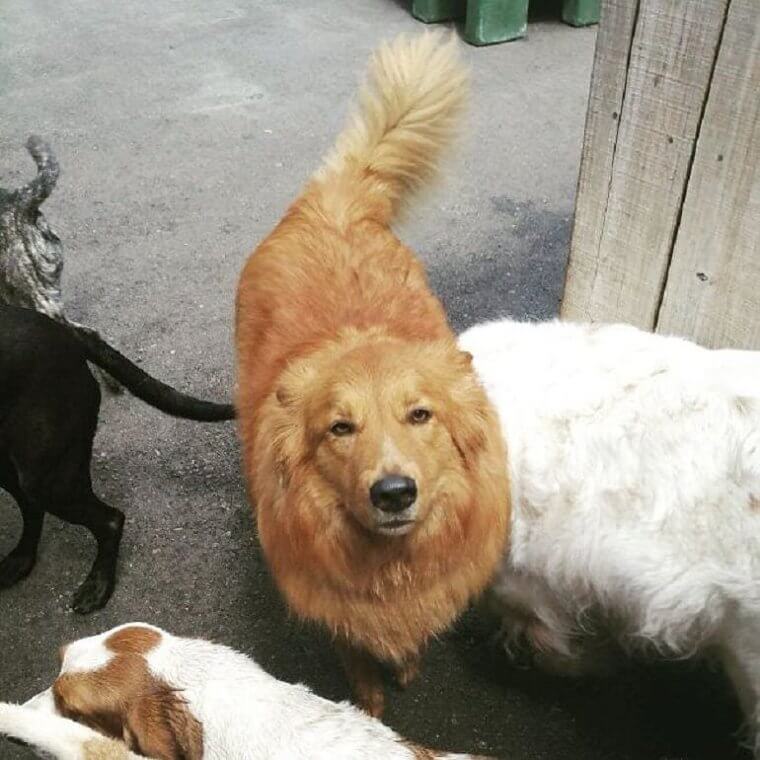 This is the look of a dog who has had enough of being surrounded by loud, playful pups, and just wants to home and lie on the sofa? We get it.
This Must Be The Secret Ingredient
Let's be honest, baking at home can be a pretty messy process. Before you know it, there can be all kinds of bowls, utensils, and ingredients strewn around the kitchen and it's difficult to keep track of what's supposed to be mixed with what. One such utensil is the spoon, which most bakers can't resist licking before it goes in the dishwasher. Clearly, in this instance, the spoon got lost along the way.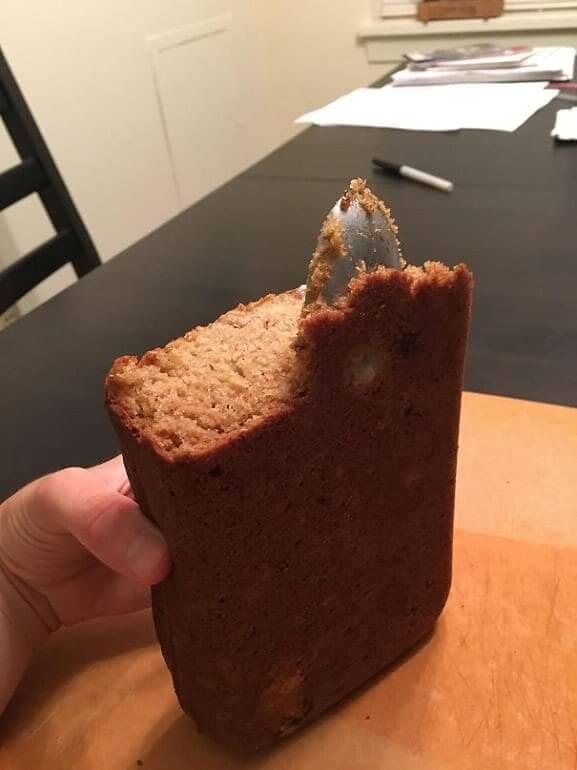 This is an honest mistake and a pretty funny one too, but we just hope the person who found the spoon was the baker themself — hopefully not the neighbors!
Perhaps It Was Earth Song That Summoned The Rain
As Michael Jackson famously sang in one of his biggest hits, Earth Song: 'What about sunrise? What about rain?' Well, whoever forgot to remove their iPad from the roof of their car clearly didn't think about rain. Amazingly, the tablet is still working and there appears to be minimal damage, so perhaps this was a successful test of its waterproof credentials? No need to find a big bowl of rice to submerge it in, then!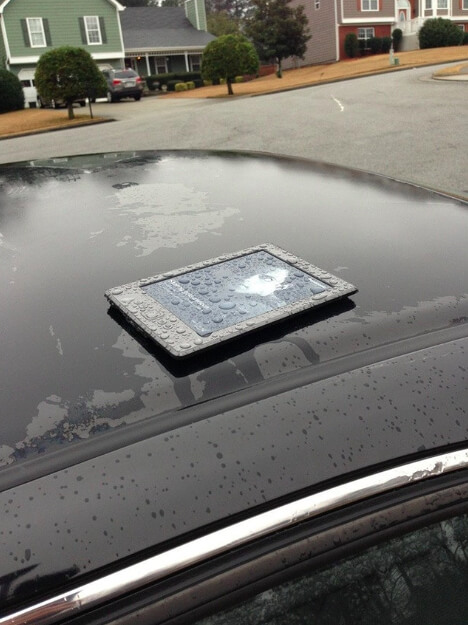 What's slightly confusing about this photo, however, is that it seems it hasn't actually been raining — the road looks dry, at least. Could this have been a carwash calamity?
Call Us If You Can
These types of adverts are so commonplace on advertising boards and public transport, we're virtually numb to the message they're trying to get across at this point. For that reason, it might take you a second to realize the huge mistake these attorneys have made here. See it? Yep, that's right. They've completely forgotten to include the primary call to action of the advert — the number to call them on!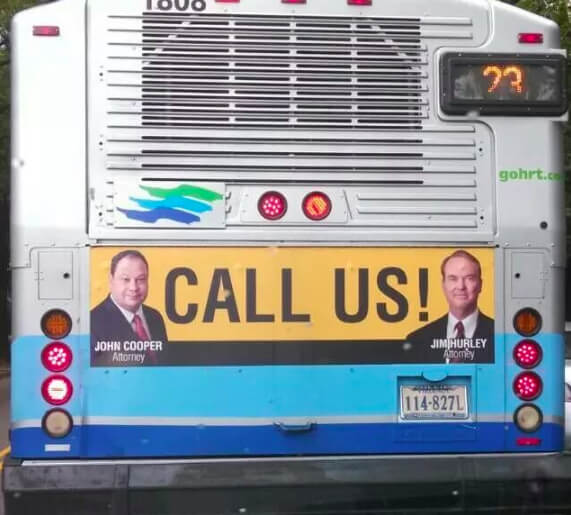 Let's just hope John Cooper and Jim Hurley have a decent LinkedIn profile because this will not be money well spent otherwise. Perhaps they'll be using their professional skills to win money back from the advertising agency responsible for this amusing gaffe.
He Was Absolutely Hooked To His Studies
Okay, we get that the morning can be a bit of a rush, especially when you have to catch a train or make it to class on time. In these circumstances, it's understandable to compromise on your optimal routine — maybe hair has to remain unbrushed, or socks don't match — but forgetting to take the hanger out of a jacket before putting it on?! Surely this isn't possible, even for a college student!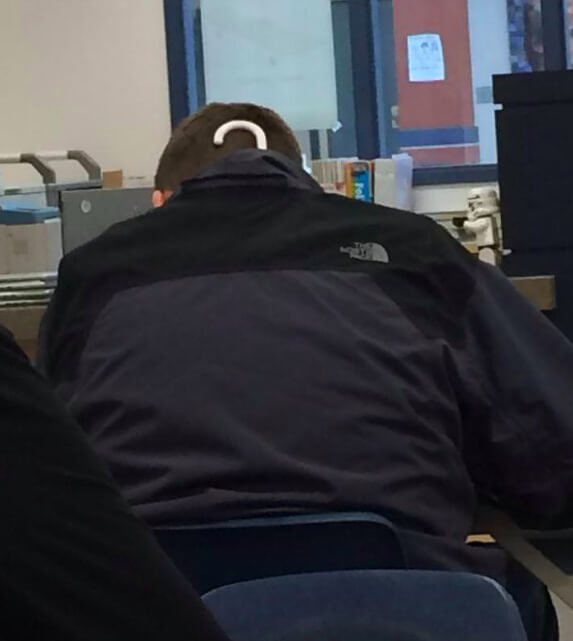 What's even more incredible is that he appears to be blissfully unaware of his wardrobe malfunction, and, somehow not too uncomfortable either. Perhaps we've got it all wrong and this guy is, in fact, pioneering a postmodern fashion trend.
That Damned Invisibility Cloak Up To Its Tricks Again
Imagine investing hours of time and energy into preparing for a performance, only to forget the one thing you actually need for that performance! This poor trumpet player — we assume it's a trumpet — will never be able to live this hilarious moment down, although we doubt his bandmaster saw the funny side of it. Did he forget his instrument at home but was told to fill in anyway to not mess up the choreography? Did he drop the trumpet midway through the routine?
Whatever the reason this poor guy found himself in this extremely awkward situation, we feel pretty bad for him and salute his attempt at keeping calm and carrying on. Who knows, maybe the crowd didn't notice?
When You Don't Get What You Pay For
Okay, at the risk of starting a viral debate to rival the infamous 'gold or blue' dress, can we just agree that this vase is, in fact, purple. Great. Now that's been established, we can laugh at the amusing error by this store employee who, as the saying goes, had one job! To give them the benefit of the doubt, there's a decent chance this employee is colorblind, in which case it's an honest mistake. But still, kinda funny nonetheless.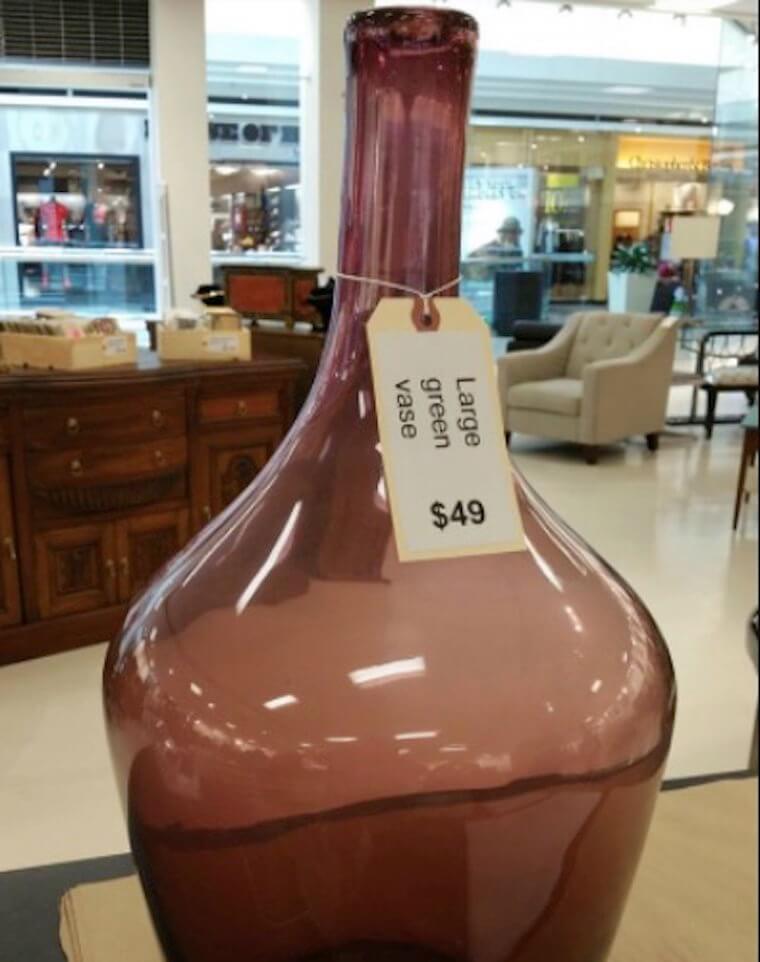 The wrong tag aside, what's with the literal price tag? Surely it's pretty clear to customers what it is they're looking at? Does the tag on the chair in the background read 'large grey chair'?
It's Not Exactly Headline News
We should probably give the benefit of the doubt to the journalist here. Yes, they have completely forgotten to write a headline, and in doing so, exposed the awkward placeholder text that they were supposed to replace. But surely it was somebody else's job to double-check for editing mistakes before the paper went to print? What makes this error particularly amusing, though, is that the length of the lazy placeholder text fits the article perfectly.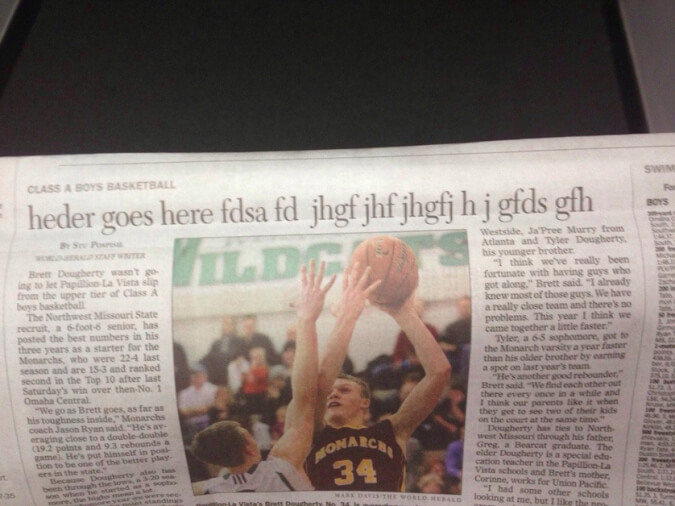 Ironically, this slightly embarrassing mistake probably made the article one of the journalist's most famous to date — we'd imagine the Class A Boys Basketball teams featured have this cut out and framed, at least!
When You Give Your Coffee A Lift
Let's be honest, we can all be a little bleary-eyed first thing in the morning — especially before we've had that first essential coffee of the day. Therefore, it's somewhat understandable that you might misplace your mug. But on the roof of your car? Seriously? There's a school of thought that says in order to never forget something, it's best to place it on top of your car. Clearly, that failsafe hack has, well, failed here!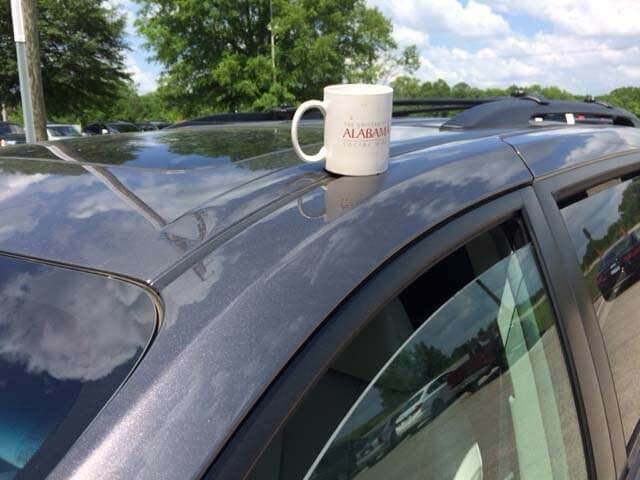 We just hope the good people of Alabama gave this driver a honk or two to let them know what was up. It's not clear what the official signal for "you have a coffee on your car roof" is, however.
Can We Turn The Heating On Please
This is a cautionary tale if ever we saw one. For those who live in warmer climes and are unfamiliar with snow days, this potential hazard might seem impossible, but for people who reside in the chillier parts of the country, snowstorms are very much part of everyday life. It is therefore highly unfortunate that a human error like leaving the car window down should happen when a blizzard strikes. 
The question is, how do you clear a car full of snow? Do you shovel it out or just wait for it to melt? Either way, you'd better have insurance!
Put Your Foot On The Gas
Have you ever wondered what would happen if you were to accidentally drive off from the gas station with the pump nozzle still inserted into your car? Well, it would look something like this. We always see those signs at the gas station reminding drivers that the station isn't responsible for any damage caused by mistakes like this, and think, how could anyone possibly be so stupid? Well, we're only human after all!
While this photo is admittedly pretty funny, we have to ask, did the person who took it not think to yell out to their fellow driver before disaster struck? Cruel!
When You Forget Your Socks In The Sahara
Anyone who has had a sunburn before knows how painful and uncomfortable it is. Usually, this happens on the first day of exposure to the sun, when people are so excited to be in a hot climate they totally forget (or can't be bothered) to apply sunscreen — big mistake! In this case, the poor guy has forgotten to protect his feet, presumably while wearing sandals. Let's hope he packed aftersun lotion!
In fairness, it's easy to forget the less obvious parts of the body when applying sun cream. You'll notice people on the beach lathering up their face and arms, but their feet? Not so much.
When It's More Than A Pizza
Takeout is great and everything, but there's nothing quite like the full restaurant experience. Perhaps this is what this pizza joint was trying to provide their customers by delivering part of the stove with the pizza itself! It's an honest mistake, but what is the person supposed to do with this thing once they've finished eating? Maybe rather than having the restaurant collect it, the pizza lover can keep it for some homemade attempts.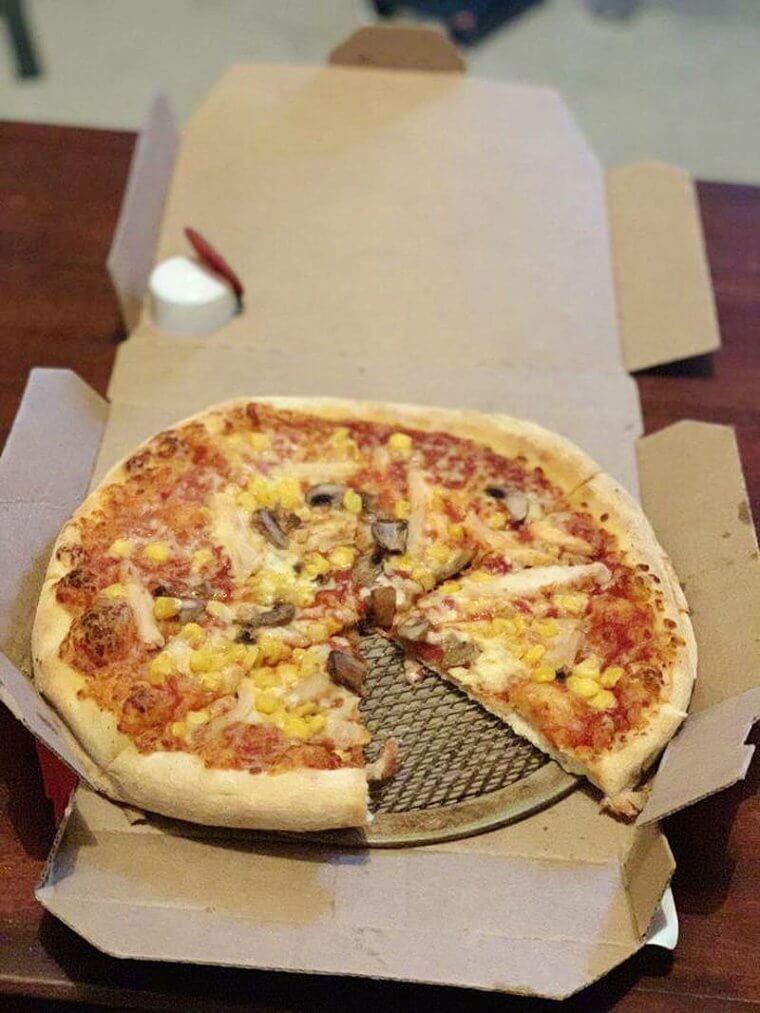 While this bizarre addition might have been a bit of a shock to the customer we've seen far worse before! Accidental additions to dishes are usually far more stomach-churning than a pizza stove...
What Parenting Nightmares Are Made Of
For anyone who has raised a kid, or even looked after one, this is a sight that will fill you with dread. They say that toddlers are usually up to no good when they're too quiet — often because they're busy creating what resembles a crime scene! In this case, the parent forgot to close the baby gate and all hell broke loose. The moral of the story? Double-check the baby gate!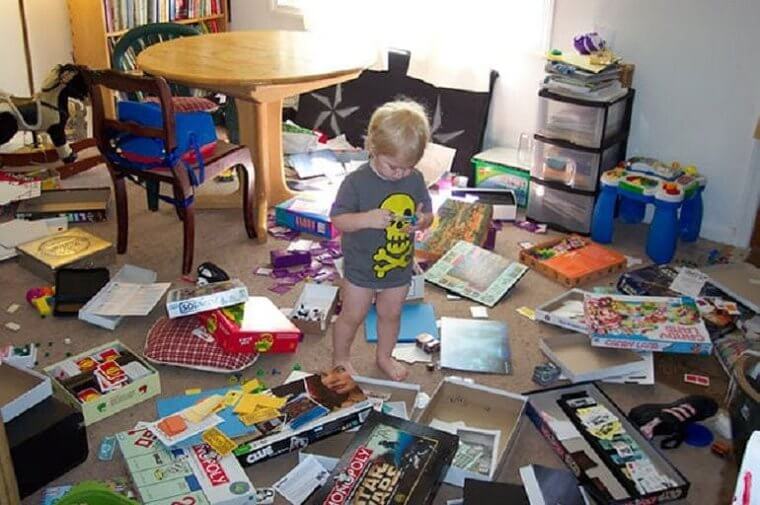 Parenting is a constant battle between letting your kid have fun and explore and retaining a semblance of tidiness in your (once tidy) home. Thinking of having kids? You have been warned...
It's Quite The View Up Here
This truck driver was so, so close! They'd driven the container all the way from its original location to the port and ready to be shipped across the ocean. But then... they forgot to unhitch the cab and here we are. The only benefit, perhaps, is the temporary view across the dockyard. but in reality, this is a pretty slim silver lining. In reality, this would be a terrifying experience.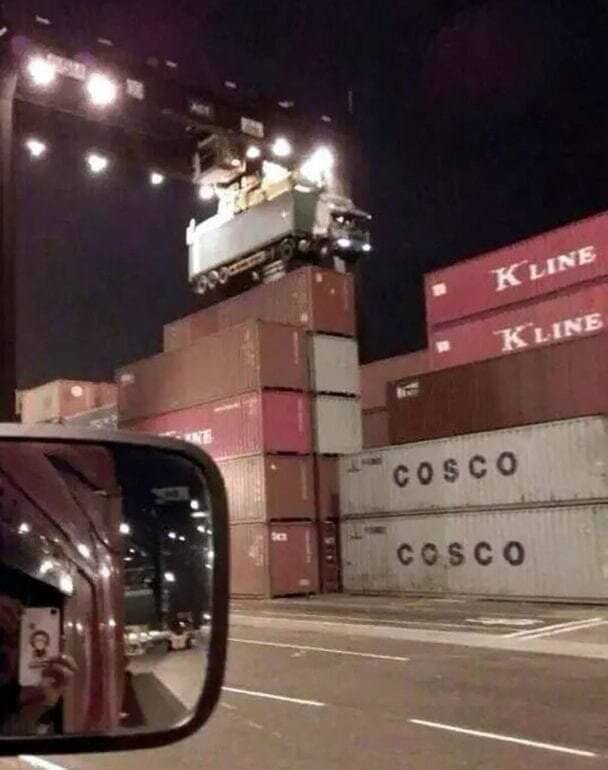 Let's just hope that the person controlling the mechanical claw was skilled enough to safely lower the truck back onto the tarmac. We presume so, and that the truck driver was able to laugh about it over a beer!
When You Ace The Test And Catch A Tan All At Once
At first glance, this looks like the result of a cruel punishment handed out by a college coach following a terrible performance on the field. In actual fact, this pretty amusing situation is the quick-thinking of a teacher who forgot their keys to an exam hall where students were set to sit a test. Rather than postpone the exam — unfair on the kids who had prepared for it — the teacher found a suitably large, quiet (sort of) space!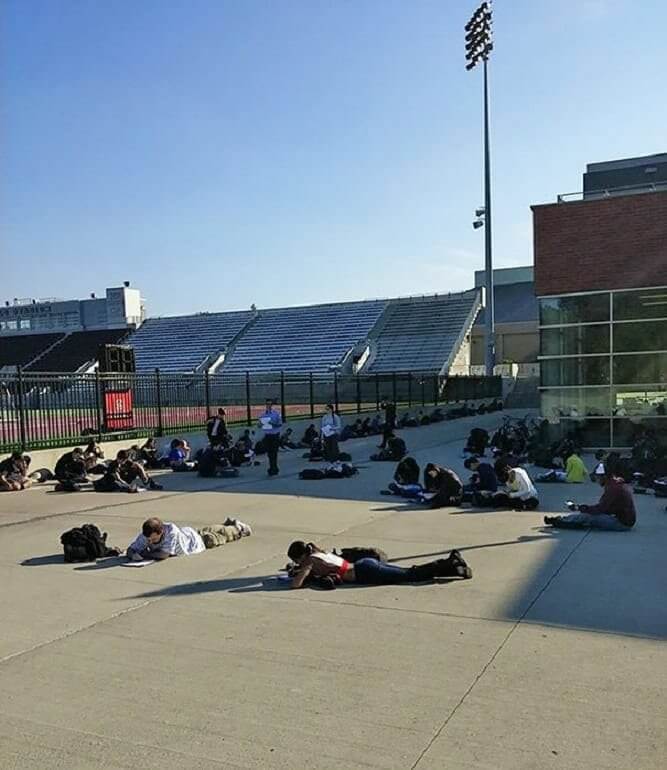 While the sight of students sprawled out across tarmac might look strange, this alfresco style of exam-sitting could actually be beneficial. Sunshine and a light breeze are surely preferable to a stuffy exam hall, right?
On The Face Of It, This Was A Bad Idea
Let's be honest, there's something magical about the snow. It looks beautiful when it falls and it's ready-made fun for all the family if you choose to step out in it. Whether it's snowball fights, snowman building, sledding down the hill, or even just a good old walk, snow is something to be cherished. A favorite snowy activity, especially for kids, is making snow angels. That being said, it's probably best to be shown how before diving straight in.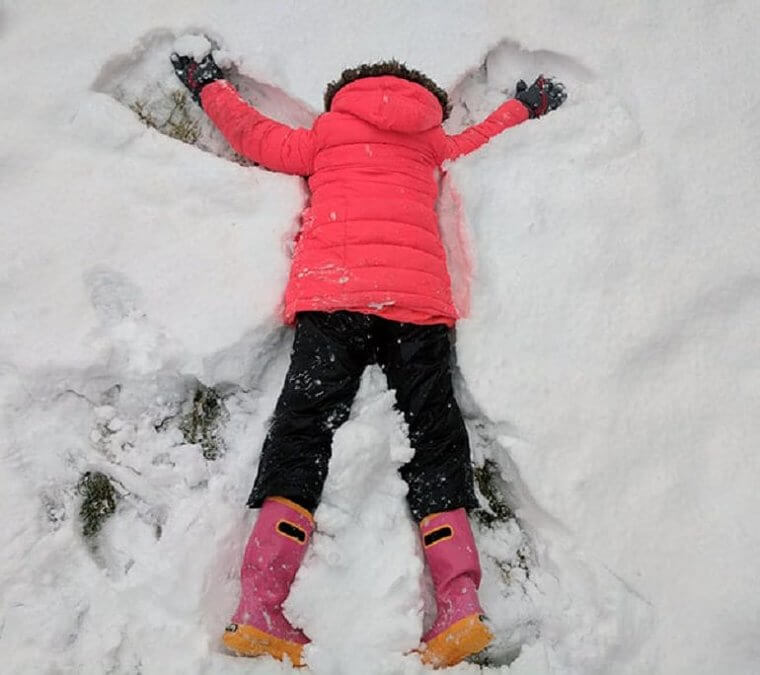 Unfortunately, that is exactly what's happened to this eager girl here. Sure, her snow angel looks pretty good, but why did nobody tell her that you're supposed to lie on your back rather than your front! Chilly nose anyone?
Anyone Got Any Spare Ice?
We hope whoever owns this ice machine is planning a summer full of parties because they have almost enough of the cold stuff to keep the Las Vegas party scene going all season. This is a great example of how one, simple mistake can have somewhat dramatic implications. In this case, whoever closed the ice machine door last forgot to put the tray back. Perhaps their mind just... froze?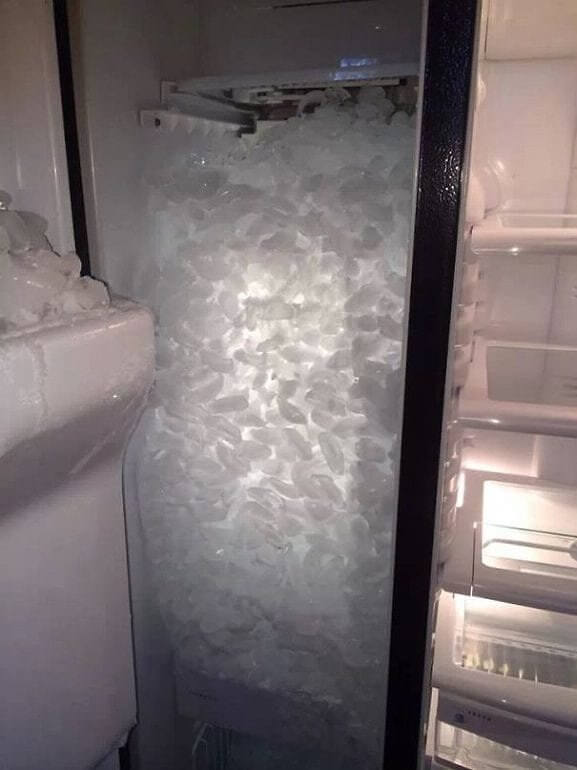 Perhaps the owner of the freezer decided to use this newfound resource for a post-workout ice bath rather than a series of summer parties. We know which one we'd rather...
Ever Get The Feeling You're Travelling Light?
In fairness to whoever this luggage belongs to, there are literally endless things to think about and organize before setting off on vacation. From deciding what to pack and ticking off tasks around the house, to the journey itself and the arrangements when you finally arrive, traveling can so often be a stressful undertaking. In this case, the would-be holidaymaker got so close to perfection. They made it all the way to the airport, and then... oh.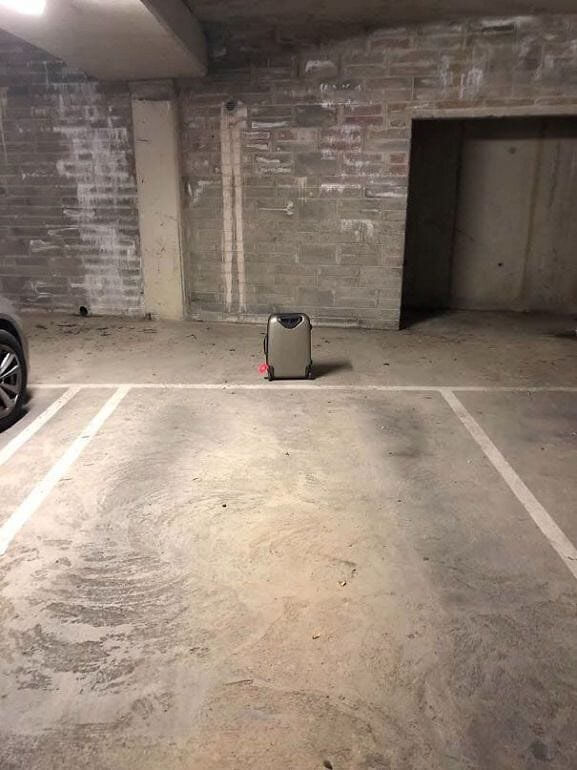 There's nothing worse than starting what is supposed to be a relaxing vacation off on the wrong foot, so we hope whoever took this photo managed to get this suitcase reunited with its owner!
That's What They Call A Bunny Boiler
We're sure that this chocolate bunny really was EARresistible when he was first purchased from the store, but after being left in a hot car a little too long he's, well, resistible. If this bunny was bought for a kid for Easter, we hope their mom or dad went back to the store for a replacement. It's not easy convincing a child that "it will still taste the same!"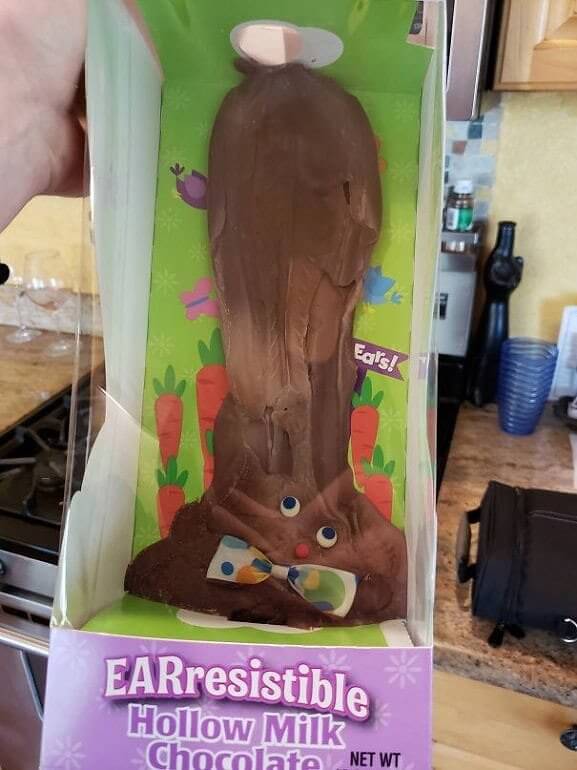 The alternative, of course, would be to pop the bunny in the fridge and convince the youngster that this is a special kind of rabbit. A molten lava rabbit, perhaps? 
A Force To Be Reckoned With
There have been some incredible advances in science and medicine that patients in hospitals take advantage of every day. One such invention — responsible for saving millions of lives — is the MRI scan. This incredible machine creates images of the inside of our body, using radio waves and ultra-strong agents. If you ever needed proof of just how strong these magnets are, then look no further! Metal trolley? No problem.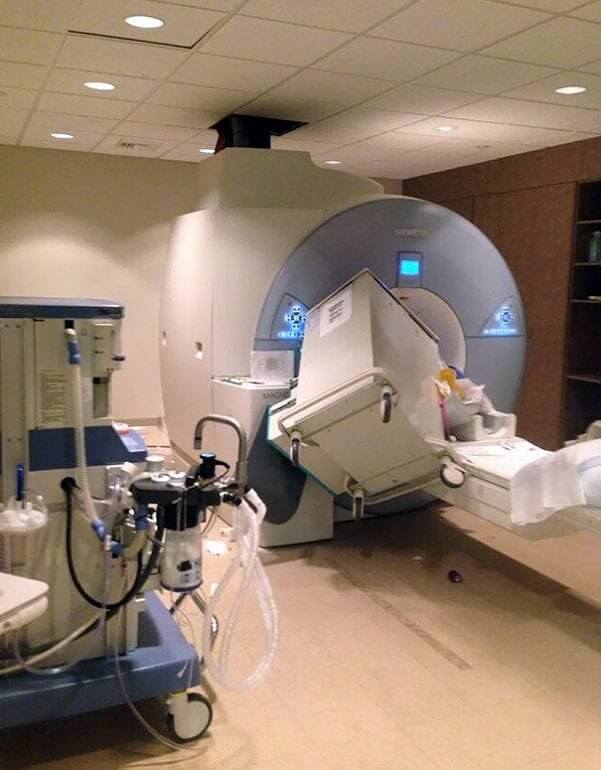 In all seriousness, we sincerely hope there wasn't a patient in the MRI machine at the time, If there was, they'd probably need to visit a different area of the hospital before heading home.
We Hope They Kept The Receipt
In fairness to the person that took this photo, it's not exactly them that forgot the all-important ingredient of what should be a delicious Snickers bar. Whether it was a production line mishap or a cruel prank from somebody in the factory, what we do know is that this isn't what you expect when you peel open the famous brown wrapper! We sure it was still delicious though, in a not-so-chocolatey kind of way.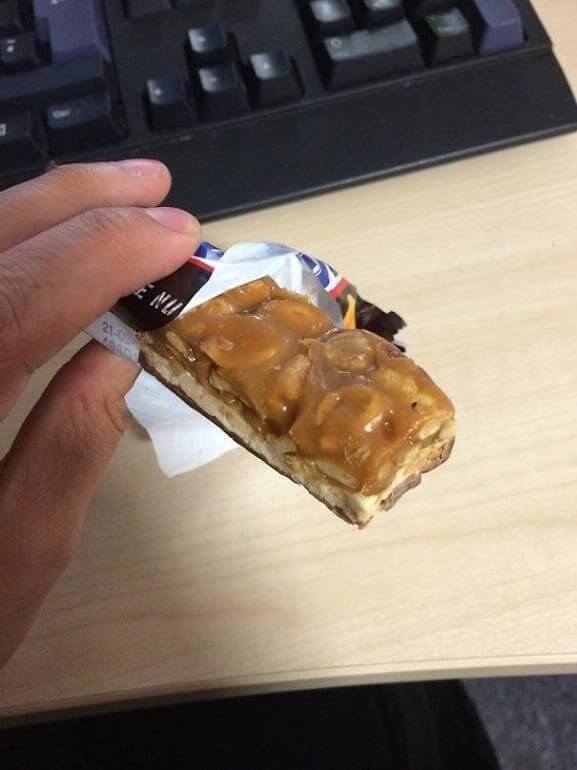 While the unlucky customer might have missed out on the full Snickers experience, at least they got an amusing photo that we're sure they shared far and wide on social media.
Because Pirates Need Dentistry Too
We'd love to know what kind of event this guy was going to — or had been at — when he realized he had a dentist appointment to go to! Was he going on a fancy dress night out with his friends, or maybe he's a children's entertainer and this is his everyday outfit? Either way, it's not the kind of thing you typically see when you walk into a dentist's waiting room.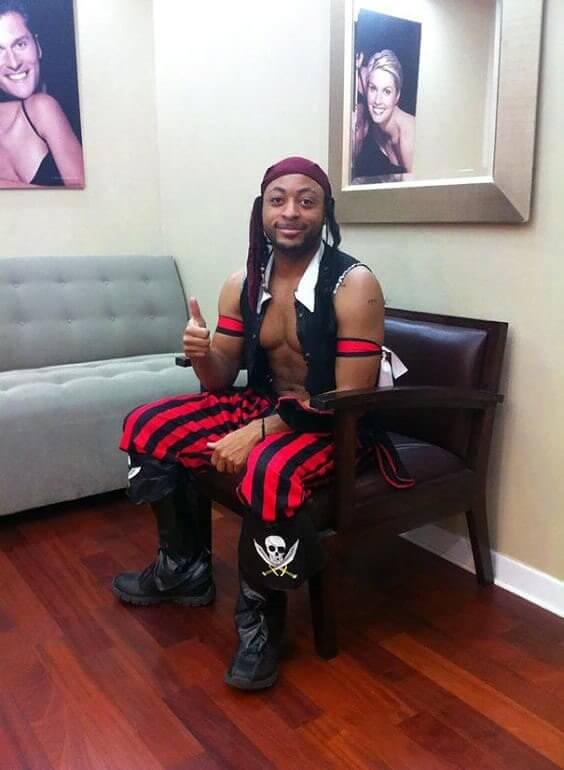 Let's just hope the dentist didn't get too confused and fill their patient's mouth with gold teeth to complete the look. Otherwise, he really would have to change his profession whether he likes it or not!
That's A Strange Looking Submarine
For boat owners, there's nothing quite like the freedom of sailing out into the open waters whenever they so choose. Can you think of a more pleasant way to spend a beautiful day? Possibly not. Although in this unlucky owner's case, the only water he'll be exploring is that in the vicinity of his sunken dinghy. How can something like this happen in the safety of the marina we hear you ask?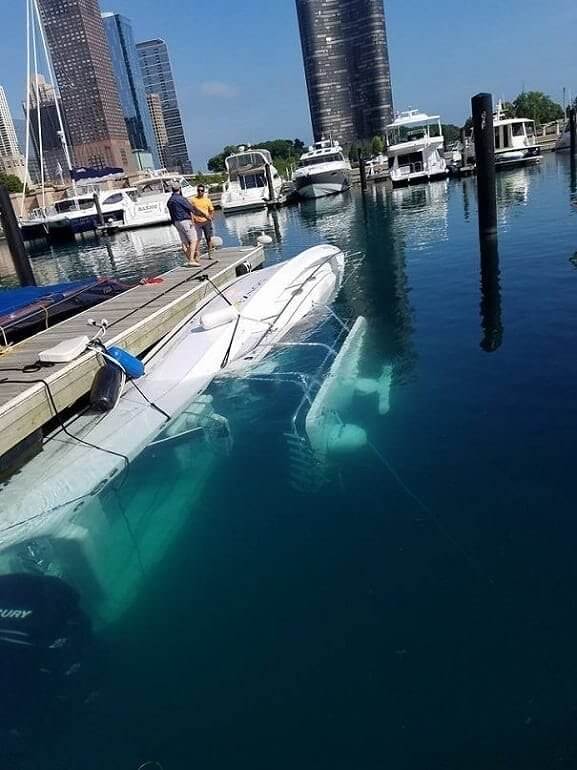 Well, it would appear that somebody forgot to remove the drainage plugs from the boat, allowing rainwater to fill it up and ultimately capsize it while nobody was around. Ouch.
When You Thought You Were A Valued Employee
When it's somebody's birthday at an office, their colleagues are usually pretty happy because it means they'll be cake — not to mention the obligatory break from work. After a rendition of "Happy Birthday" and the blowing out of candles, pieces are handed around and it's generally a nice moment for employees to catch up with each other. That is if whoever is in charge of buying the cake actually remembers!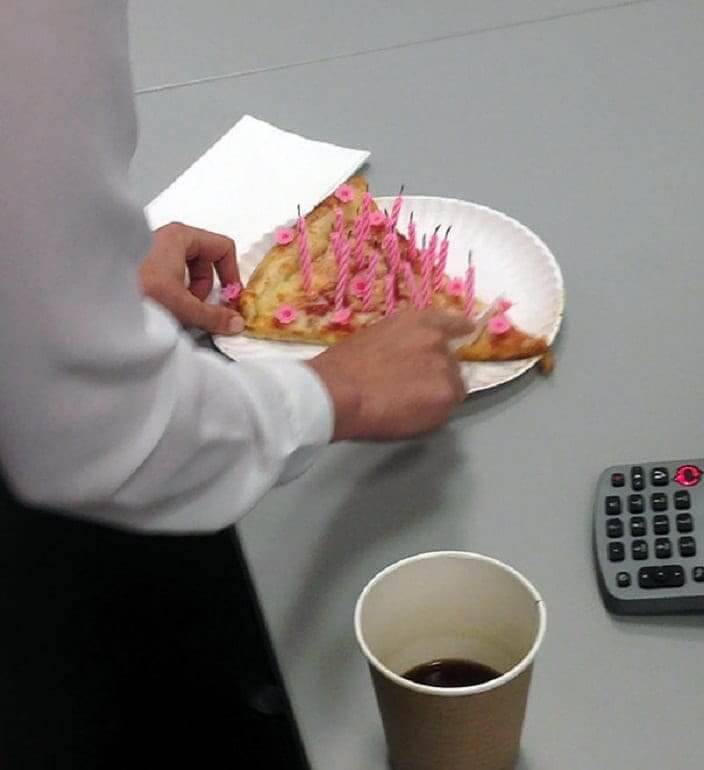 In this case, they've clearly forgotten. However, rather than presenting the birthday boy with nothing, they've thought outside of the box and come up with the next best thing: birthday pizza! That's lunch sorted.
Do Forget To Smile!
Photography is a skill that can take years to perfect. Understanding all of the variables like lighting, angles, and depth of field mean it's a little more complicated than just pointing a camera at the object you'd like to photograph. This is a hilarious example of clever photography gone wrong. What this couple is trying to do is take one of those "floating photos" you see everywhere on social media.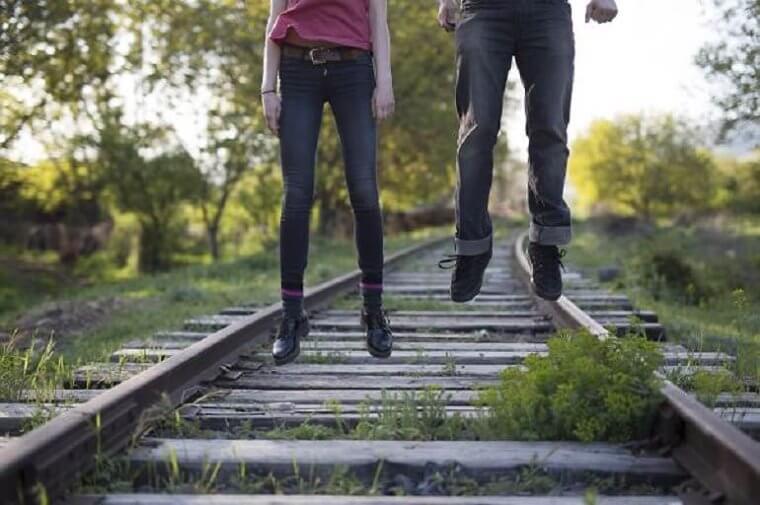 Unfortunately, whoever set the camera up forgot to position it properly, so rather than some cool levitation, all this couple has to show is a couple of pairs of jumping legs.
Dinner Is Served In Mount Doom
We have no idea what the chef — and based on the look of the kitchen, it would appear to be an actual chef — was attempting to make here, but it clearly hasn't gone to plan. And certainly not to plate. Could it be meringue? Or maybe caramel? Whatever the intention, they've ended up with something that resembles molten lava and is unlikely to be a desert that diners will be requesting again anytime soon.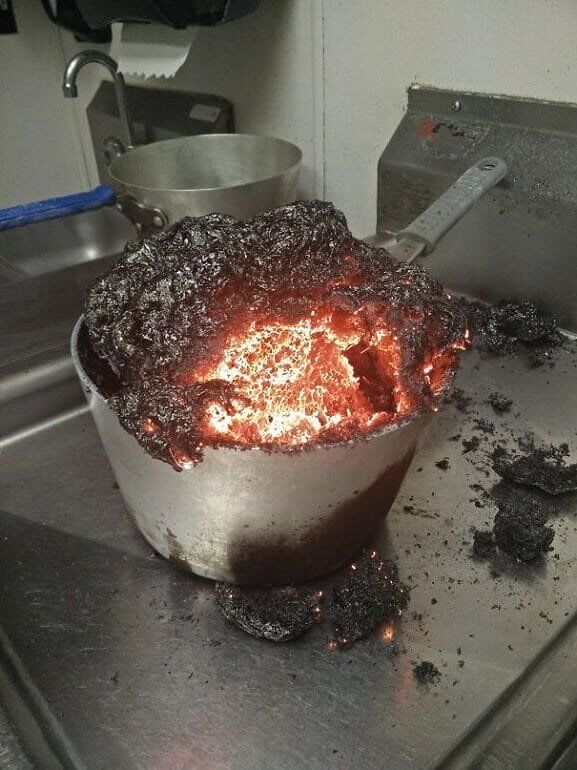 While this is clearly a horrible attempt at a dish, we have to admit that it's a pretty cool photo. That being said, it's unlikely the restaurant posted it on their Instagram account!
Dog Baskets Sure Aren't What They Used To Be
Looking after a dog is hard work. There are numerous things an owner has to think about, from food, to exercise, to trips to the vet. This owner clearly cares about their doggy — look at that content face! — but forgot something quite important here. Washing your dog's bed is super important for hygiene reasons, but it's equally as important to have it dried in time for your furry friend to go to sleep!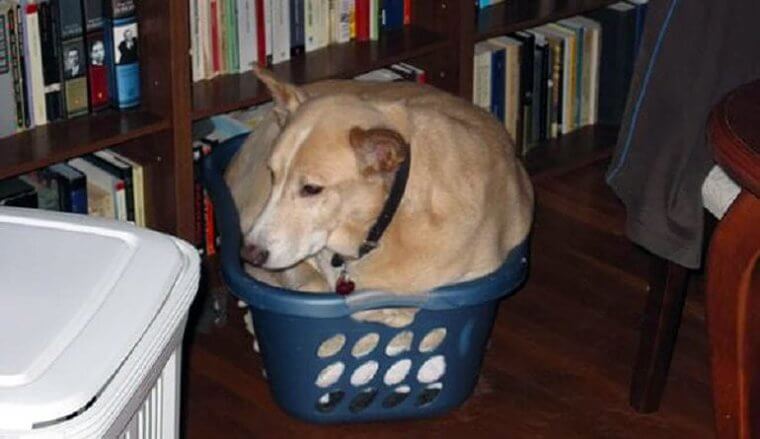 You can't accuse this doggy of not being resourceful, at least. No dry dog bed? No problem. I'll just squeeze into a cozy spot in the laundry basket instead!
Beds Are Great, But Pizza Is Even Better
Ah yes, this will be a familiar sight to many cat owners. For one reason or another, felines can't resist sitting on anything warm. And by anything, we mean literally anything! Kitchen counters tend to be a favorite spot, but hey, if no one is keeping an eye on that fresh pizza box then that slice of Hawaiian will do just fine. We wonder if the kitty at least ate the slice afterward.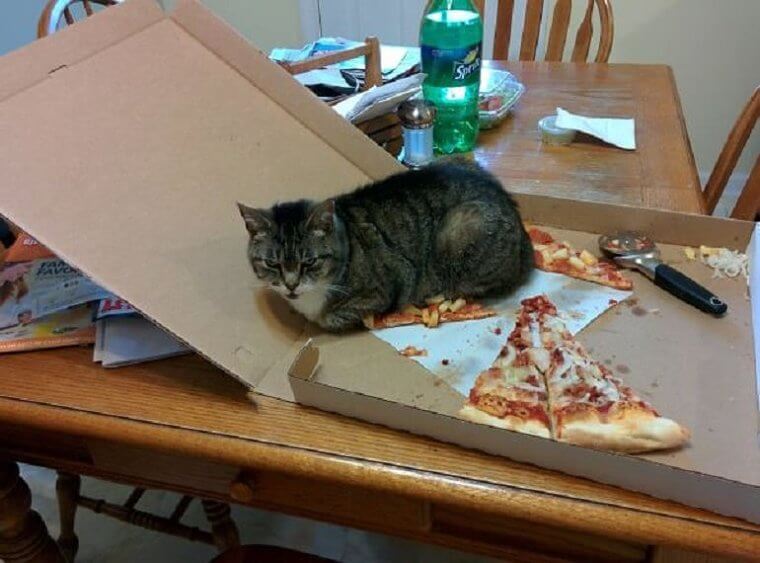 It would also appear that this cat wasn't moving anytime soon, either — just look at that face! We hope whoever bought that pizza had their fill because they won't be having any more.
Not Your Average House Plant
Anyone who owns a kitchen counter garbage disposer will know how useful they are. They are an incredibly hygienic way to get rid of food waste without filling up (and stinking out) the regular trash can. Garbage disposers may be clever, but they're not so clever that they know to clean themselves out, however, and they need to be taken care of every so often. Unfortunately, it would appear this person has left theirs a little too long!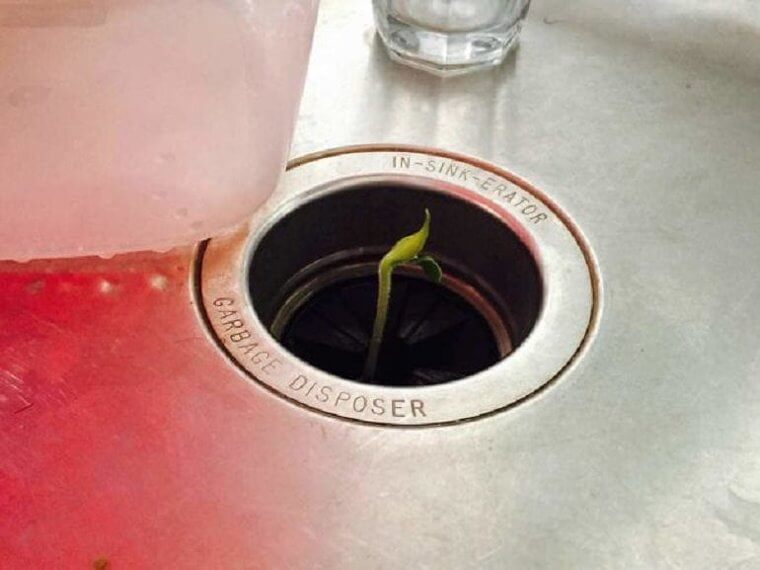 Pumpkin carving is a messy business that leaves seeds absolutely everywhere, and consider this a cautionary tale of what can happen if you don't get rid of them properly!
Plenty Of Space In This Parking Lot
Let's be honest, the crew on this construction have had a little bit of fun. In usual circumstances — where a car or some other large object hasn't been removed when requested — it would be toed away, but why do that when you can embarrass the driver who will have to sheepishly return to their car in what used to be a parking lot! At least they won't have to pay — we hope!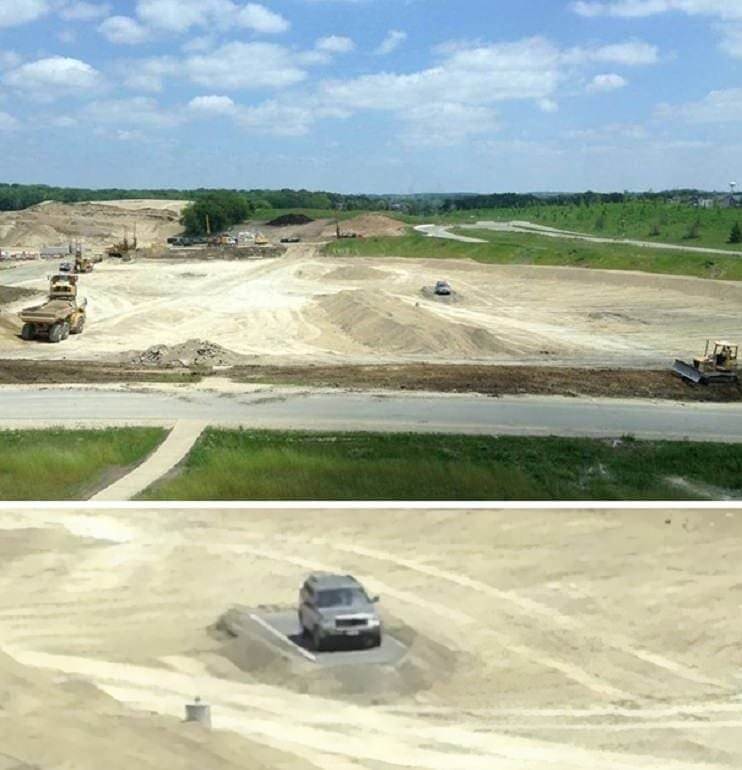 The moral of the story here is that even though those official-looking letters we receive are boring, it's probably worth reading them from time to time. Especially when there are bulldozers around!
They Say French Is The Language Of French
We have to admit, our grasp of the French language isn't great, but we're pretty sure this isn't actually French. It's barely English, to be honest. In all seriousness, this is a great example of what can happen when the copy isn't signed-off before something goes to print. At least, assume it wasn't signed off! Sometimes, placeholder text can blend into the copy, making it quite difficult to spot. Not in this case.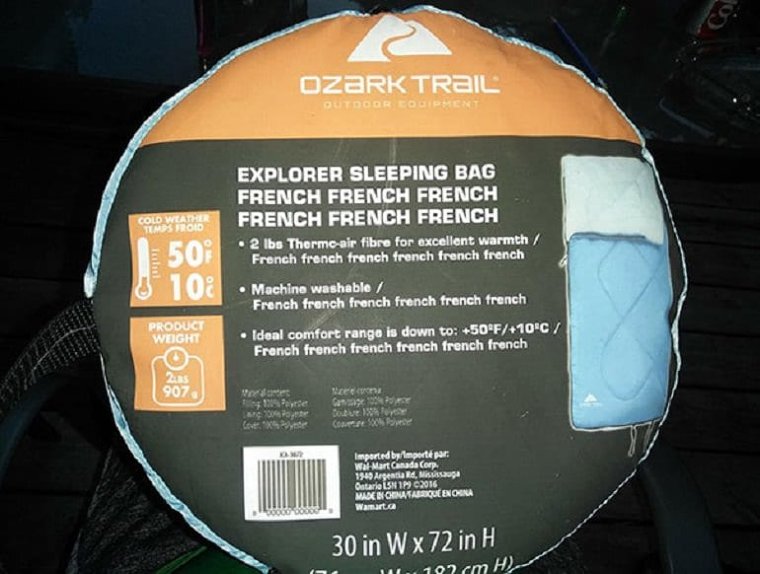 If only speaking another language was this easy. How's your German? Pretty good thanks: GERMAN GERMAN GERMAN GERMAN. Basically fluent. Alas, we reckon poor old Ozark Trail has quite a few products to recall. 
Does Anyone Want Ketchup?
If you were driving a large truck full of tomatoes across the state, you'd probably double-check (or maybe even triple-check) the fastenings on the back doors before setting off, right? Well, this driver obviously had other things on their mind. It's unclear how long the driver went along the highway decorating it with the red stuff, but it looks like a long enough distance to be captured by satellite images!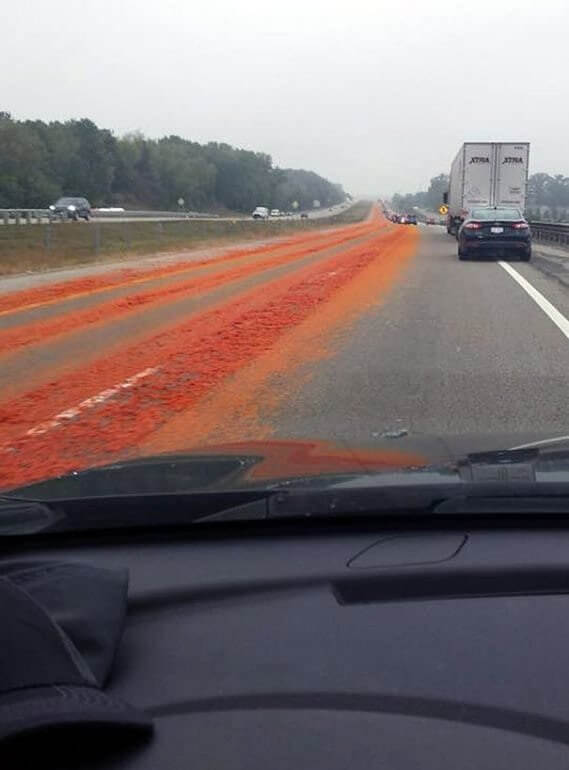 What's amusing about this photo is how all the other drivers are desperately trying to avoid the tomato mess, as if it's going to leave a stain on their sneakers or something!
You'd Better Hit Paws On That Accelerator
Anyone who owns a cat will tell you that you do not, we repeat, do not leave them without food to eat! Our feline friends may be far more independently-minded than dogs, but they're still domesticated creatures and expect to have certain needs fulfilled. The guy who took this photo was presumably on his way to work as his kitty stopped him in his tracks to explain why there was an empty bowl in the kitchen.
As if you needed any more evidence that one does not own a cat, rather, a cat owns you! Oh, and while we're on the subject don't forget their stroking requirements either.
No Need To Take The Lead
Going on a successful dog walk is at least one hundred times easier when you have the most important piece of equipment — a lead. In this case, the guy in the photo was in a rush leaving his house and forgot to bring one for his little pup! Fortunately, he did happen to have a packet of chili-flavored chips on him, so what better incentive for his dog to (literally) follow his lead?
While this might be a resourceful, clever stunt, we do hope the cute little pug at least got a reward at the end of her walk for following the crunchy bag of chili goodness!
That Might Not Go Down Well During Communion
This isn't so much a case of forgetting something, rather, this is a case of feeling like you'd rather be anywhere else! This guy clearly wasn't listening when his wife mentioned they were taking their son to a church service. Either that, or he enjoys being provocative. Surely the answer is simple? Either stay in the car and enjoy a break from childcare or flip the shirt inside out and wear it with confidence.
Who knows what this guy did next, but it would make for a pretty amusing YouTube video to see what the reaction would be from a Christian conservative congregation!
A Few Bumps But We Got Back Okay
Hopefully, you're not eating while scrolling through this list. If you are, apologies! We feel bad. Nowhere near as bad as this poor guy must be feeling after falling asleep in what appears to have been an actual swamp. Sure, he may have forgotten to use insect repellent spray, but whatever wretched beasted feasted on him for dinner would unlikely to have been put off by a few chemicals! 
We're not sure what this guy did next, but if it didn't involve packing his bag, getting in the car, and driving home to his mosquito-free apartment, then we're confused.