We're all human, and sometimes things just don't go our way - that's what life is all about after all. Whether you got a tattoo that you instantly regretted, or you finally gained the courage to change your hairstyle and you ended up with a terrible result, these fails are probably too familiar to many of us. But that doesn't mean they're not absolutely hilarious. Read on for the funniest relatable fails ever documented!
​When You Tattoo Your Girlfriend's Name, But Then You Break Up
Getting a tattoo with your significant other's name or face is always a very risky decision. So when this guy's relationship ended and he realized he was stuck with his ex-girlfriend's name, he just knew he had made a mistake.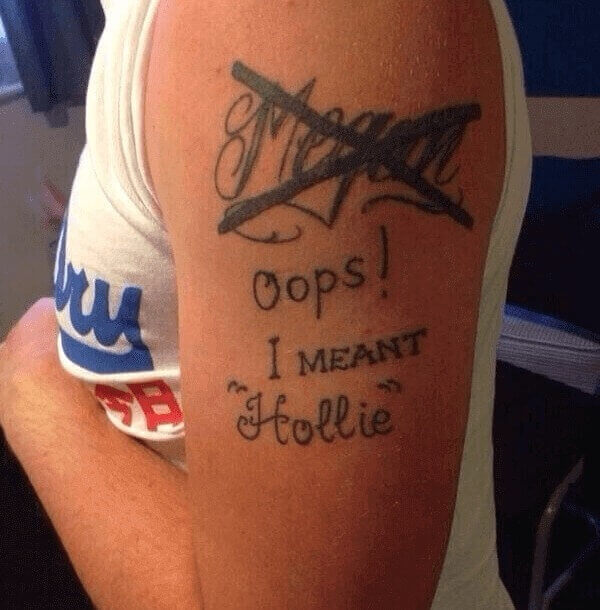 But that didn't put him down for too long. As soon as he started a new relationship, he went ahead and crossed out his ex-girlfriend's name, and put on a new one. That's what we call making lemonade out of lemons!
Never Forget To Shut The Window In The Middle Of Norway's Winter
Even if we've never been to Norway, we all probably know how cold it gets during their winter months. Clearly, these people completely forgot about this, because they went to sleep without shutting their window.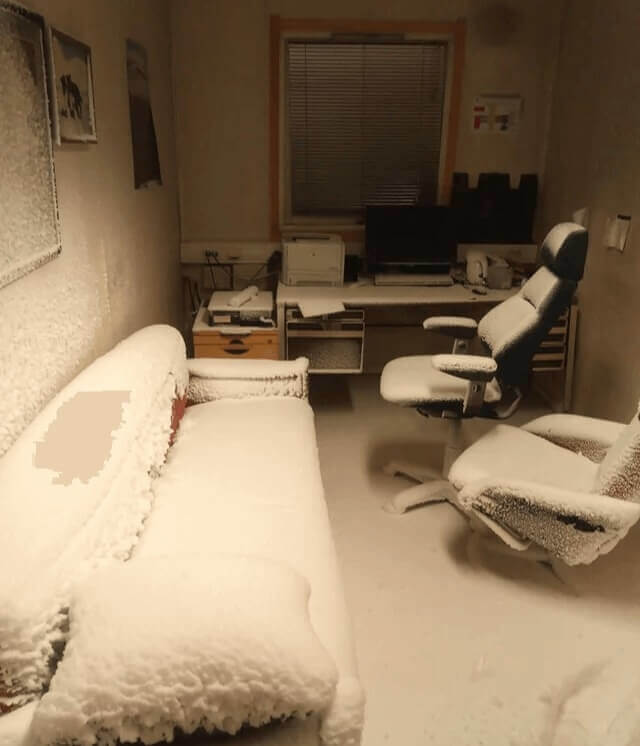 The next day, they realized their home office had been completely covered with white frost and snow. But let's be honest, who can't relate to forgetting to shut the windows before a huge storm comes in?
​When Your Hotel Room Simply Does Not Exist
This hotel guest was given a room number that seems to not exist! Unless room number 317 is located in a different dimension, the guy was set to never find his hotel room.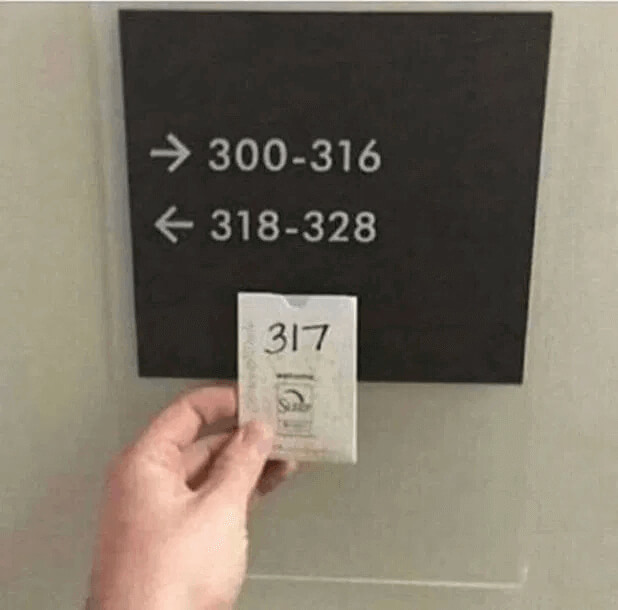 Just how unlucky must a person be to be assigned a room number that doesn't exist? But that could happen to any of us - especially in those days where all we want is to check-in, unpack, take a shower, and rest!
​Someone Was Not Made For This Job
Any of us are prone to making a mistake at work, just like it happened to this person, even though the task looks pretty obvious. Someone drew how the shower was supposed to be built, and how the drain should be constructed in order for all of that water to easily drain.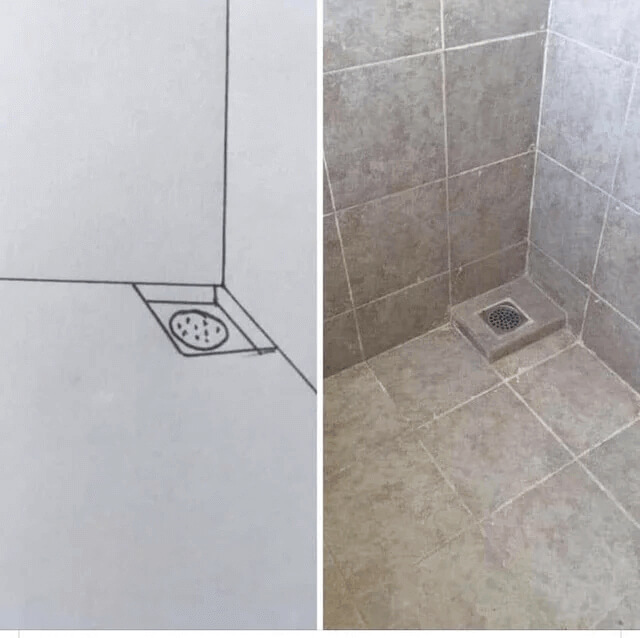 But someone wasn't having a great day at work, because in the end, the drain came out completely wrong. Oh well,  it happens to the best of us.
When Her Dad Was A Little Too Enthusiastic With Sharping Her Pencils
How adorable is it when our parents really want to help us but they end up failing instead? Take this girl for example. She was getting ready for her exam after studying for hours when she decided to ask her dad for help.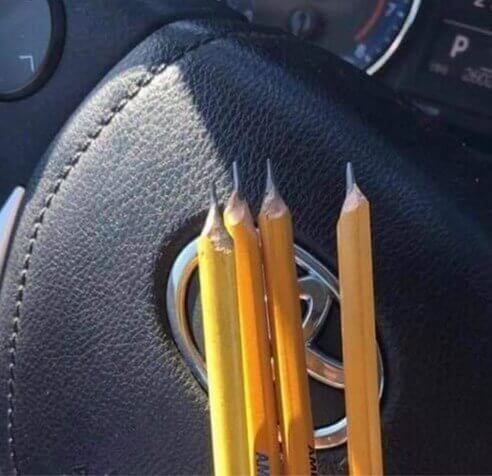 She asked him to sharpen her pencils so that she had enough writing supplies. But her dad enthusiastically sharpened them so much, that there was no way those pencils would last very long. At least it gave them a good laugh.
​When You Realize You Should've Dyed Your Hair At The Hairdresser
Many people dye their hair at home, and while it may look like risky business to some, others succeed with creating the coolest hairstyles. Unfortunately, doing her own dye job wasn't the best idea for this girl.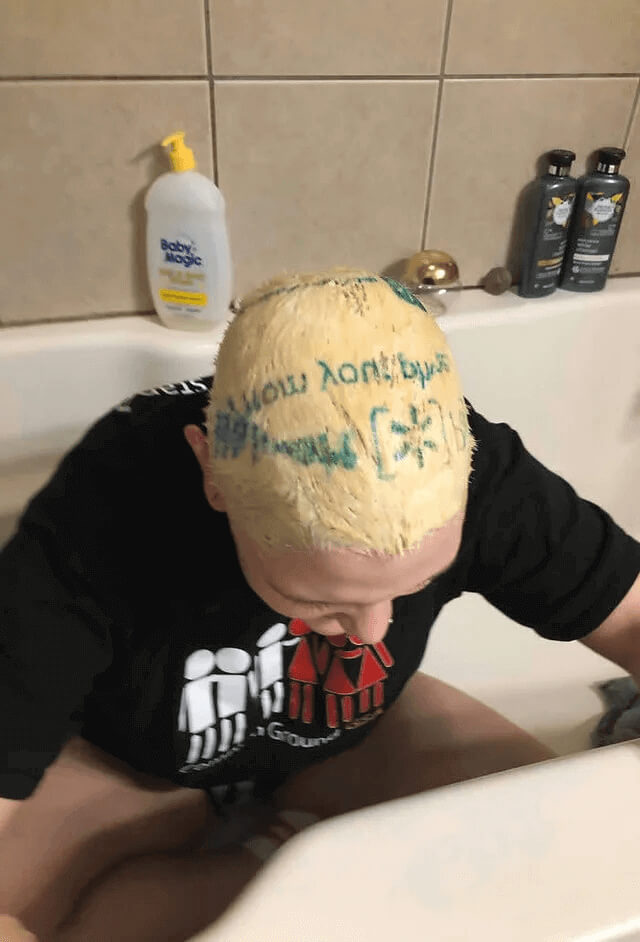 After meticulously applying hair color, she covered it with a Walmart bag, only to have the bag's print transfer onto her hair. At least it's a unique look?
​When This Woman Sent Her Boss An Accidental Selfie After Midnight
Who hasn't texted someone they weren't supposed to at some point in their lives? This little mistake can literally happen to any of us, so as much as this one is cringy, it couldn't have been more relatable.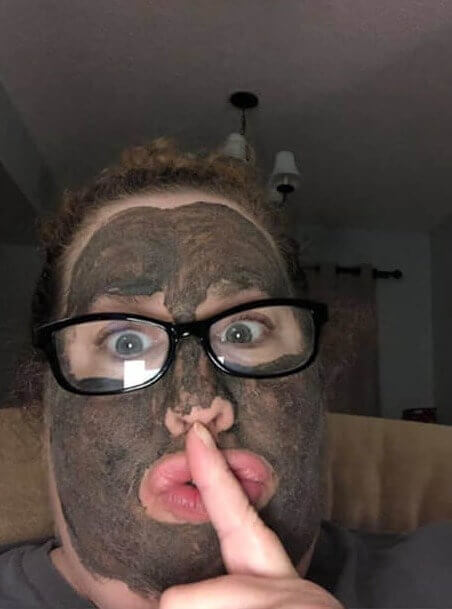 This person accidentally sent a silly selfie of herself with a mud mask on to her boss (after midnight!), when she actually meant to send it to her daughter, yikes!
​This Poor Guy On A 24 Hour Flight With A Girl Playing The Ukulele
Learning to play an instrument is usually an exciting time for anyone. It seems like this guy ended up stuck in a flight with a person who had just started playing the ukulele, and she was about to play it for a large part of the 14-hour flight.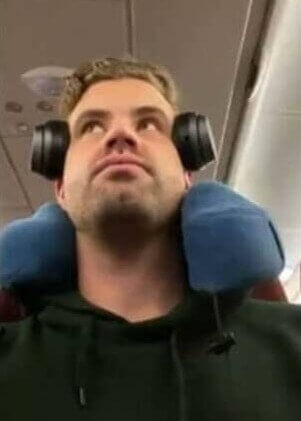 That's the thing about long flights though, you really hope that it's going to go smoothly, but you may end up with an enthusiastic amateur musician. Oh man.
When A Nice Waiter Is Accused Of Flirting
If you've worked in the service industry, then you'll know just how difficult it may be to deal with certain customers. And this person certainly had her turn to experience it when she served a couple that didn't seem to have things aligned very well.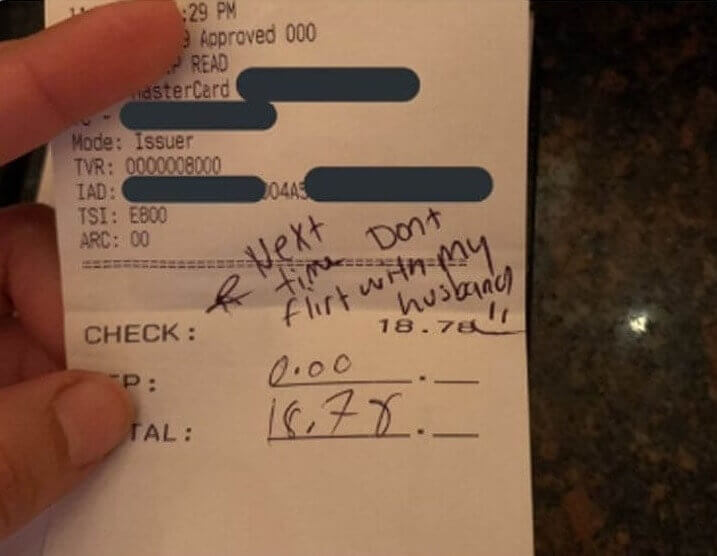 Apparently, this waitress was simply being nice when this person felt that she was flirting with her husband. She used this as an excuse to not leave a tip, which is a pretty sad move.
​An Escape Tunnel All The Way To The Guards' Room
This guy decided to dig the perfect escape tunnel out of his cell, the only problem was that he didn't get his math exactly right. The tunnel literally led him to the guards' room, and clearly, all guards were very patiently waiting for him to come out of his big escape.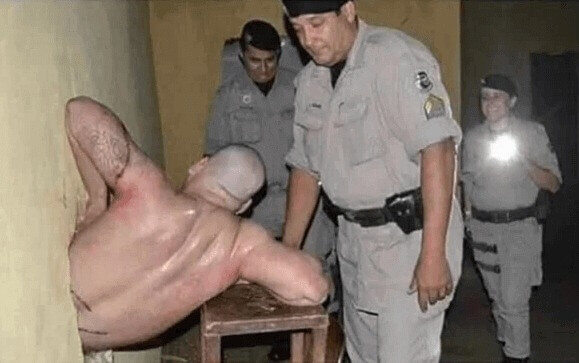 So if you're ever having a bad day and you feel like your efforts have led to nothing, then remember this guy, and instantly feel better.
​Sometimes It's Just Better Not To DIY
While DIY projects may seem fun and pretty simple, sometimes it's just better to stay away from them. You know, it may not be your best day, and that's okay.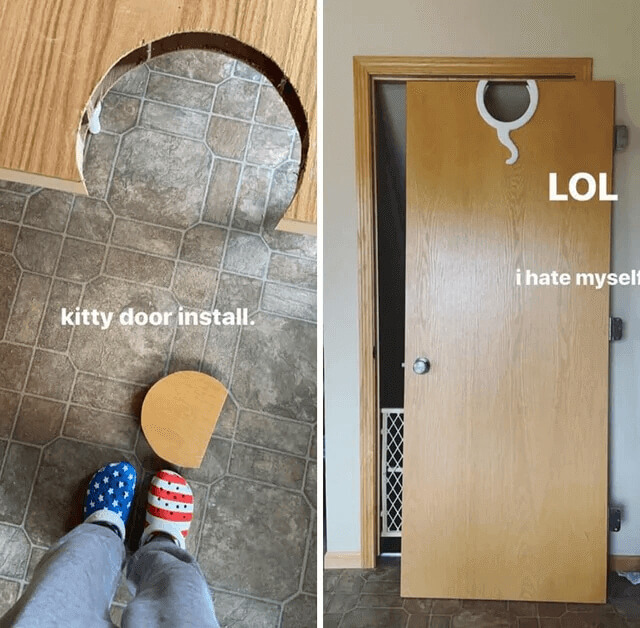 For example, this person really wanted to build a DIY kitten door, but she calculated things wrong. So when she finished her project and was ready to proudly reinstall her door back, things were not exactly the way she planned them. Unless her cat can fly, that is.
​A Chocolatey Bar Of Soap
Just imagine you get home after another long day at work, and all you can think about is eating that yummy-looking chocolate you got for free at work. You open it, admire its delicious-looking details, and give it a big bite.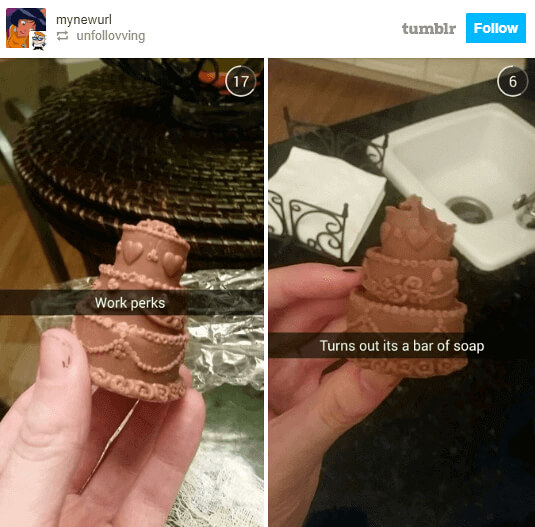 As you chew it, you realize that the taste is slightly off. It might take you a second or two, but eventually, you realize you just took a bite out of a bar of soap. Not exactly scrumptious. 
When Your Meal Doesn't Go As Planned
This picture is so painful to look at, particularly because it may feel like some sort of deja vu to many of us. Have you ever slaved over a meal, and in the end, the entire thing fell down on the floor? It's heartbreaking.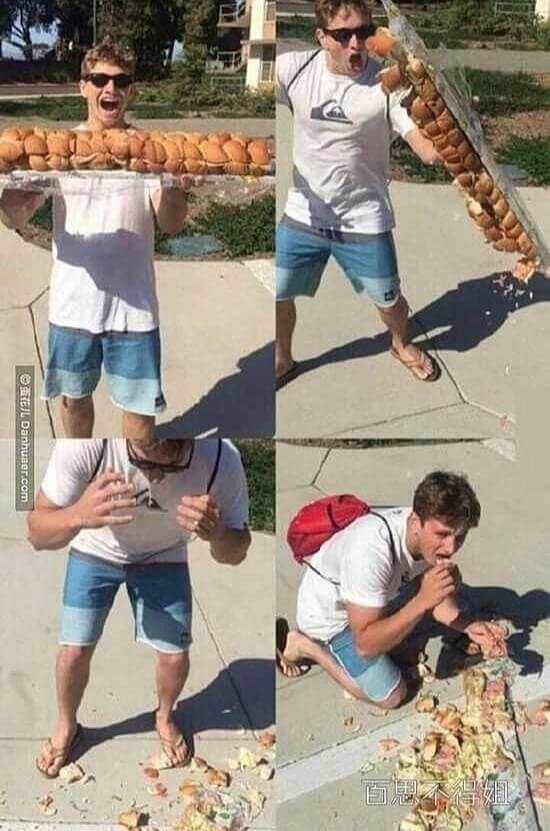 We can definitely see how disappointed this guy was throughout this painful process. At least he managed to save a few bites.
When ​Someone Doesn't Know Who Beyoncé Is
While we all probably thought it was unlikely, it does turn out that some people out there have no idea who Beyoncé is. So when this person decided to prank someone while chatting online, they decided to put them to the test by impersonating Queen B.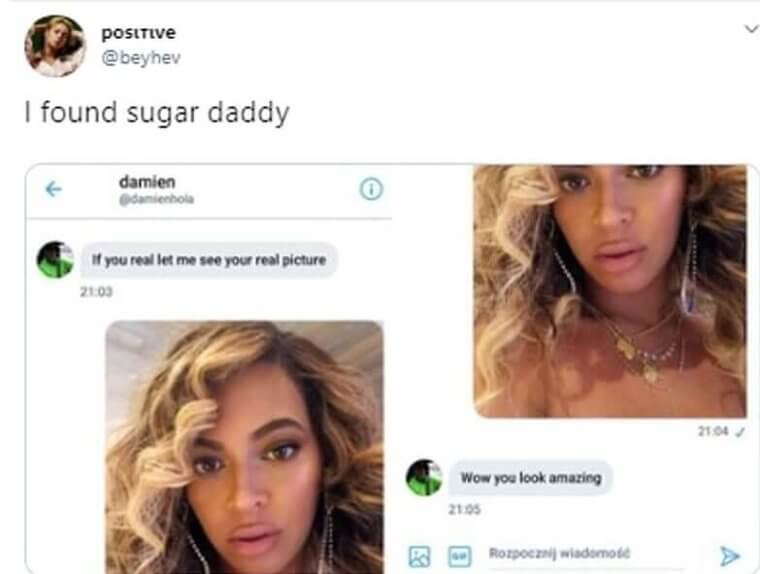 As it turns out, the guy actually believed that he was talking to a person who looked like Beyoncé. We bet he couldn't believe his luck.
Weirdest Sandwich Order In The History Of Subway
This girl decided to finally go to Subway for the first time to try their famous sandwiches. But even though she knew her taste buds differed from other people's, she didn't know that she was that unconventional.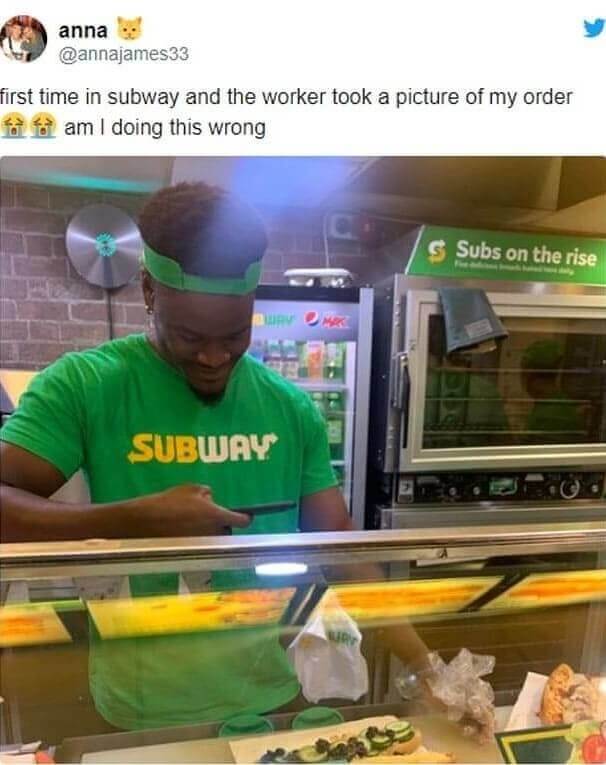 ​Apparently, her order was so unusual that the Subway worker was completely blown away by it, to the point that he had to take a picture. What can you do though, you love what you love!
​Bad Parking That Resulted In Something Much Bigger
Okay so, bad parking can happen to literally any of us - no matter how great of a driver we may be. Maybe we were in a rush, maybe we didn't see the line, it can happen.
But if there's one thing that will motivate us to never park badly again, is what happened to this person. Because of an innocent mistake, they got literally stuck for who knows how long.
​When A Picture Is Worth Everything
Who hasn't done the most extra things just to get a great picture of themselves? We know we're guilty of it, and so is this girl!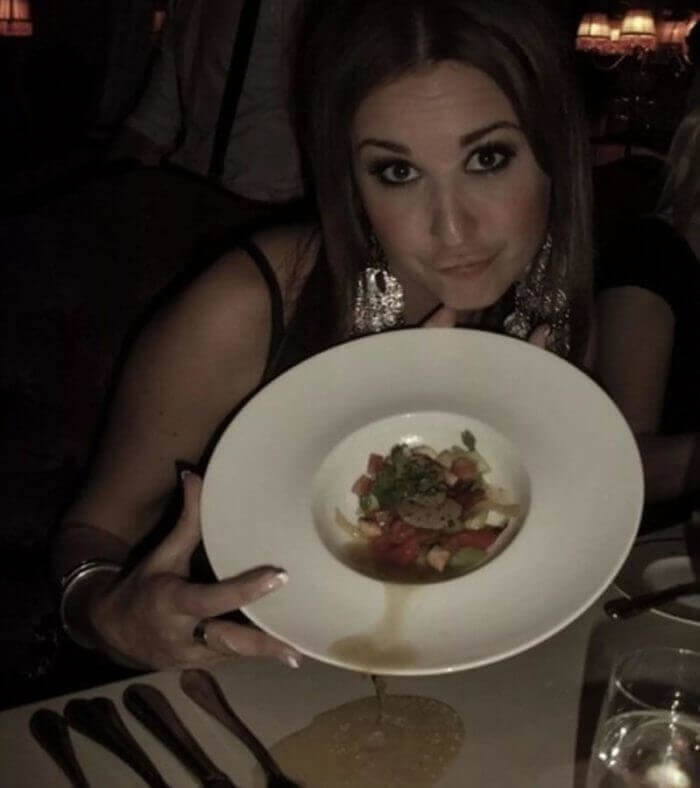 It probably took both the girl and the photographer a few seconds to realize that all the delicious sauce had dripped off the plate and all over the table, but by the time they figured it out, the damage was already done. We just hope the picture was worth it.
When Your Online Shopping Experience Doesn't Go So Well
Online shopping doesn't always go according to plan - sometimes we order something and the product isn't exactly what we paid for. In this woman's case though, Her order didn't arrive at all!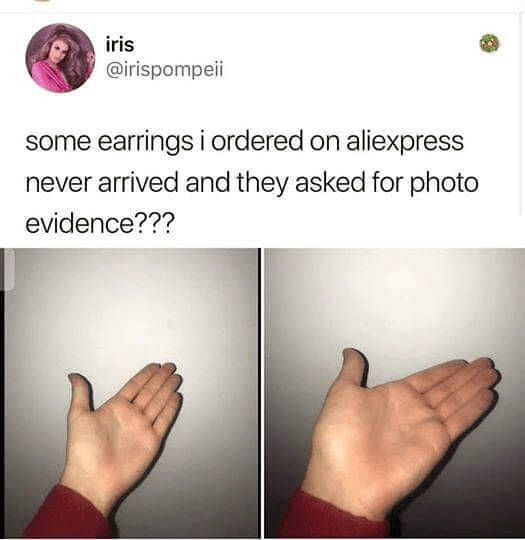 And what's even sillier is that when she officially complained to the vendor, they asked her to send "proof" that the product hadn't arrived. She hilariously played along and sent this picture. We hope she got a refund!
The Worst Way To Start A Morning
Some days you wake up, and you can instantly feel that it's just not going to be your day. It can be a broken glass, the sandwich that you lovingly prepared falling on the floor, or your favorite shirt tearing. Whatever it is, we've all been there.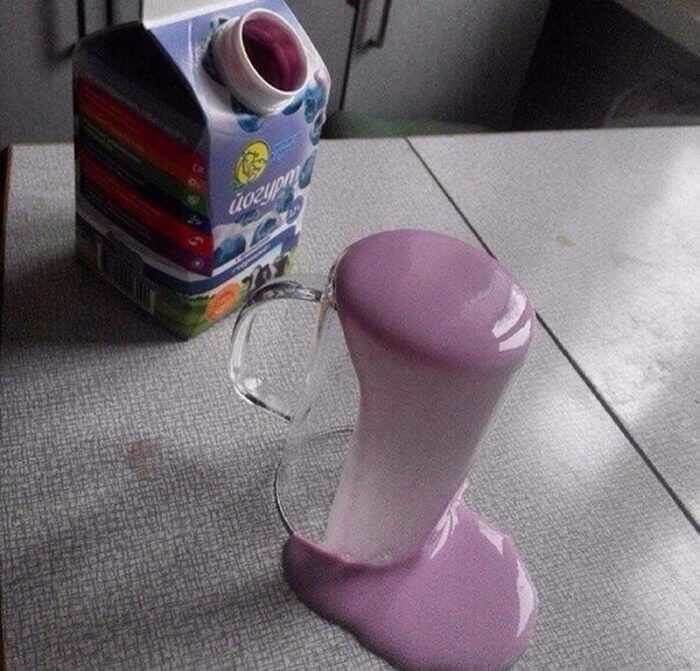 So there is nothing more relatable than looking at this person's drink spilled all over the counter after they poured it while the glass was upside down. We just hope the day got better after this.
​Maraschino Cherries As A Pizza Topping
When you first look at it, this looks like just another pizza with some cherry tomatoes on top of it. But as you look closer, you realize that someone in this pizzeria made a huge mistake.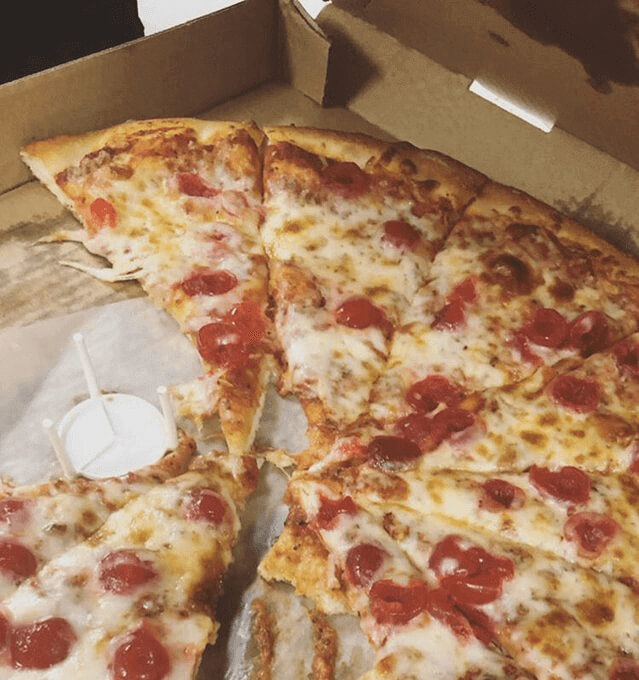 When someone at this office ordered their pizza with cherry tomatoes, the pizza maker was probably not on top of their game that day. Instead, this person got an entire pizza with maraschino cherries and their whole lunch was ruined.
​Say, Cheese!
When these three friends took a group photo, they didn't know that a little guest was about to photobomb their picture.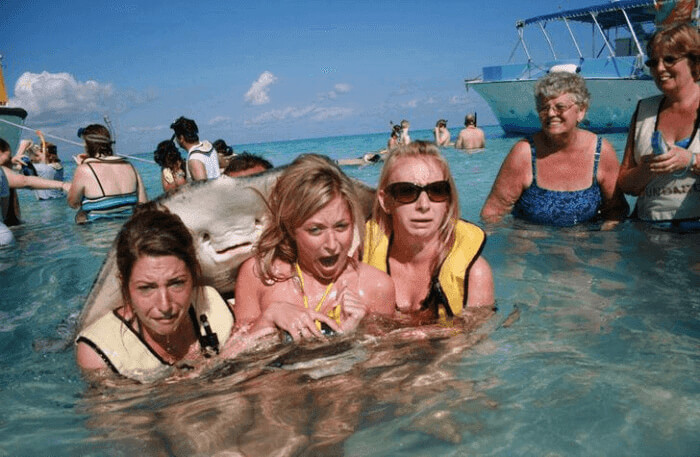 A manta ray hilariously popped up at the very moment their friend snapped the photo. And while we can all probably say that we've had a picture photobombed before, it was probably not by a manta ray.
​Stinky Feet On A Flight Are The Worst
Yet again, another experience that many of us have probably had on a long flight. People try to get as comfortable as possible on a crowded plane, but it doesn't always work for everybody around them.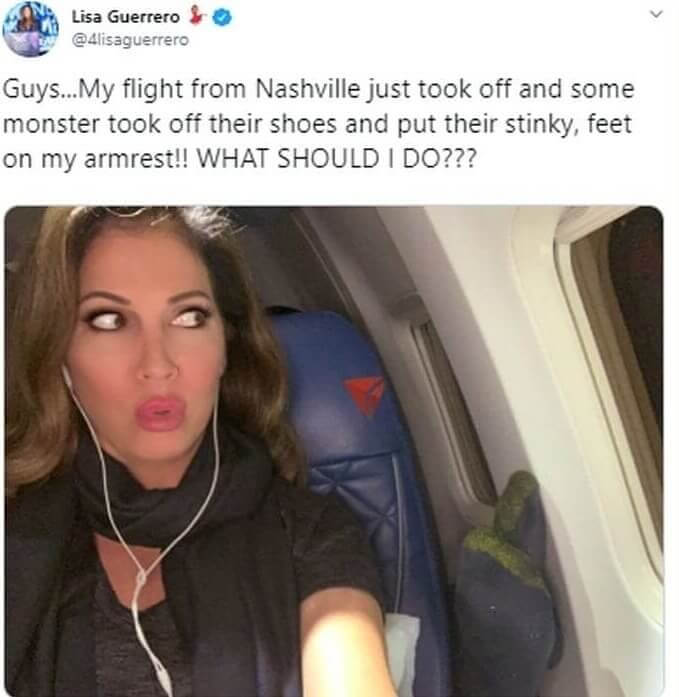 Lisa Guerrero here wasn't exactly on board when the person sitting behind her decided to stretch out their stinky feet and get in her own personal space. Have some decency, people.
All This Person Wanted Was A Sandwich
You know those days when something annoying happens, and after that everything just gets worse and worse? Well, this person was clearly having one of those.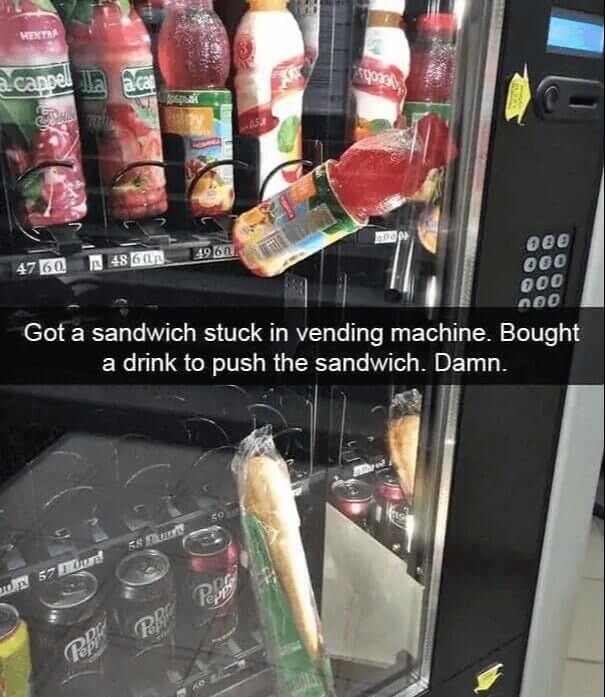 All they wanted was a tasty sandwich, but when that sandwich got stuck in the vending machine, they decided to help it out by getting a drink. Unfortunately for them, the drink, too, got stuck, and they ended up with no sandwich, no drink, and no money.
​When Someone Is Just Trying To Make Conversation
If there is one thing that this tweet shows, is that not everyone is brushed up on their geography. This tweet shows that people don't always have to say the first thing that comes to mind.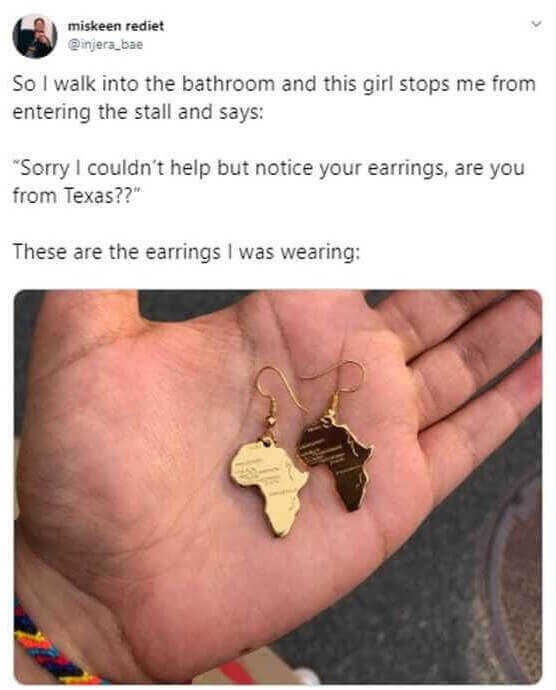 Maybe they were from Texas and thought they had found a friend, or maybe they needed a pair of glasses. In any case, this person wasn't feeling it.
​When You Email The Wrong Person
Celebrities are humans just like all of us, so they are obviously prone to making mistakes. Chrissy Teigen shared one of these moments with her followers after her daughter came home saying that she had a boyfriend.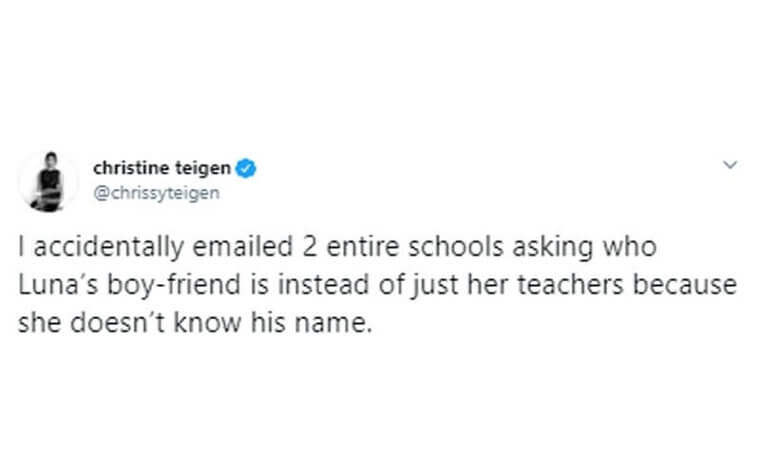 But since she didn't remember his name, Teigen decided to email the kid's teacher to try and find out who the boy was. Accidentally though, she managed to send that email to two entire schools and ended up mortified. Oops!
Probably Not The Best Place For A Typo
Typos are inevitable, but technology tools such as autocorrect have certainly made our lives easier. We can only assume this was a typo, and the consequences were hilariously disturbing.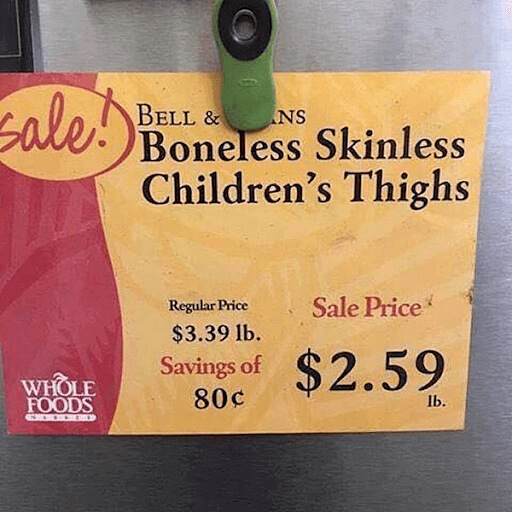 The poultry section of this supermarket ended up sounding like something out of a horror movie, and we can only imagine the reactions this got from customers.
​Trying His Luck With Math
So, we are not really sure whether this guy was trying to get some help with his math, or whether he was on a mission to find love on Tinder. Either way, this girl was definitely impressed.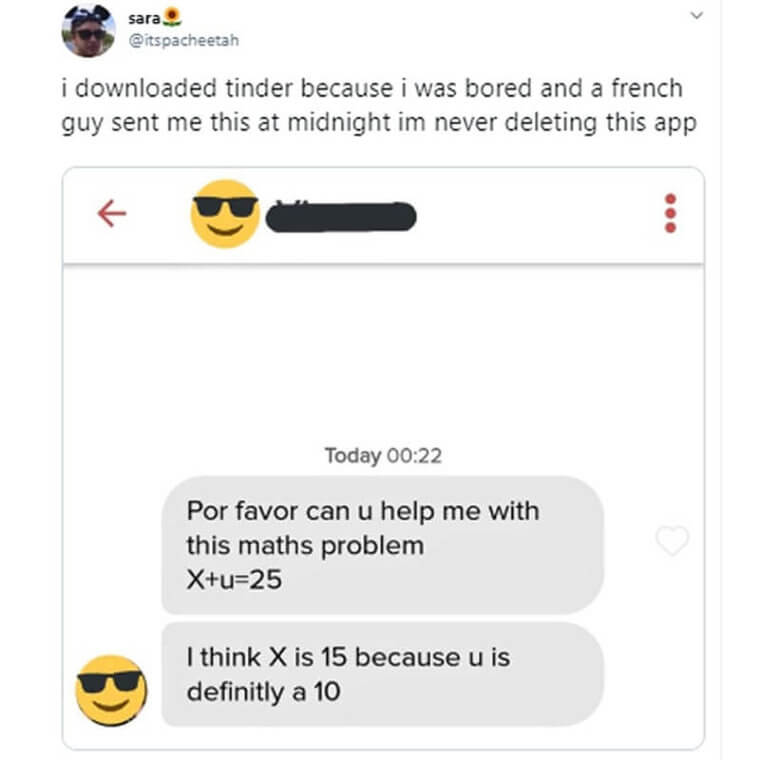 We didn't know that guys out there still use lame pick up lines like these, but hey, at least this girl got a good laugh out of it.
Snack Moderately
Now, it's safe to say that this girl is on to something! If all she wanted to snack on was birthday cake, why not go for it?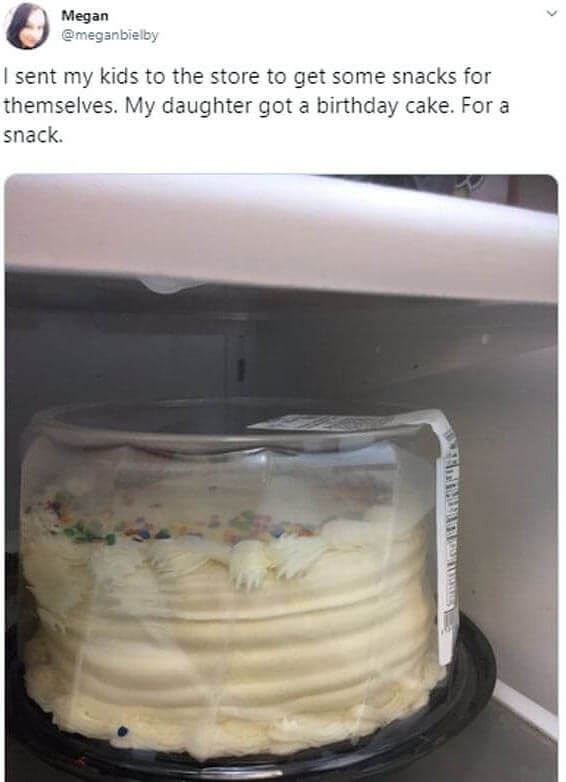 This mom definitely had a surprise when she sent her kids to the store to get some snacks, and instead of arriving with some cookies, and maybe some chips, her daughter literally bought a whole cake.
​Selling Free Coffee For $1
There is only one thing we expect from a library, and that is to get their writing right. But the people at this library are unfortunately not the best at that, and are unaware of what the word 'free' means.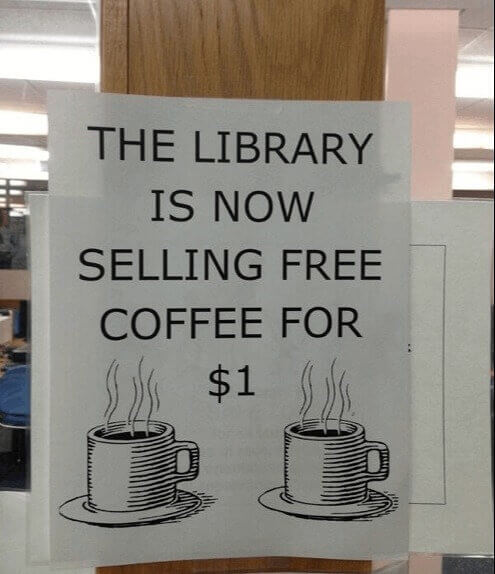 The "free" coffee turned out to cost $1, which is hardly a deal, and probably got the readers all confused.
​When Your Brain Is Just Not There
It doesn't seem like Ali really understands what IT means, either that, or she was up watching horror movies all night.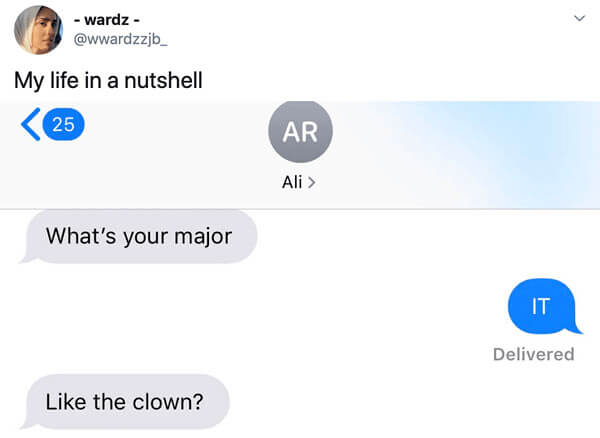 When this person told her that they were majoring in IT, or Information Technology, she thought they were referring to Stephen King's murderous clown. Can we blame her though? Maybe she just really likes horror films.
​Those Who Wear Glasses Will Relate
An unsuspecting daughter shared on Twitter a little something about her mom's unluckiness. According to her, her mom texted her saying that she was having trouble sticking her lashes without her glasses on.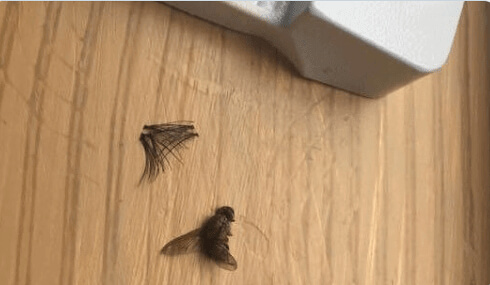 Sadly though, she was actually trying to stick a poor dead fly to her eyelid. But hey, how many glass-wearers out there have struggled with a similar situation?
Be Extra Careful When You Tag Yourself
Alright, if you haven't gone through something similar to this, then we're sorry to say, you're going to at some point. Accidentally tagging or liking a photo while stalking someone online? Check!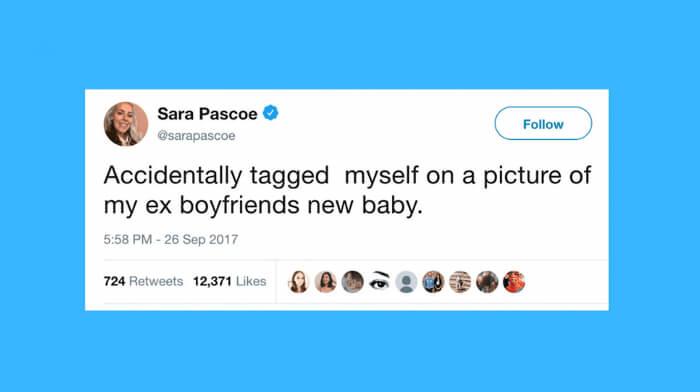 And this girl probably couldn't have had it worse. She hilariously shared that she tagged herself in her ex-boyfriend's new baby's photo, ouch!
​That Time Kevin Hart Was Put On The Kids' Cam
Being short or looking like a much younger version of yourself comes with its perks and disadvantages. And at 5 feet and 4 inches, Kevin Hart has certainly embraced his height.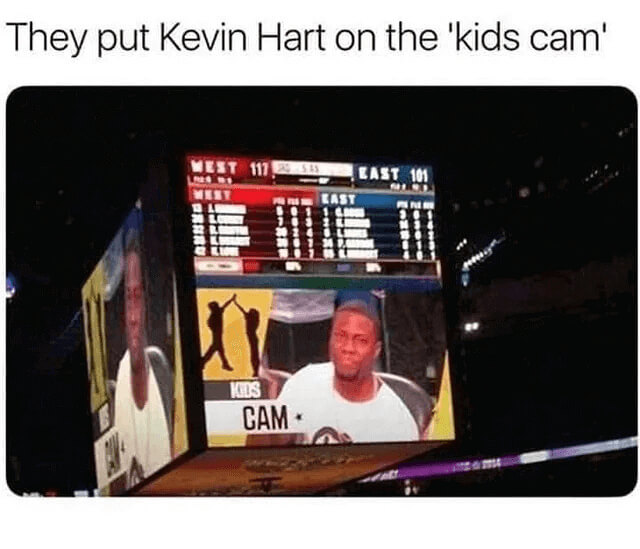 In this super awkward moment, the stand-up comedian was featured on the kids' cam during a game, but he acted pretty cool about it. Was the cameraman playing a prank, or did he not notice the beard?
​This Guy Who Had Good Intentions, But Needed A Little Lecture
This poor guy actually wanted to help but ended up making his family and friends laugh when he shared this post about his girlfriend's tampon.
He found one of her tampons in his house, and because there was an "R" written on it, he thought he needed to find the "L" one. So he decided to resort to social media for some questions, and we're sure he probably regretted it right away.
"This Is What Defeat Looks Like"
Sometimes in life, we just have to give in. We gave our all, and something is just not aligned, so we need to move on and be hopeful that the next day will be better. That's what we're hoping this woman felt when this photo was taken.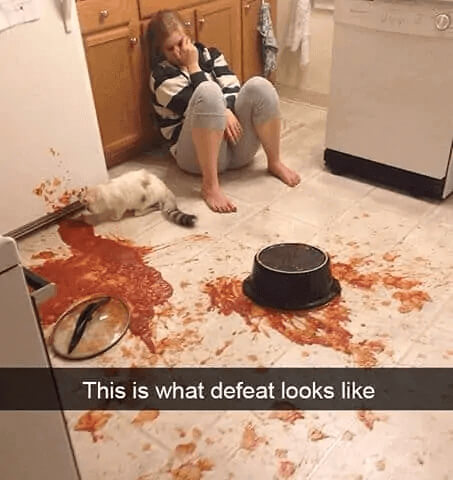 Sadly, she had just finished making herself the best home-cooked meal when her cat literally ruined every bit of it.
​The Wonderful Perks Of Plane Rides
When you hop on a plane, you have no idea what your luck is going to be throughout the entire ride. Will there be noisy people in there? Does someone have a terrible cough right next to you? Truth be told, any of this could happen.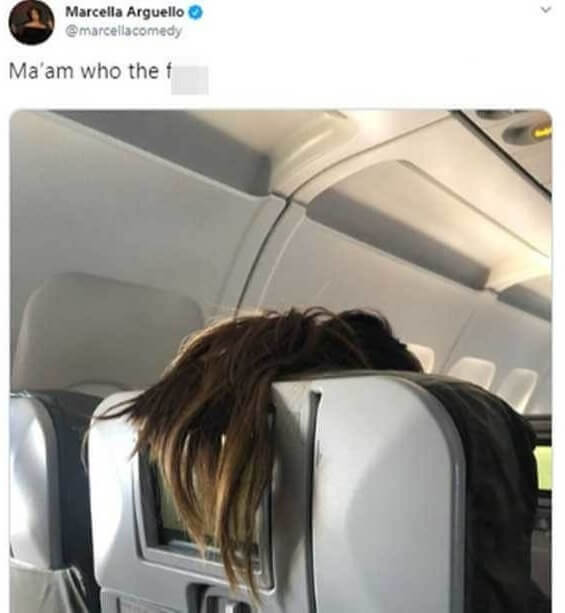 So though it doesn't seem like it was a surprise for this person to find an entitled traveler in front of her, she just had to share the unfortunate moment.
​The Only Time She Took A Great Passport Photo, Someone Else Messed Up
Passport photos are not usually the most flattering ones, but somehow, this woman managed to take a pretty good one.
She was probably pretty pleased with herself for taking such a great photo, but things didn't go as planned after that. If anything, it will probably give people at passport control a good laugh at least.
​The Perks Of Going On A Blind Date
First dates can definitely come with their dose of awkwardness. So when this guy felt that things were a bit unusual during his blind date with a girl his friends set him up with, he decided to let it slide.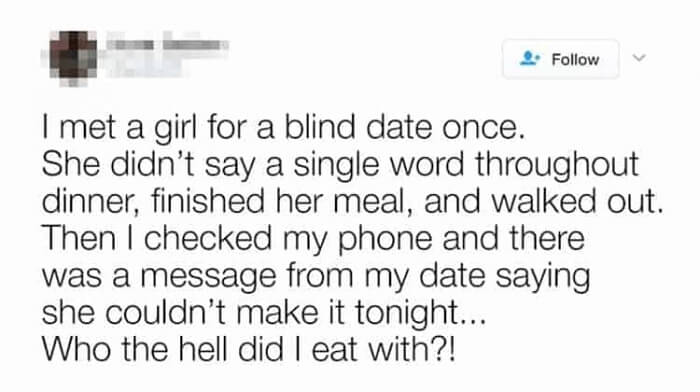 But little did he know that his date had never actually made it to the restaurant and that he was eating with some other random stranger. Eek!
​At Least The Cat Was Trying To Do The Right Thing
Looking at this picture makes us wish this person owned a dog instead of a cat. Dogs would never do this to their owner.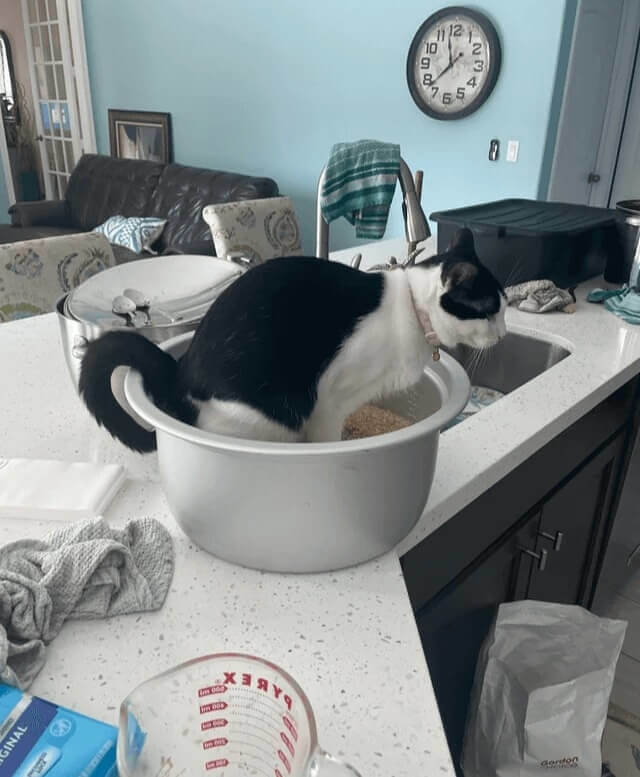 And then there are cats. There is obviously something magical about them, but we're not sure this person feels that way after their cat mistook their cooking for their bathroom.
When A Spelling Mistake Is Just Too Spicy
So, this Twitter user was clearly very satisfied with her McDonald's meal that day, but unfortunately, she got the name of her item completely wrong. She didn't notice it, but she had just eaten a Caesar salad and not a seizure salad. Or at least we hope so.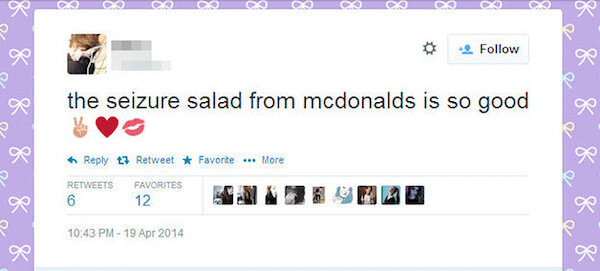 Fortunately, the yummy salad has absolutely nothing to do with a seizure, we just hope that she noticed her spelling mistake fast enough.
When You Want In On The Trend But Use The Wrong Hashtag
All this doughnut shop wanted to do was to get into some trendy social media fun. They wanted to make reference to the fact that their customers should eat their treats with no guilt, but things backfired pretty quickly, unfortunately.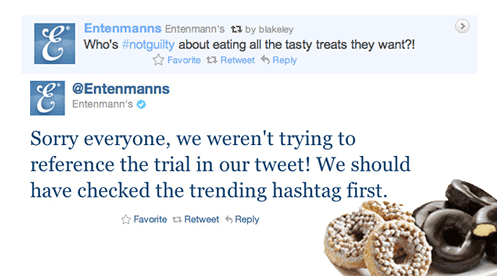 They eventually realized that the hashtag they used was about an ongoing trial, and sent out an apology right away. But come one, who hasn't used the wrong hashtag before?
​The Most Perfect "Corn Mouse"
This woman was just looking for the perfect gaming mouse for her gaming nights. She probably already had a chair, the monitor, and a keyboard, and now all she needed was a mouse.
As it turns out, she came across one of the weirdest pieces of equipment out there - a transparent mouse with corn pieces inside. Who made this, and most importantly, who buys this stuff?
Marketing Might Not Be This Person's Career Path
Coming up with a catchy slogan is no easy task, and those who work in the field will probably all agree. But sometimes, it's just better to wait a little longer and brainstorm some more ideas, before going with the first slogan that comes to mind.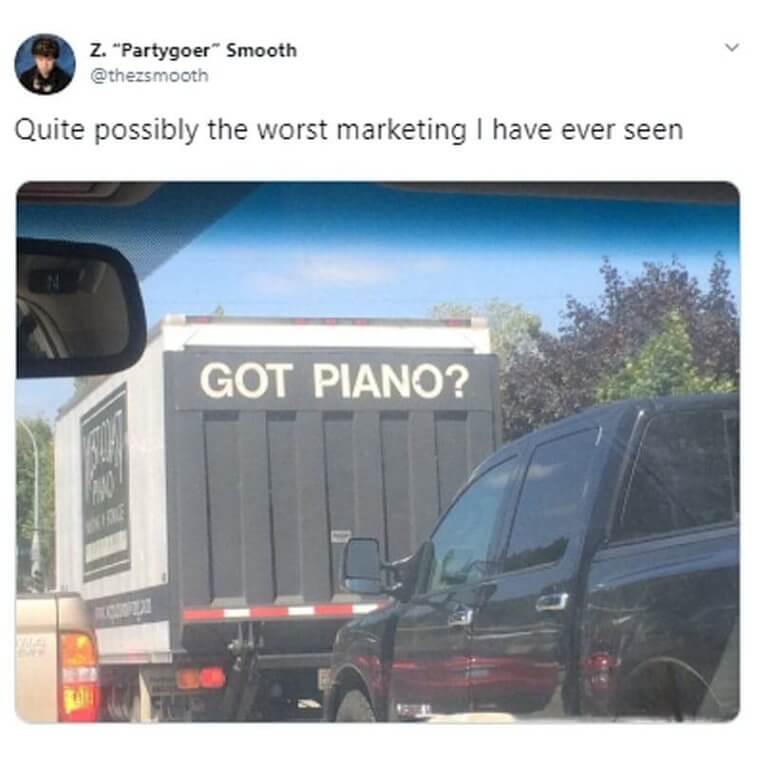 Who knows, maybe this person really just needed to put the slogan out there, so they used what they could.
Winning "3st" Place
Here is another person who is either in the wrong field, or they were really distracted when they created this medal for 3rd place.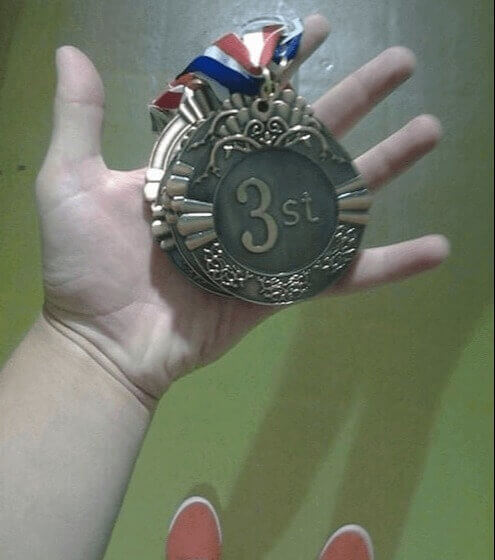 Just imagine how disappointed this guy was when he didn't make it to first place, and when he finally got his 3rd place medal, it was hardly something to put on display. Oh well, at least the story will be a hilarious one to tell someday.
Just Another Cake Mistake Out There
It might take you a few seconds to understand what came out wrong in this picture, but when you do get it, you realize how hilarious it is. This person ordered a cake for her sister's birthday and requested a "blond" girl to be placed on it.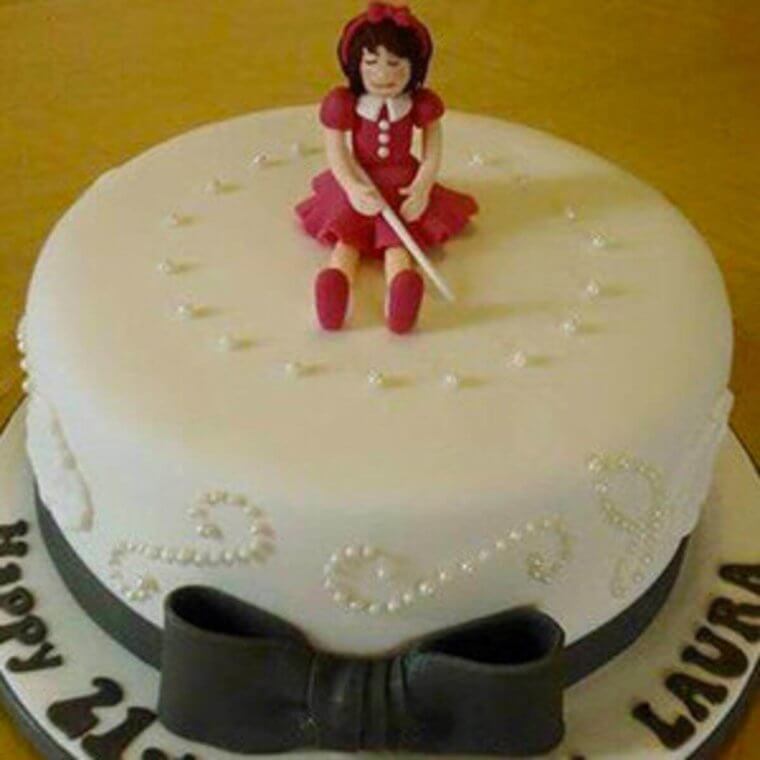 It does seem like the person who took the order completely misheard and ended up adding a "blind" person instead.
​When Being A Kid Again Backfires
We spend so much time trying to grow up and to act mature, that sometimes, all we want is to be kids again. It seems like that's what this guy was doing when he tried to play in this playground, but he quickly realized that maybe he had grown a little bit too much for it.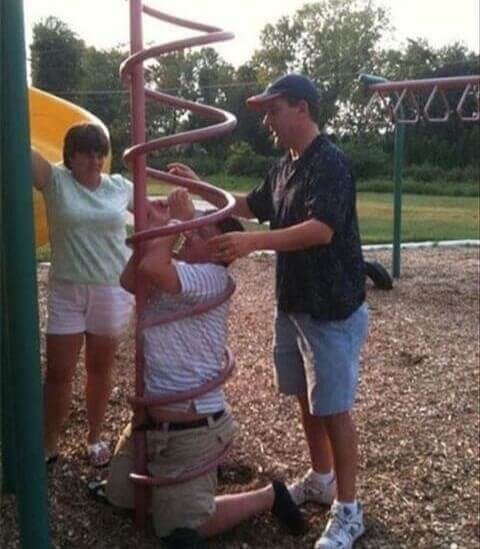 What was the result? He got stuck and had to rely on the help of his family to make it out.
This Dad Who Mistook Asparagus For A Bouquet
This guy was just trying to bring the romance back to the relationship when he got a bouquet for his wife. Unfortunately, though, he wasn't very good with flowers, so he ended up getting a bouquet of asparagus instead of Daffodils.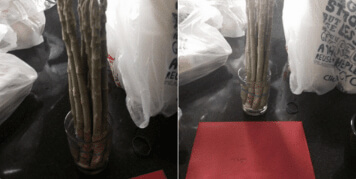 He proudly arrived home, offered his wife the "bouquet", and we just hope she had a good laugh.
Panorama Photos For The Cutest Puppies
This Twitter user decided to compile the funniest collage of dog photo fails out there and we're totally into it. If you're a dog owner, then your camera roll may have thousands of dog photos, and some of them are probably not so successful.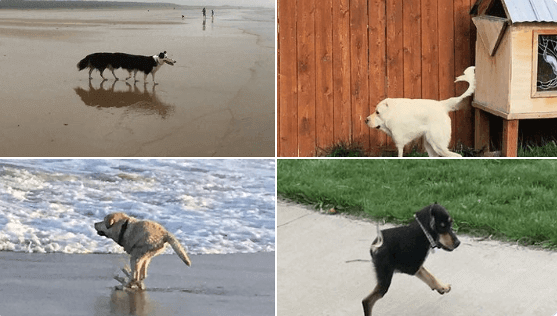 These hilarious photos make the dogs look a little bit different than what they actually look like since their owners snapped the pictures in panorama mode.
​Even Netflix Is Prone For A Little Glitch On The Road
There is just no way around it - sometimes, technology messes up and you can either laugh about it or be completely shocked. It's rare, but look at this mix-up!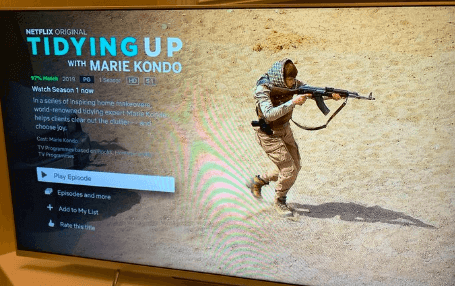 If you are familiar with Marie Kondo, the Japanese organizing consultant known mostly for promoting minimalism, then you'll realize right away that this picture makes absolutely no sense. Even Netflix makes mistakes sometimes!
​The Question Everyone Has Been Asking
When this gas station decided to advertise some bread, milk, and sodas to their customers, someone forgot to double-check the sign before they put it up. The words  shifted around and ended up with the sentence "Can Sodas Milk Bread?"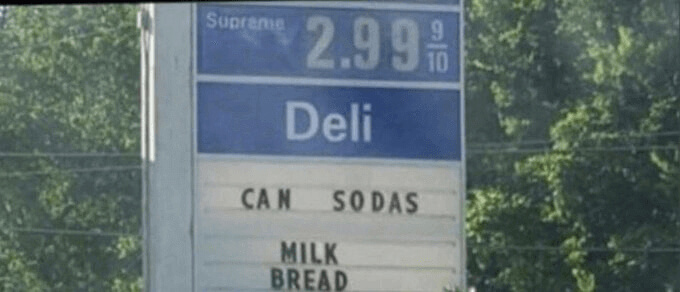 The bizarre sentence ended up catching the eye of customers and might have even encouraged them to go in intrigued by the sign's choice of wording. It worked!